AA Skincare Seaweed & Aloe Refreshing Eye Gel Review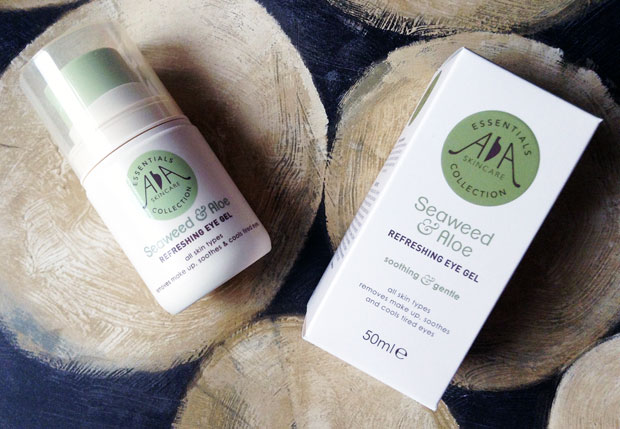 AA Skincare Seaweed & Aloe Refreshing Eye Gel Review
AA Skincare is a new natural skincare range by Amphora Aromatics who are one of the UK's largest suppliers of essential oils and aromatherapy products. They specialise in creating natural skincare products of the highest quality at affordable prices. They create innovative products that are naturally effective and are pampering for your skin but at the same time kind to our planet, too.
The products in the AA Skincare range combine pure essential oils with classic natural ingredients like Frankincense & Rose, Almond & Sandalwood and Seaweed & Aloe. There are lots of amazing sounding products in this range!
I've been testing my first product from the range — the Seaweed & Aloe Refreshing Eye Gel.
This product is a multipurpose gel perfect for summer. It's cooling and revitalising for tired eyes, soothing for skin that's been exposed to too much sun and it also removes make-up.
The gel combines anti-inflammatory and anti-microbial Aloe Vera, mineral rich seaweed, natural extracts of soothing Eyebright and Cornflour with Cucumber which is very hydrating and calming.
Whichever purpose you are using the gel for, it's easy to do. Just pump a little onto your fingertips and smooth the product on the eye area to use it as a refreshing eye gel, apply to the whole affected area if using it as an after sun or use cotton wool to remove the gel from the eye area if you're taking your make-up off.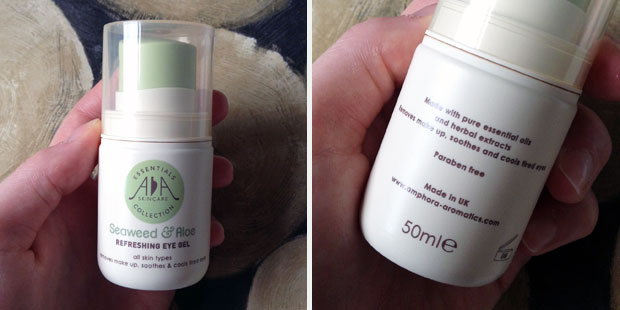 I've been using this gel for a few weeks now and I love it! I love products that are multitasking and the properties of this one are all amazing. As a sleep deprived mum, I love products that help care for my tired eyes, that help them feel more awake in the morning (or when the afternoon tiredness hits) and the Seaweed & Aloe Refreshing Eye Gel does this and also helps keep my skin hydrated which means I'm less likely to get wrinkles.
I've always struggled to find an eye make-up remover that doesn't sting and actually removes all my mascara. I never use a lot of mascara so I find it strange that barely any of the products on the market actually take it off properly. Maybe my lashes are very absorbent or something. This gel gets my mascara off quite well wihtout any dragging of the skin but I do have to do a double cleanse as usual. I love how the skin around my eyes is left refreshed and hydrated after removing my make-up. That's something that I've never experienced with any other eye make-up remover. I also like using it to take off my foundation and have found that it does a great job!
I'm very careful in the sun and stay away from it when it's really hot to not burn but during this heatwave it's been so lovely to use this gel all over my face as a cooling, refreshing and hydrating treatment. The gel absorbs really quickly and leaves my skin feeling soft, plump and smooth.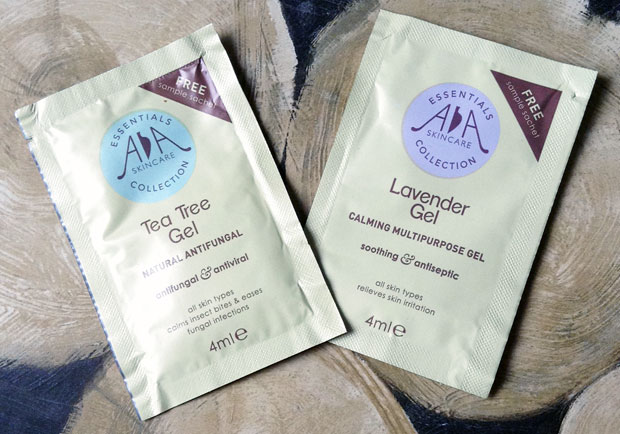 With my eye gel I received two samples: Tea Tree Gel and Lavender Gel which both seem great too. The Tea Tree Gel is especially suitable for me since tea tree is great for breakout prone skin.
The Seaweed & Aloe Refreshing Eye Gel comes in a 50ml recyclable pump dispenser and costs £6.95. Buy it from AAskincare.co.uk. I can't wait to try more products from the AA Skincare Collection!
I was sent this product for this review. As always, all my reviews are 100% honest and all thoughts and opinions are my own.