More Creative Home Uses for Empty Duerr's Globe Jars
|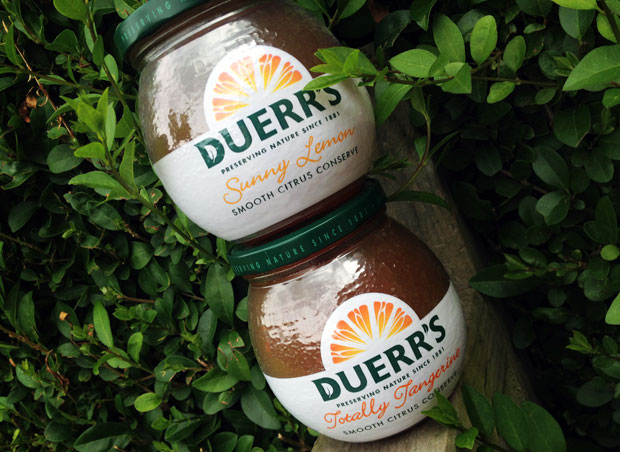 More Creative Home Uses for Empty Duerr's Globe Jars
Just over a year ago, I shared a blog post with Ideas for the Home & Gifts using Duerr's Globe Jars with some fun ways to upcycle your empty jars after enjoying your jams, marmalades and preserves.
The Globe Jars are gorgeous and perfect to use for other things once empty. The label even peels off effortlessly, so you don't have to scrub glue off the jars. That's a big bonus for me and I just love the rounded shape and the textured glass.
Duerr's has been preserving fruits into jams and marmalades since 1881 — they sure know what they're doing. All products are made in Manchester and the range includes sunny citrus converses, fruity jams and also condiments and peanut butter. All ingredients are sourced from the best suppliers meaning each jar is only full of the good stuff.
You can find ideas on the Duerr's website like using the empty jars as tealight holders, as flower vases or plant pots, as cocktail glasses or filling them with something yummy to give away as a gift.
There are so many fun and creative ways to repurpose these lovely jars. I've got a few new ideas to share in this post. This time, they're all storage ideas!
My favourite one is the one in the photo above — I've used an empty jar in the display cabinet in our kitchen. This is where we keep our glasses and we also have an area on one of the shelves where we keep some items that are extra pretty and colourful. I love to display our children's cutlery in a Duerr's Globe Jar — I think it looks really nice!
Another storage idea is to use an empty jar for hair bobbles and accessories. Again, it's just a pretty storage solution for items that often disappear if you don't have a home for them.
The third idea is to keep small toys in a Globe Jar. Here I've put the girls' Kinder Egg Hotwheels cars in one and it keeps them together nicely and looks good on our bookshelf too.
I received samples for this post. As always, all words, thoughts and opinions are my own.