Mothercare Navy Spot Breastfeeding Shawl Review
|

Mothercare Navy Spot Breastfeeding Shawl Review
This breastfeeding scarf from Mothercare is a great way to provide some privacy for you and your baby when you are breastfeeding or expressing milk in public if you wish to cover up.
It's quite large (63 x 87 cm) to work with babies of all sizes but it folds up very neatly to fit in your changing bag or pram.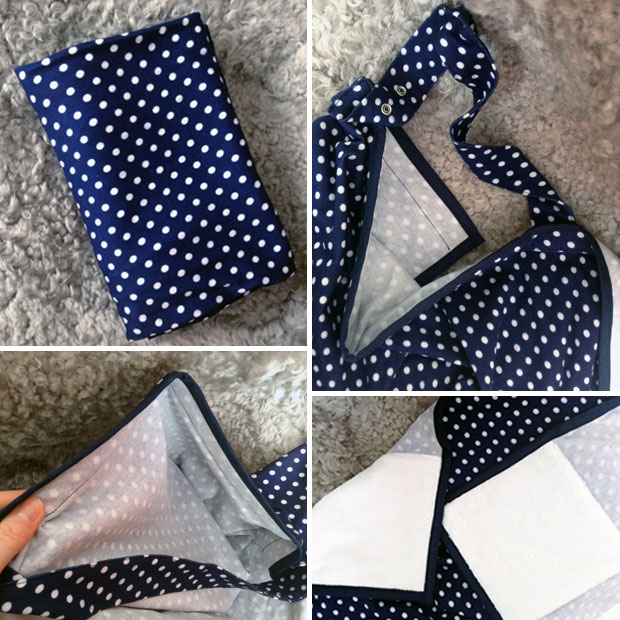 It's a pretty navy fabric with white polka dots on the outside and the inside is white. The fabric is very soft and thick enough to provide shade but not so thick that your baby will be too warm. The shawl has a nice trim that goes all the way around and the two bottom corners have very absorbent terry cloth squares on the inside (that you can fit your hands into) for cleaning up any dribbles or spills. The 100% cotton shawl washes nicely at 40˚C and dries without creasing.
The neckline design is really clever — it is rigid so that you can easily maintain eye contact with your baby without the need to hold anything up. This also increases airflow to your baby. The strap that goes around your neck is adjustable so that you can ensure the perfect fit for you.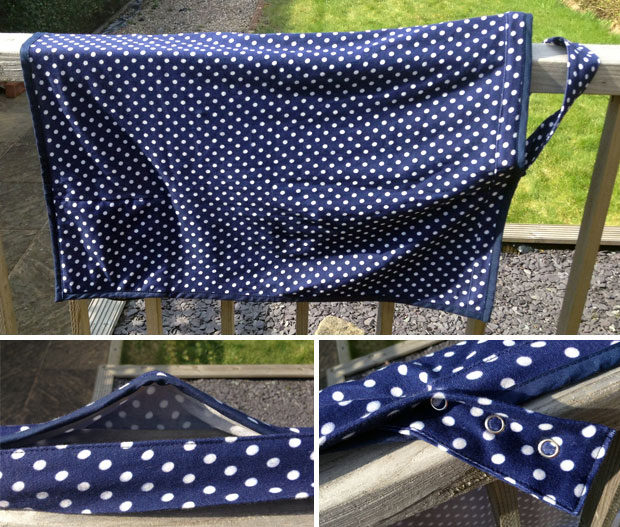 I recently stopped breastfeeding so I asked my friend C. who's still breastfeeding her 9-month-old son to try the shawl out for me for this review. Here's what she thought:
"My baby has just reached that age where he gets really curious and struggles to focus during breastfeeding so as well as giving us some privacy, the shawl also helps remove any distractions and helps my son focus on having his milk. I find this shawl very useful and easy to quickly put on whilst also holding my baby. I love that I can keep eye contact with my son during the feed — it's something we always do at home. It's probably one of the prettiest breastfeeding shawls that I've seen too — I love the polka dot design!"
Sounds great! I might have to borrow it when I have my next baby!
The shawl costs £19.99 and is available to buy from Mothercare. It's also available in a grey and white striped design.
We were sent this shawl for this review. As always, all my reviews are 100% honest and all thoughts and opinions are my own.