Mother's Day Gift Guide 2022
|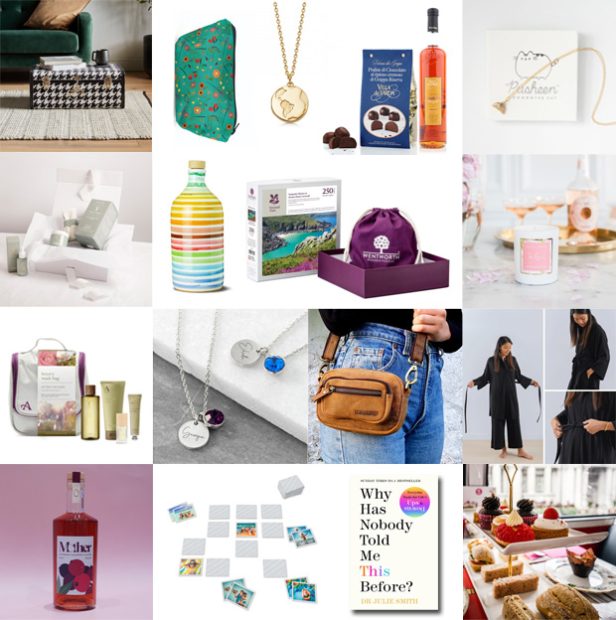 Mother's Day Gift Guide 2022
The start of Spring is here! That means that Mother's Day is just around the corner too. Like I do every year, I have put together a gift guide with lovely gifts for mums. Whether you're looking for a gift for your own mum or the mother of your children, I'm sure you'll find some suitable Mother's Day gift ideas in this blog post that is full of treats for mamas!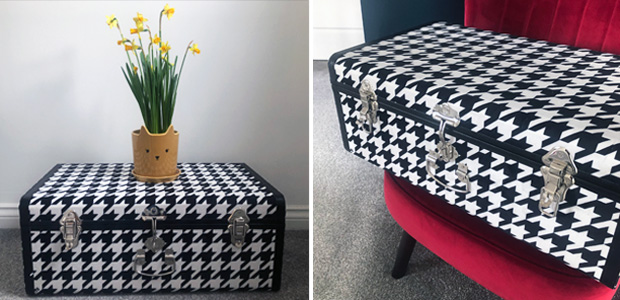 VonHaus Spinningfield Houndstooth Trunk
VonHaus has a gorgeous range of home accessories that would make great Mother's Day gifts for mums that value a stylish home. This Spinningfield Houndstooth Trunk is my favourite and it's a gift that is both practical and luxurious. It's a large trunk that is suitable for storing things like blankets, handbags or knitting project (or whatever else you'd like to put it it). It can also double up as a coffee table. You can gift it as it is or fill it with more gifts or treats! The vintage yet modern looking trunk is a great addition to any home. It's sturdy and the velvety finish and faux leather details make it look extra luxurious!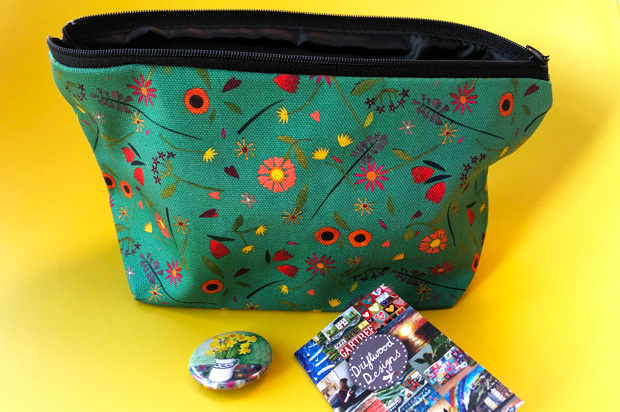 Driftwood Designs Flowers Make-up/Travel Bag
Give the gift of flowers that will never wilt with Driftwood Designs Blodau Mam (Mum's Flowers) range of gorgeous homeware gifts. Lizzie Spikes is the artist and designer behind Driftwood Designs and she gets her inspiration for the coast and the countryside in Aberystwyth. This new collection with illustrations of bright blooms is perfect for Mother's Day and spring. Here you can see the Flowers cotton Make-up/Travel Bag but there are lots of other items available too like prints, posters, cards, notebooks, aprons, mugs and chalkboards.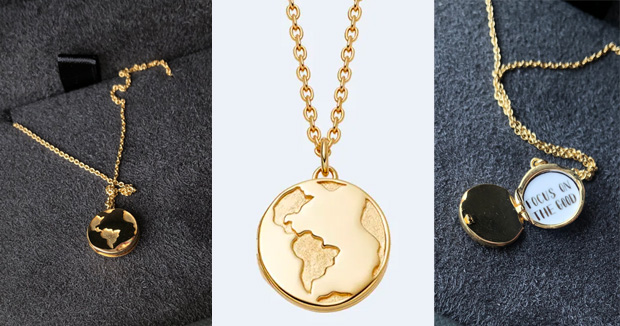 Astley Clarke Personalised Locket
Astley Clarke is a luxury British jewellery brand that celebrates design and craftsmanship with their range of stunning pieces that can be worn on their own or layered and enjoyed every day as well as for special occasions.
They have a lovely range of locket necklaces that can be personalised with pictures inside and engraved too and they make a great gift for occasions like Mother's Day.
Here you can see the Biography Earth Locket Necklace in Yellow Gold Vermeil which I have had personalised with a quote inside and a message on the back. It's a beautiful dainty necklace and the recess engraving of the Earth design is perfect for anyone who loves travel and/or nature. The material is 18 carat yellow gold plated sterling silver and 10% of all sales go to environmental and rainforest conservation projects in collaboration with World Land Trust.
Real Almond Amaretto Liqueur and Dark Chocolate Pralines with Grappa Cream
Now time for a duo of treats that would make an amazing Mother's Day gift: Villa de Varda Real Almond Amaretto Liqueur and Dark Chocolate Pralines with Grappa Cream from Independent Wine, the award-winning Italian wine specialist.
This gift set includes a bottle of Villa de Varda Amaretto Liqueur which is made in tiny quantities and completely from natural almond skins (unlike most Amaretto liqueurs). The almond harvesting in the Trentino forests is tightly controlled to preserve the natural ecology of the woodland so only a small amount of the precious nuts can be collected. Villa de Varda is an artisan grappa distillery set in the Dolomite Alps and their small team collects the almonds by hand in the beautiful forests and then turns them into a creamy and sweet Amaretto Liqueur with flavours of dry biscotti, candied orange peel, mountain herbs and of course those amazing almonds with their hint of elegant bitterness.
With the Amaretto Liqueur, you get a packet of delicious Dark Chocolate Pralines with Grappa Cream that are handmade by the maître chocolatier of Villa de Varda. The dark chocolate shells are filled with a delicate and soft Grappa Riserva Triè-infused cream. The perfect combination of dark, high quality Italian chocolate and the rich flavour of barrique-aged grappa. What a treat!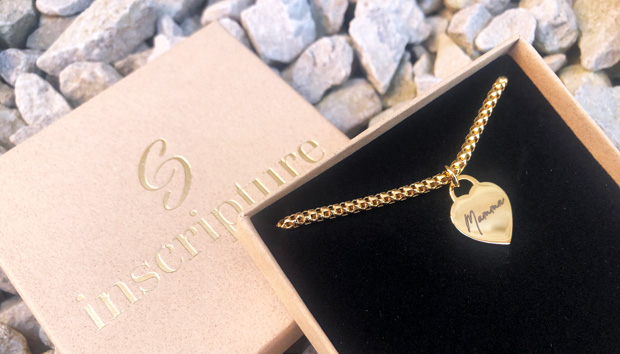 Personalised Gold Popcorn Charm Bracelet from Inscripture
This pretty and stylish charm bracelet from Inscripture would make a lovely Mother's Day gift. It's made from 18ct Gold Vermeil and perfect for daily use and fancy occasions too. The bobbly "popcorn" texture adds interest, and the bracelet can easily be adjusted in size to fit different wrist sizes.
To the 19mm gold heart charm, you can add a name, date, or short message. Mine says "Mamma" for Mother's Day. You can choose to engrave both sides of the heart if you wish. You can also request to swap the heart for a different charm if you prefer.
This stunning personalised popcorn charm bracelet comes gift boxed, ready to be presented to a loved one.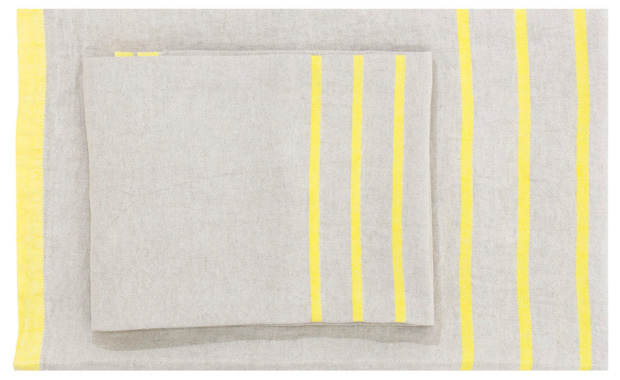 Usva Linen Bath Towel Lapuan Kankurit Bath Linen
High quality homeware products are always a great treat and make great gifts. These beautiful Usva Linen Towels by Lapuan Kankurit are perfect! They are available in different sizes and suitable to be used as kitchen/hand towels or beach/bath/shower towels, depending on the size. They have a classic design that never goes out of style and lots of colourways to choose from to suit your home.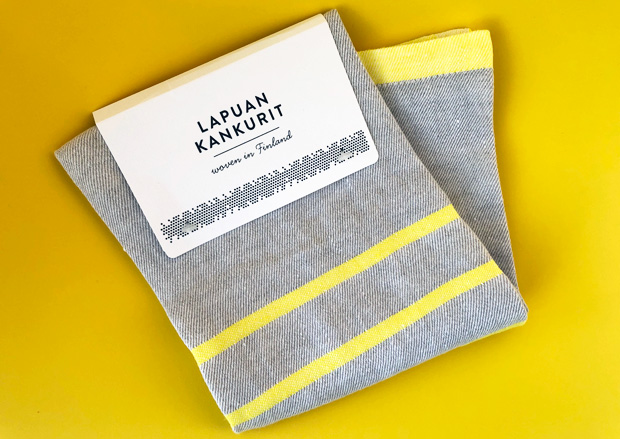 The 100% certified linen towels are super absorbent, fast-drying, high quality towels that are made to last and easy to care for. They add a touch of luxury to everyday life and make a beautiful gift for a mama who appreciates quality and the little things in life. White Motive is the UK retailer for these wonderful towels so head over there to pick up some up.
Home Is Where My Mum Is Personalised Map from Positive Prints
Positive Prints make personalised pictures that make wonderful gifts for lots of different occasions. The business started with personalised sky maps with how the night sky looked at a certain date and has since evolved to include a range of different types of prints that can be personalised in many ways – maps, birth posters, baby sketches, moon posters and more.
For Mother's Day, they have a few lovely posters that are sure to make a mum feel loved, including the Home is Where My Mum Is Map that you can see above. It's so customisable – have fun with selecting the exact area that will be on the poster, the shape of the picture, the colour schemes, the format and the details. It's so easy and quick and shipping is free too. You can use ready made templates or choose your own colours and play around with the design to create something that's perfect for the occasion. You can preview all the changes on the screen while you're making the changes.
My mum and my side of the family are all in Stockholm, Sweden, so I personalised the Home Where My Mum Is option to make a Stockholm map with a scribbly red heart and changed the colours to represent the Swedish flag. I'm so happy with the result!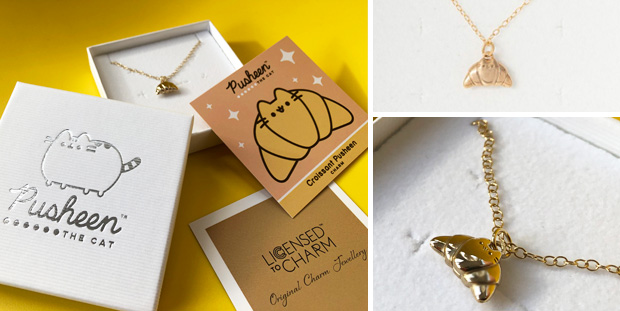 Licensed to Charm Pusheen Croissant Gold Vermeil Necklace
This is an adorable necklace from Licensed to Charm which is a designer and maker of quirky collectable jewellery that is full of character. Everything is designed and made in the UK with unique collections as well as officially licensed ranges.
Here you can see the sweet Pusheen Croissant Necklace that is a great gift for anyone who loves Pusheen, croissants or things that are simply a bit quirky! It's a beautiful necklace is great for everyday wear and is sure to make you and others smile. The material is 925 Sterling Silver plated in 18ct gold Vermeil and the chain is 45 cm long.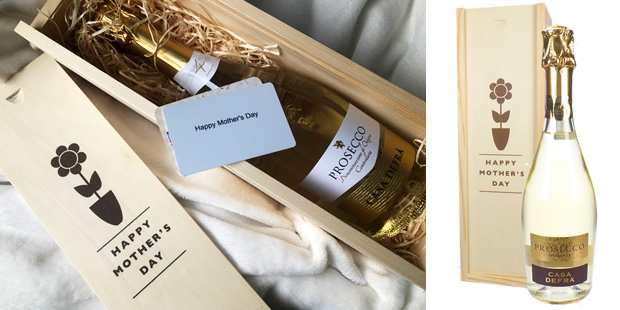 Sparkling Direct Prosecco Mother's Day Gift Boxes
It's no secret that most mums love Prosecco! This Mother's Day, spoil a Prosecco loving mama with this gorgeous Prosecco Spumante Mother's Day Gift Set from Sparkling Direct. In a beautiful wooden gift box with Happy Mother's Day printed on the lid, you'll find a full-size bottle of delicious Prosecco Spumante by Casa Defra. It's a great Prosecco that's easy to drink and has the right amount of fizz! You can send this gift set to anywhere in the UK with next day or selected date delivery and you can also personalise the gift with a message printed onto a gift card. A perfect treat for spoiling a loved mum! There are lots of other Mother's Day gifts to choose from Sparkling Direct too.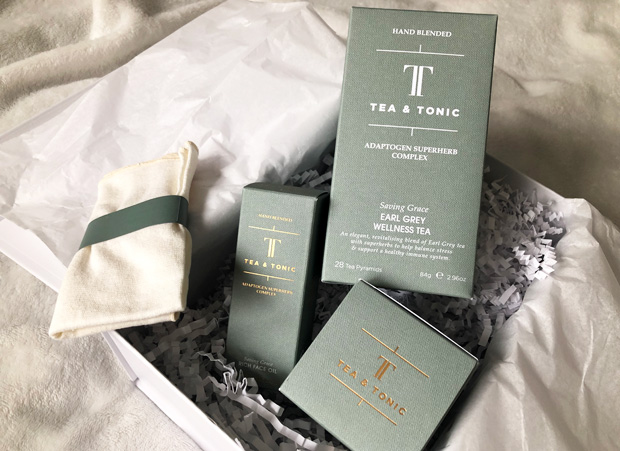 Tea & Tonic Saving Grace Wellness Gift Set
For me, some pampering goodies are essential for Mother's Day! Tea & Tonic is a 100% natural skincare and wellness brand that makes luxury products to help holistically balance your skin. All the products are hand-blended, sustainably sourced, vegan and cruelty-free.
Here you can see the amazing Tea & Tonic Saving Grace Wellness Gift Set which is full of goodies! Included in the luxury gift box, you get a Meadow's Secret Cleansing Balm (50g), a Saving Grace Rich Face Oil (30ml), an Organic Hemp Cleansing Cloth and a box of Saving Grace Earl Grey Wellness Tea (28 tea bags).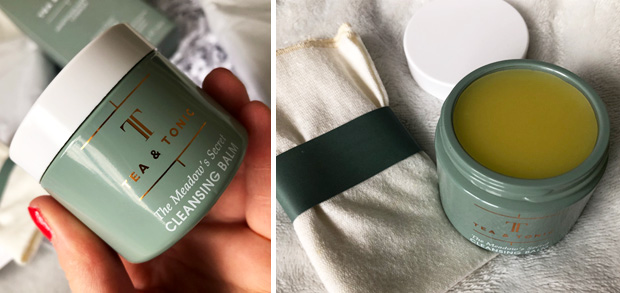 The nutrient-rich cleansing balm is a wonderfully rich and hydrating product that gently cleanses your skin. Apply a small amount to your face, massage into the skin and then wipe away using the included cleansing cloth that softly buffs your skin and removes any residue.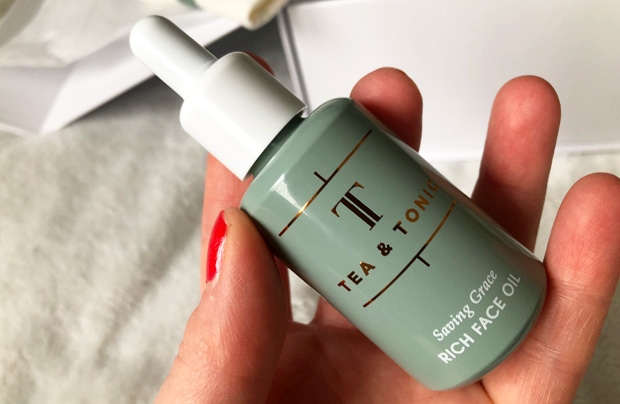 Follow up with the rich face oil which is a concentrated product high in nutrients and antioxidants. It contains Vitamins C & E and Omega Fatty Acids for elasticity. Apply 3-5 drops and gently press into the skin on your face and neck.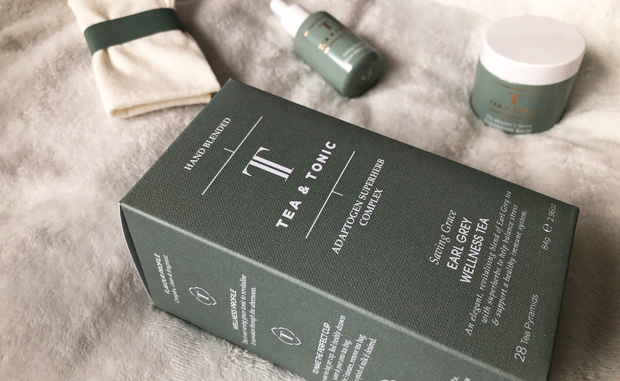 The delicious, fragrant Earl Grey wellness tea is perfect for revitalizing and energizing you in the afternoon.
Frantoio Muraglia Intense Fruity Extra Virgin Olive Oil from Sous Chef
If you're looking for gifts for foodies for any occasion, Sous Chef is the place to shop from. The ingredient and kitchenware specialist has a huge selection of inspiring artisan products, including this gorgeous Frantoio Muraglia Intense Fruity Extra Virgin Olive Oil that comes in a Rainbow Terracotta Bottle. These hand painted terracotta bottles look stunning and can be reused, refilled and treasured forever.
These oils always sell out quickly every year so pick one up while you can and enjoy the new season's olive oil and its amazing fresh and fruity flavours!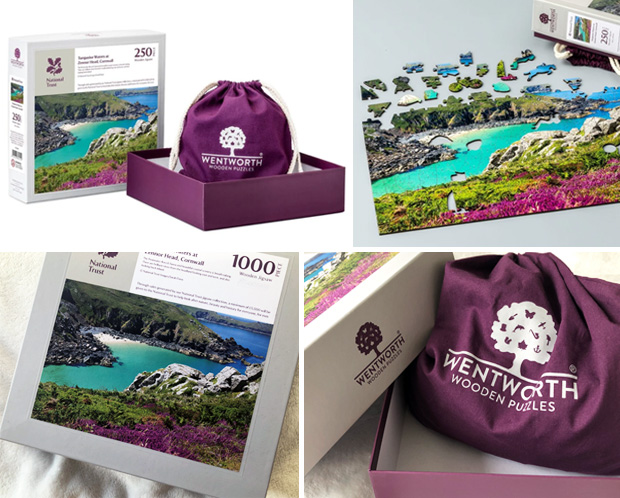 Beautiful Jigsaw from Wentworth Wooden Puzzles
Wentworth Wooden Puzzles make the best jigsaws and a beautiful 1000-piece jigsaw like this Turquoise Waters at Zennor Head Cornwall one would make a perfect Mother's Day gift for someone who loves jigsaws. There are loads of designs to choose from, including a new Spring puzzle collection which is beautiful! The high quality, laser cut, irregularly shaped pieces are amazing and there are always whimsies that match the theme of the jigsaw too, making it extra fun to do a Wentworth Wooden Puzzles jigsaw. I can't wait to build this one and will share a video on my Instagram Stories feeds when I have finished and will add a photo here too.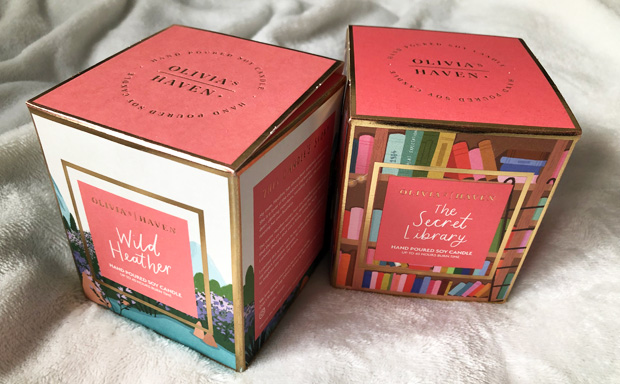 Candles with a Story from Olivia's Haven
Olivia's Haven specialises in hand-poured soy candles and home fragrances. The company was founded by Olivia Burns from Coleraine, Northern Ireland. After working in branding for many years, she decided to create her own brand and that's how Olivia's Haven was born. Having always loved candles and being fascinated with the link between scents and memories, she started experimenting with wax and fragrance oils to create her wonderful range of candles with scents inspired by her own memories. She worked alongside an illustrator to create the vibrant designs for the packaging that match the stories that the scents tell.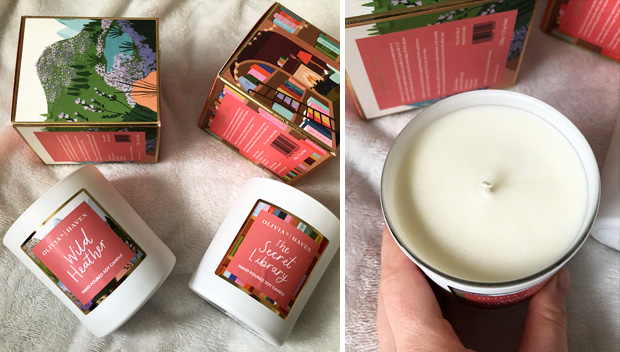 There are many beautiful scents to choose from. Here you can see Wild Heather, inspired by Olivia's mum's insatiable appetite for adventure and The Secret Library inspired by a secret library at an inn from Olivia's childhood. You can read the full story behind each scent on each candle's product listing. I love this whole idea and the candles are amazing!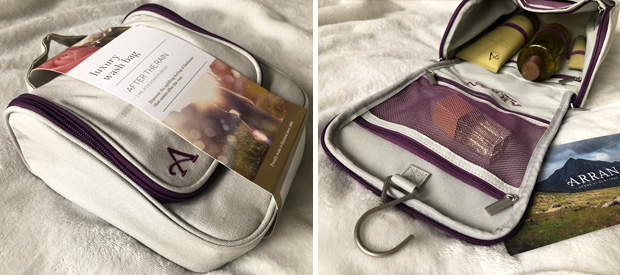 ARRAN Sense of Scotland After the Rain Wash Bag
ARRAN Sense of Scotland is a family business that has been creating vibrant scents made on and inspired by the Isle of Arran's scenery for three decades. They make candles, fragrances, luxurious skincare products and gift sets that are perfect for spoiling mums this Mother's Day.
Their best-selling signature scent is the stunning After the Rain scent that is a timeless floral scent with bursts of citrus, a hint of rose and notes of sandalwood and greenery – inspired by the fragrance of an Arran garden after the rain.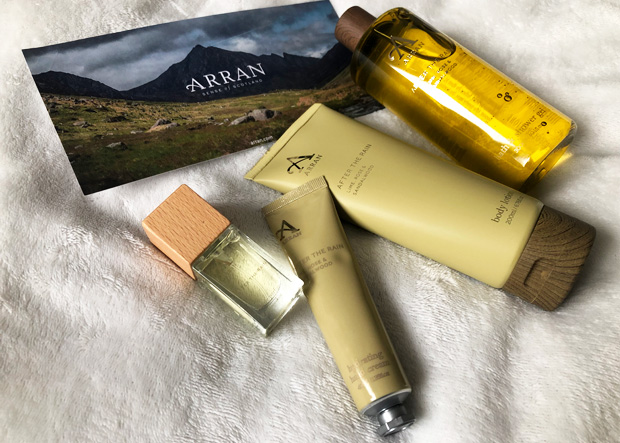 The ARRAN Sense of Scotland After the Rain Wash Bag contains four items from this popular range, gift packaged in a stylish high-quality cotton canvas wash bag that's great for travelling or the gym. The kit contains a 300ml After the Rain Shower Gel (also great in the bath), a 200ml After the Rain Body Lotion, a 15ml Eau de Parfum and a 40ml Hydrating Hand Cream. All lovely pampering treats that smell amazing and the wash bag is so useful too!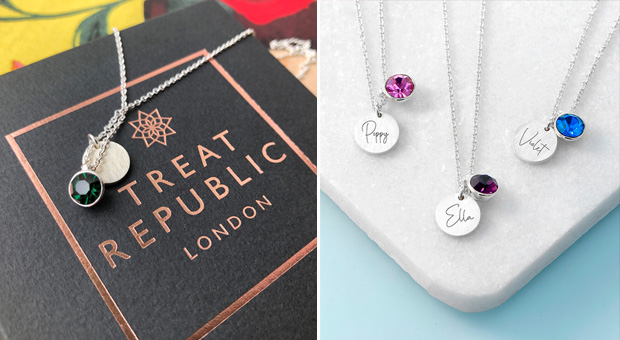 Birthstone Crystal & Disc Necklace from Boutique Gifts
If you're looking for handmade personalised gifts for all occasions, Boutique Gifts have a wide range of original gifts to choose from. Most of them are lovingly hand-crafted in their workshop in Nottingham too.
Here's their beautiful Birthstone Crystal & Disc Necklace necklace that is personalised in several way. You choose the birthstone of the recipient and can also engrave the disc that hangs from the same chain. A lovely gift suitable for lots of occasions and great for Mother's Day. You can browse the full personalised Mother's Day gifts range here.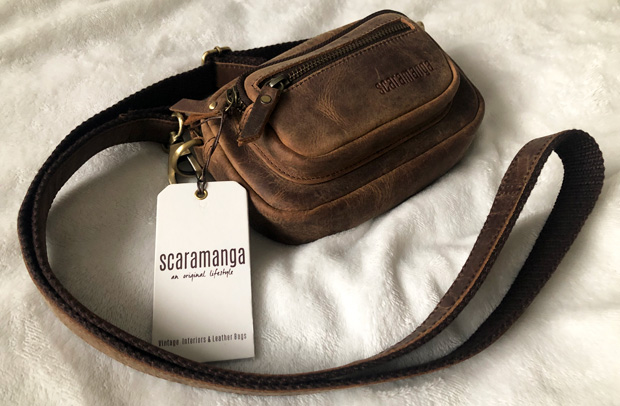 Scaramanga The Pixie Leather Micro Handbag
Scaramanga is a vintage furniture, homewares and accessories retailer with a growing range of leather bags and accessories. Everything they sell is exclusive to them and handmade or restored by experts using traditional tools and techniques. The result is a gorgeous range of unique high-quality products. Many of the items can also be embossed if you'd like to personalise them.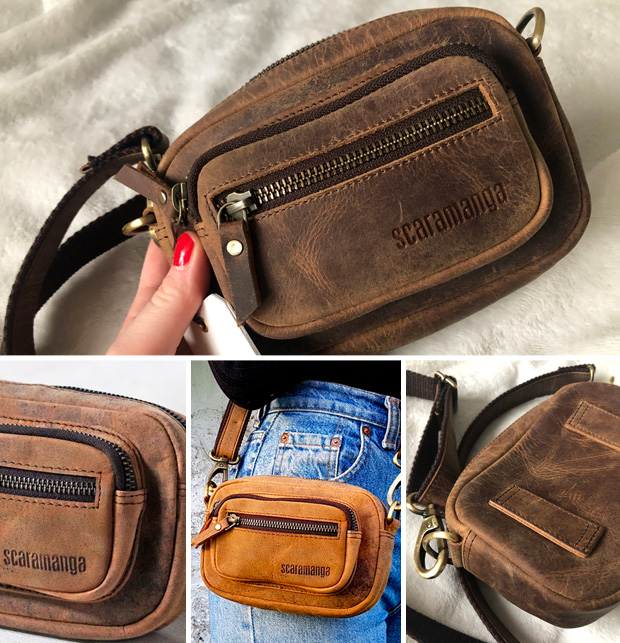 They have lots of stylish items that would make lovely Mother's Day gifts – purses, journals, bags, travel accessories and more. Here you can see The Pixie Leather Micro Handbag which is a super compact and cute handbag with lots of compartments to keep things safe and organised. A beautiful bag for everyday use and travel that would also work for a night or meal out – it's very versatile and practical!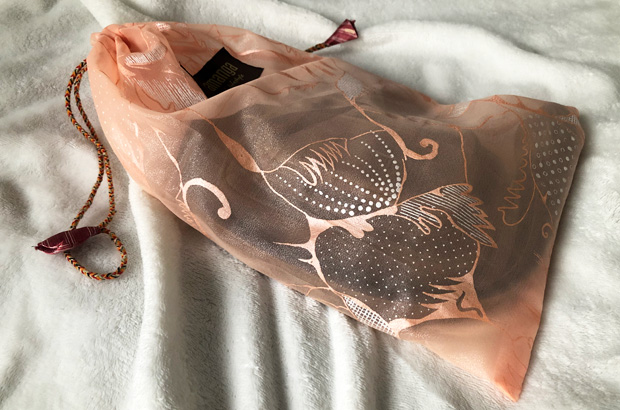 The small, handcrafted bag can fit your keys and your phone and other small essentials. It's made from Scaramanga's signature antique Hunter leather, has an adjustable (and removable) shoulder strap and belt loops on the back. I love how useful it is and the naturally distressed leather gives the bag a chic vintage look. Like many items from Scaramanga, this bag comes in a gorgeous reusable drawstring bag.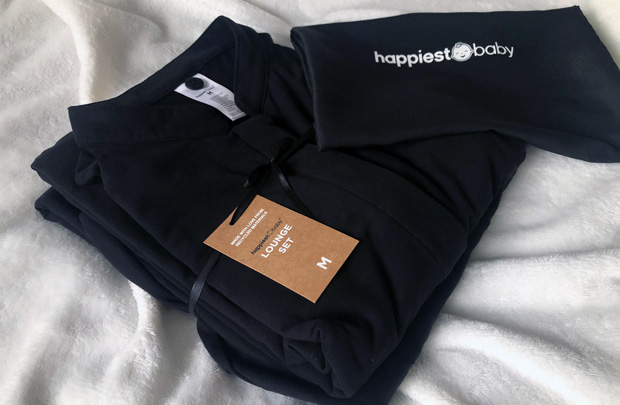 Happiest Baby Everyday Lounge Set
Give the gift of comfort and style with the new everyday loungewear sets for mums from Happiest Baby. The luxurious sets are suitable for pregnancy, breastfeeding and beyond.
The sets consist of a robe top and cropped bottoms. The top has a hidden button placket for easy breastfeeding, a stylish collar, and a half-moon shirt hem with side slits to fall beautifully on a changing body without riding up. The top also features an attached waist tie.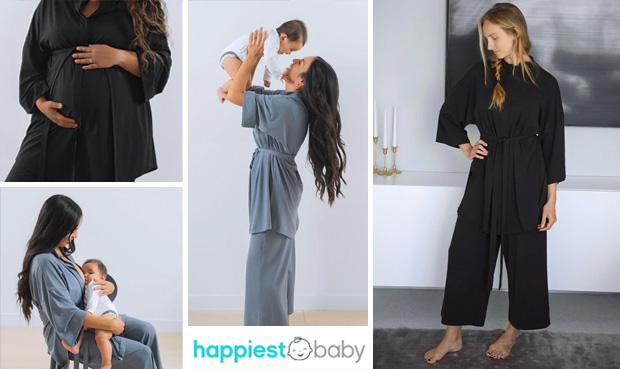 The bottoms have wide legs and deep pockets for anything that you need to carry around. They have a super-comfortable and roll-resistant elastic waistband with a drawstring to ensure a good fit whether you're pregnant, have recently had a baby or are simply a stylish mama!
Made from heavy, ultra-soft recycled materials that feel so luxurious and washes well too. I've never come across any loungewear that is so lush and chic before! A wonderful gift to give and receive. Available in black and grey.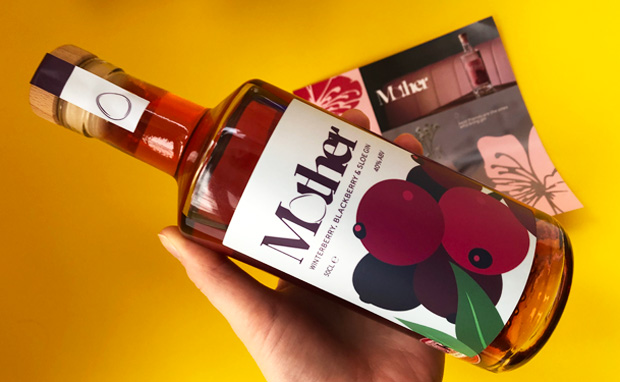 M0THER is the UK's very first freelance marketing agency for mothers and they also have a great range of M0THER gifts including this gorgeous bottle of M0THER Winter Gin. A fragrant blend of the original M0THER gin (juniper berries, bitter orange & orange root, with notes of lemongrass, rose petals & cherry blossom flower) mixed with a mix of winterberries, blackberries and slow berries. Wonderful flavours and a very suitable gin for mothers on Mother's Day! This tasty and smooth gin is made in England which is great too. Enjoy with tonic or lemonade over ice. Best served in a huge, fancy gin glass!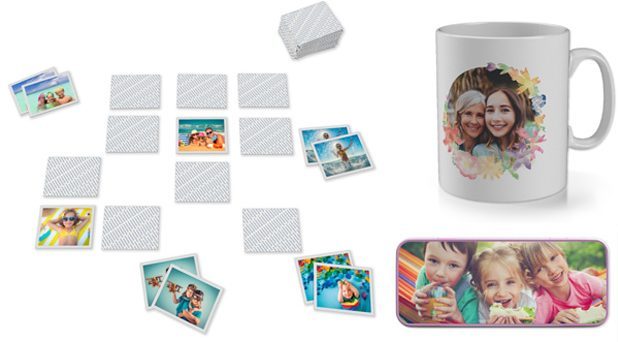 Personalised Photo Gifts from ASDA Photo
Personalised photo gifts are always extra special and often become sentimental keepsakes of treasured memories too. ASDA Photo has a wide range of gift ideas that can be personalised with your own photos for truly unique gifts to give to loved ones. There are lots of items suitable for mums and other motherly figures in our lives. How about a personalised cushion, a photobook filled with special memories or a personalised mug that will make her smile every time she has a cuppa?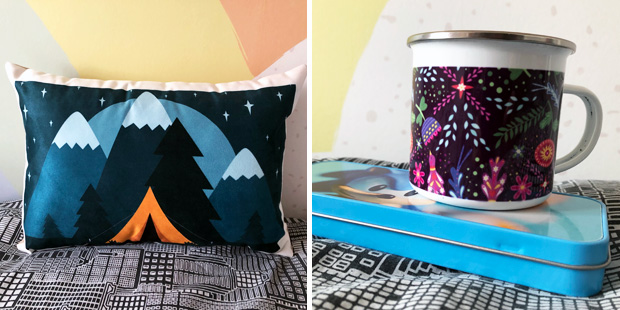 I have created a few items myself that are on the way now – an enamel mug (perfect for adventurous mums!), a cushion, a pencil tin (for creative mamas) and a memory game to play together with the kids. It's so easy to use the ASDA Photo website to quickly create your personalised gifts!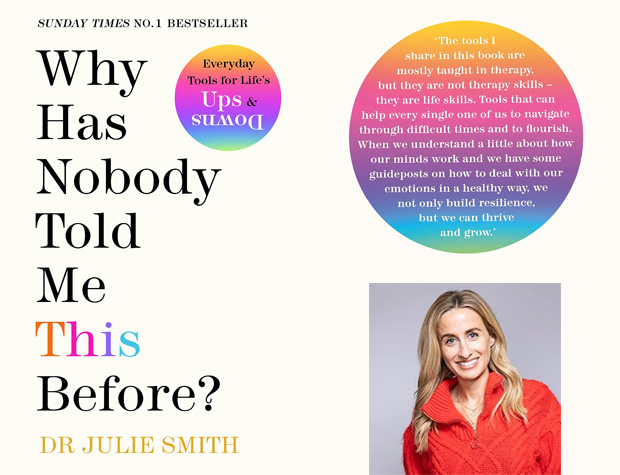 Why Has Nobody Told Me This Before? Book by Dr Julie Smith
A great book is a lovely gift and one that all women should read is Why Has Nobody Told Me This Before? by Dr Julie Smith. The best-selling book is a must-have handbook for looking after your mental health with lots of useful tools to help you with different challenges and everyday issues.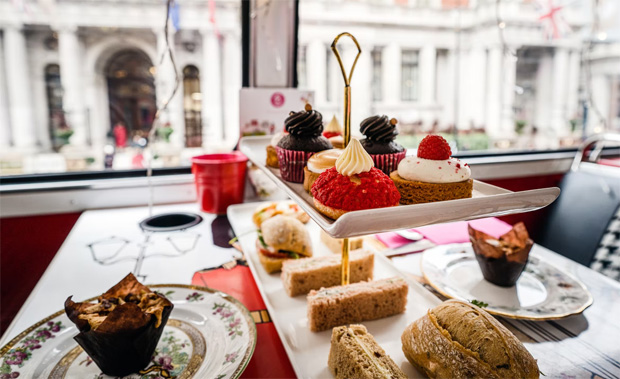 An experience is a wonderful thing to give and receive. It could be something shared, like a fancy afternoon tea, a meal out or a spa day or something like a gift voucher for a massage or beauty treatment for your mum or partner to enjoy.
I hope this Mother's Day gift guide has been helpful for you if you're looking for some ways to treat your mum or mother of your children this Mother's Day!
Collaboration. This gift guide features gifted items that I have chosen to include.