My-Picture.co.uk Customised Photo Products Review & Giveaway
|
My-Picture.co.uk Customised Photo Products Review & Giveaway
As you might know, I love personalised artwork. Either customised art or art made from your own photos, like canvas prints. It's much more fun than mass produced stuff! Our most recent additions are a set of MIXPIX Photo Tiles and a Custom Star Map. Both very interesting and unique products!
My-Picture.co.uk is a photo printing community that specializes in producing customized, high-quality wall décor and lifestyle accessories.
Review – Star Map & MIXPIX Photo Tiles
I love the idea of the Personalised Star Map! They're perfect for life changing moments, like meeting your partner, your wedding, the birth of your children etc.
By providing your chosen date, place and time, you can create a personalised star map that captures how the stars aligned that particular moment. It's truly a unique memento and would make a lovely gift for a loved one.
It could make a nice gift for a child too, maybe for a Christening or a first birthday, alongside a toy to play with like a baby rattle or a doll house.
You can choose between a range of colours and styles and add text like the date, location or time or your own personal message.
You can choose between different sizes and frames too or choose to have no frame but a hanging mechanism at the back instead for a floating effect. I've ordered one of how the stars looked on the night our youngest daughter was born. Third children rarely get a baby book or many printed photos so I thought I'd get something for her.
My-Picture.co.uk Customised MIXPIX photo tiles are a brilliant idea too. They are super lightweight 20 x 20cm foam core photo tiles that you hang with high-performance adhesive pads so you don't need to drill any holes or put nails in your wall to put your photos up. This also means that you can move them around when you feel like it.
They are safe for most walls and can be removed without causing any damage to the wall. Obviously do a spot check first just in case!
I've chosen six family photos for us and am planning to get these up in our guest WC when I get a chance to use two hands (happens rarely at the moment with my clingy 7-month-old). It's a very small room with just white walls so these bright and colourful tiles will be perfect in there to make it more fun. I just need to decide where they go — but I guess it doesn't matter that much as I can just move them around if I need to.
The tiles are so light and the adhesive pads are good quality so I'm sure they'll stay put well. I'm really happy with the finish and the print quality of the tiles too.
You can have lots of fun and get really creative with this product! You can experiment with different patterns or choose photos that are printed across several MIXPIX tiles for a cool effect.
It's really easy to order from My-Picture.co.uk — you don't need to create an account or use and app or anything, you just go to the website and choose the product you want to create, upload your photos and order. Easy peasy!
Discount Code

AMUMREVIEWS – using this code your get you an additional 15 % off to all, already discounted, My-Picture.co.uk customised CANVAS prints as seen on www.My-Picture.co.uk website.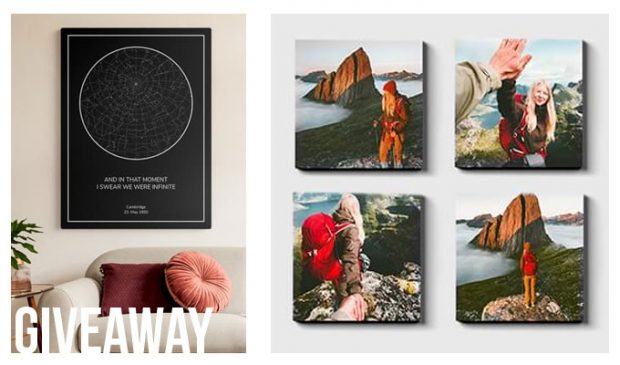 Giveaway – Win your own Star Map & MIXPIX Photo Tiles
One lucky winner will win a My-Picture.co.uk Customised Star Map of the design of their choice (unframed) and a set of 6 MIXMIX tiles. Enter through the Rafflecopter below. Terms & Conditions apply. UK Entrants over the age of 18 years only. The giveaway will end on the 22nd of November 2019. Good luck!
Products provided for this review. As always, all my reviews are 100% honest and all thoughts and opinions are my own. Contains a sponsored link.