New Limited-Edition Cake Inspired Gourmet Popcorn Flavours from Joe & Seph's
|
New Limited-Edition Cake Inspired Gourmet Popcorn Flavours from Joe & Seph's | AD
In my house we are big fans of Joe & Seph's delicious gourmet popcorn! We love sampling new flavours and enjoying the fancy and yummy popcorn together.
Joe & Seph's products are handmade by a small team of pastry chefs in the business' London kitchens, using the finest natural ingredients. There are over 50 exciting flavours to choose from and the team is always developing new ones too.
The latest launch includes four new limited-edition cake inspired flavours which are all amazing! My daughters and I all love sweet treats and cakes so we were very excited to hear about this new launch.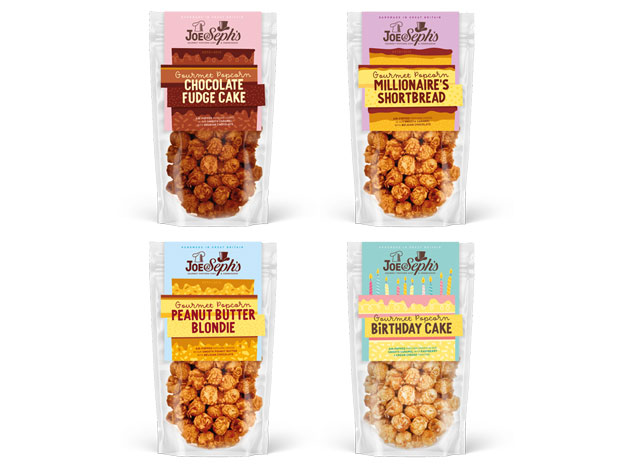 The new flavours are:
Chocolate Fudge Cake – air-popped popcorn coated in chocolate caramel, with cream cheese and vanilla.
Millionaire's Shortbread – air-popped popcorn coated in smooth caramel, with shortbread and dark chocolate.
Peanut Butter Blondie – air-popped popcorn coating in our white chocolate caramel sauce, with crunchy peanut butter. These ones are award-winning!
Birthday Cake – air-popped popcorn coated in smooth caramel, with raspberry and cream cheese frosting.
As you can see the range includes an excellent selection of cake flavours! They all feature caramel which is always a good thing and other natural ingredients to recreate the cake flavours.
My daughters and I have sampled all these cake inspired gourmet popcorn flavours now and can safely say that they are all delicious!
The Chocolate Fudge Cake popcorn taste like cake and are the perfect gourmet popcorn for chocolate cake lovers. These were rated number one by one of my daughters when we sampled this range.
The Millionaire's Shortbread popcorn were the overall favourite in my family. Sweet and chocolatey and with great biscuit and caramel flavours – very tasty!
The Peanut Butter Blondie popcorn are ideal for people who love peanut butter. The mix of white chocolate, caramel, and peanut butter is scrumptious.
Last, but not least, the Birthday Cake popcorn which are fruity and not too sweet with flavours of raspberry and cream cheese. Perfect for people who prefer lighter tasting options.
All bags are £4 each and are available to purchase directly from Joe & Seph's.
Collaboration. Samples were provided for this review.