NSAuk Deluxe Pop Up Travel Cot Large Review
|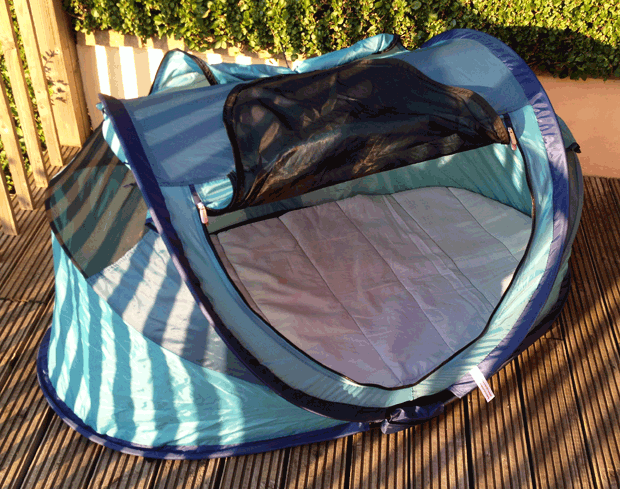 NSAuk Deluxe Pop Up Travel Cot Large Review
This is a travel cot, a sun tent and a play pen all in one. It packs up really small in a handy bag and is easy to take with you wherever you go.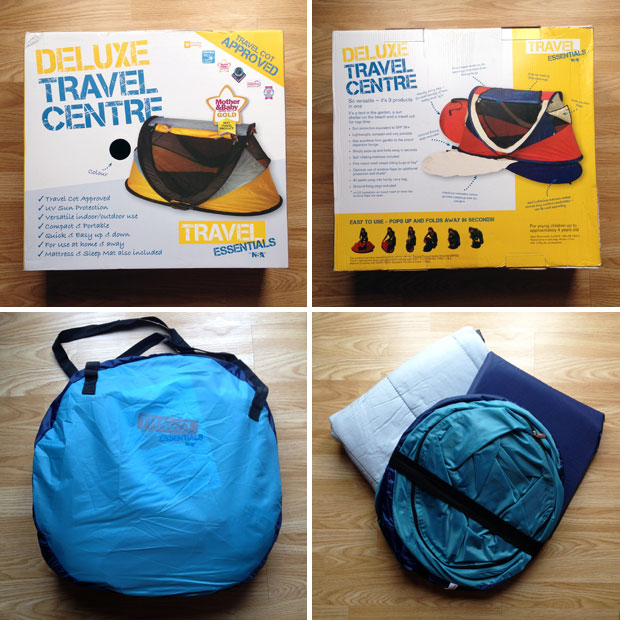 When it's all packed up in the carry case it's 46cm in diameter and 10cm thick. This travel cot only weighs 3.4kg so is much lighter than tradition travel cots. When it's packed away it takes so little room. It's even small enough to fit in our shopping basket under the pushchair.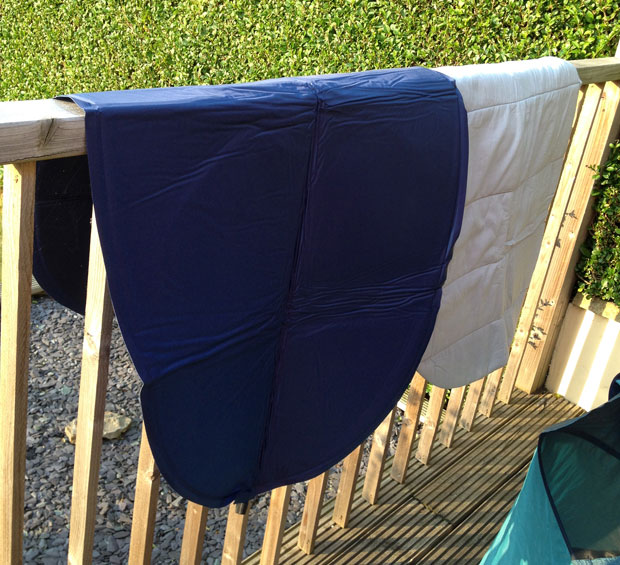 The NSAuk Deluxe Pop Up Travel Cot comes with a self-inflating mattress and a machine washable sleeping mat. The mattress inflates partly by itself when you open the vent and then you can add more air if you wish by blowing it up with your mouth. The mattress fits in a pocket on the bottom of the cot and the sleeping mat has Velcro sewn onto it that fits onto matching Velcro inside the cot to ensure it stays in place.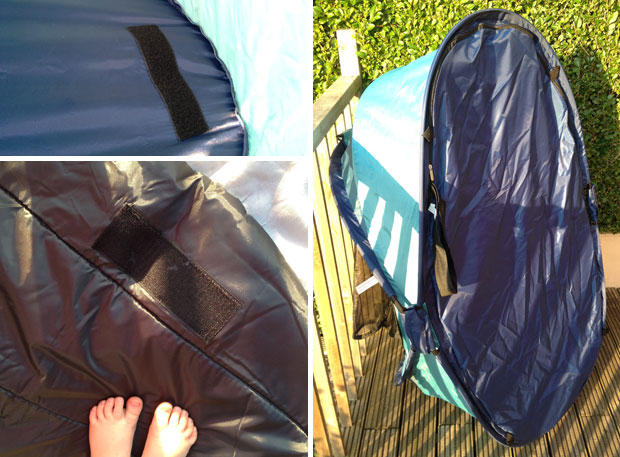 The cot pops up immediately and there are no poles or fiddly frames to put together. It really just takes a couple of seconds which is brilliant! If you are using it outside you can attach it to the ground with the pegs that are included.
When the cot is up its dimensions are 70cm x 130cm x 65cm so it's nice and spacious for both sleeping and playing. It can be used for babies and children aged 0-4 years so it gets many years of usage.
I'm usually completely rubbish at folding away things like this cot. We have a play tent and that needs to be folded in a similar way but I can never get it right. I thought this would be the same but the short and simple instructions are great and even I can fold it away in seconds. It's really simple and the cot folds so easily and smoothly. Great design!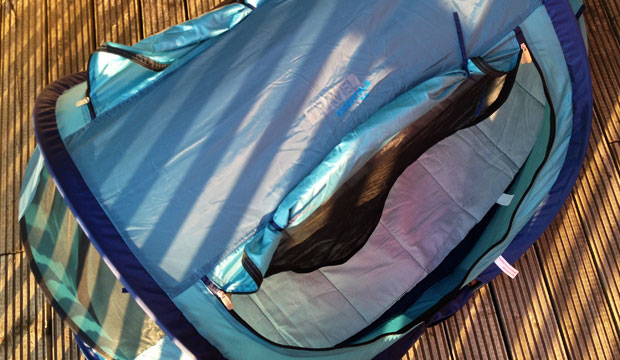 The NSAuk Deluxe Pop Up Travel Cot has four windows and they all have fine insect mesh to stop bites and stings. There are two small windows on the short sides and two large ones on the two longer sides. One of the large ones is the opening to the tent and both the mesh and the curtain can be zipped closed individually. On the other side, the mesh is sewn close and the curtain can be rolled up or down and zipped closed. There are ties for all the curtains to hold them in place when they are rolled up. I wish there were some ties for the mesh on the door flap too, for when you wish to leave it open. You can squeeze it stuck to the rolled up curtain but it's not the neatest solution. A few more ties would be perfect.
All the windows and curtains make it really easy to adjust the light and airflow in the cot.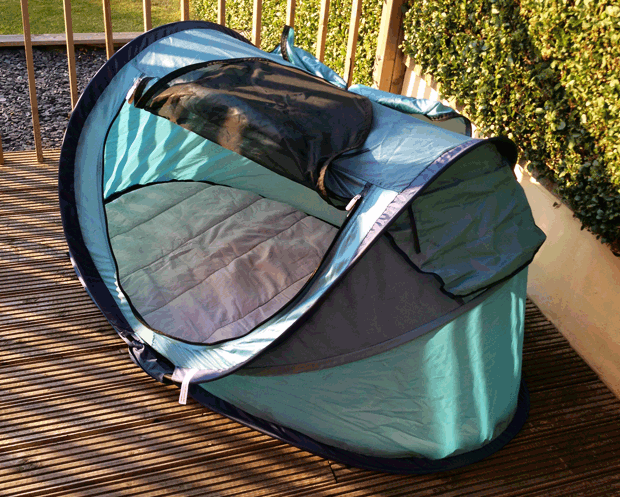 This handy cot can be used for naps or night time sleeping when on holiday or visiting grandparents or as a play pen indoors or outdoors. The mattress ensures it's comfortable for either. It can also be used as a UV sun tent for the beach, the park or the garden. It offers a UV protection equivalent to UPF 25+ to help protect little ones from the sun's harmful rays.
We are mainly using it as a sun tent and play pen outside in our garden and will be using it a lot at the grandparents' house, too. They like to spend a lot of time in the garden and our little girl is very fair and needs to not be in direct sunlight in the middle of the day.
We have a traditional travel cot that we use when we have room to take it with us in the car but the NSAuk Deluxe Pop Up Travel Cot takes up so much less space and is much lighter so I can see us using that instead when space is tight. It's so small you could even pack it in your suitcase when you go on holiday. It's also ideal for taking with you when you go camping if you want a separate bed for your baby/toddler.
It's a very practical item with so many uses! I love things like this that are designed well and can multi-task. Kids love it too. They like having their own space for playing and sleeping and just getting in and out of the tent is lots of fun for toddlers. (See the GIF below.)
The award winning NSAuk Deluxe Pop Up Travel Cot comes in lots of different colours and costs around £79.99. It can be bought from SafeTots.co.uk or Amazon.co.uk, for example.
We were sent this item for this review. As always, all my reviews are 100% honest and all thoughts and opinions are my own.