NUK First Choice Glass Bottles Review
|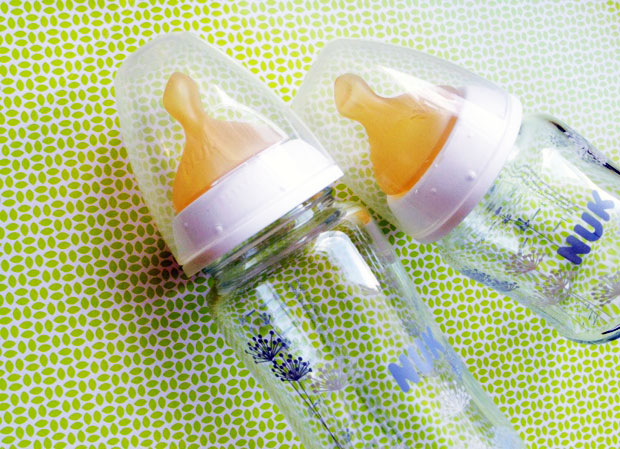 NUK First Choice Glass Bottles Review

We've recently started to explore the world of glass baby bottles and one of the brands that we have tried is NUK. You can read all about the pros and cons of using glass baby bottles in my post here.
These bottles by NUK are lovely! They are really sturdy and I like the simple, but pretty, unisex design and the retro look that the brown teats give. The look is very elegant! The glass is thick and durable and seems to be of the highest quality.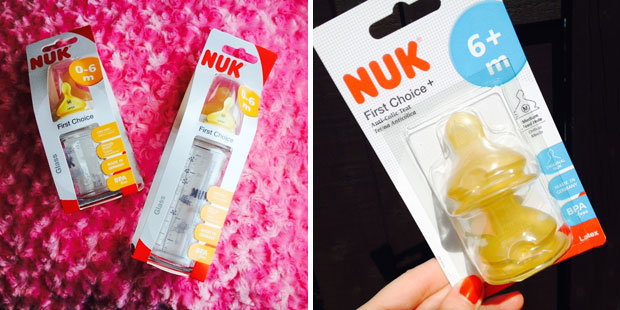 NUK First Choice Glass Bottles come with the original NUK orthodontic shaped teat with its extra wide lip support to simulate breastfeeding as closely as possible. It's a flexible teat designed to optimally fit the shape of your baby's mouth. It also minimises the risk of infant colic thanks to the air vent and is approved by the British Dental Health Foundation (NUK is the only brand to have both teats and soothers approved). They are modelled to mimic nipples to aid alternating between breast and bottle feeding.
The teats that comes with the bottles are Latex 0-6 months/Size 1 Anti-Colic Teat with Medium Feed Hole but the bottles are compatible with all First Choice Teats. Latex is softer and more flexible than silicone and can make it easier for babies to accept bottles. NUK also make silicone teats if your baby prefers them. We bought a packet of the same teats that the bottles came with but for 6 months+ because my daughter is a toddler. She needs teats that are fast flowing and that can handle thicker liquids like smoothies too.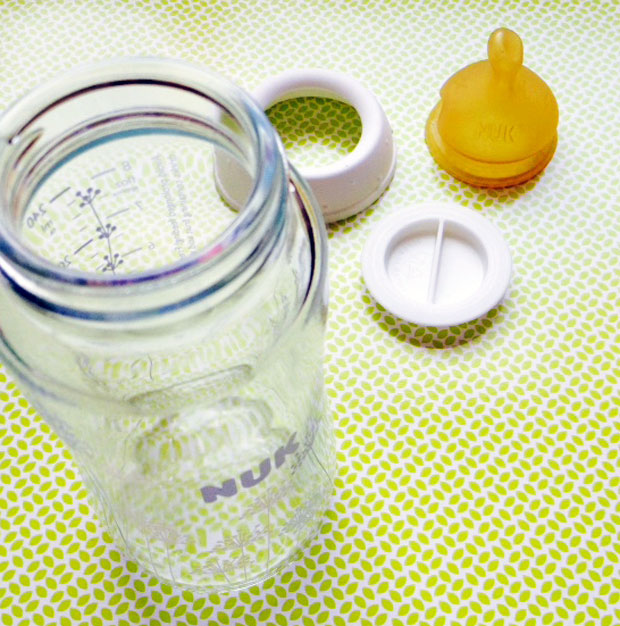 The bottles can be sterilised with steam or cold water sterilisation or in the NUK Steam Steriliser. NUK don't recommend putting the bottles in the dishwasher or the microwave because it can cause material damage. I have used my microwave steriliser because I don't have any other options (other than boiling lots of pans of water). So far, I cannot detect any damage but my microwave is quite gentle! I would never put any bottles in the dishwasher so the recommendation not to do that is fine with me.
I love that the bottle comes with sealing disks — not all bottles do. They are great to prevent leaks when using teats that are not non-spill (like these ones) and also when using the bottles to store expressed milk.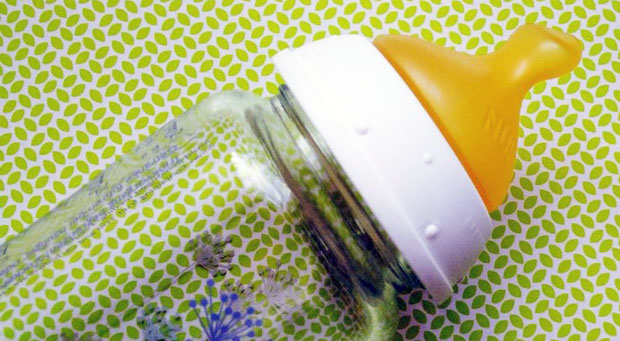 Even though we bought the teats for 6 months+, my daughter really struggled to get anything out of the bottles. I tried myself and it was difficult for me too, so I got the smallest pair of scissors that we own and cut a cross in through the hole. I cut a couple of millimetres in all directions. You're not supposed to do this (even though that's what our mothers did back in the day) but it was the only way we could use the bottles. After making my small incisions, my daughter could easily drink her milk and smoothies from these bottles.
The teats are different from what my daughter is used to, and I'm sure, had she tried NUK bottles when she was younger, she would not have had any problems. They are a different material from her other bottles, the shape is very different too and the hole is not in the middle.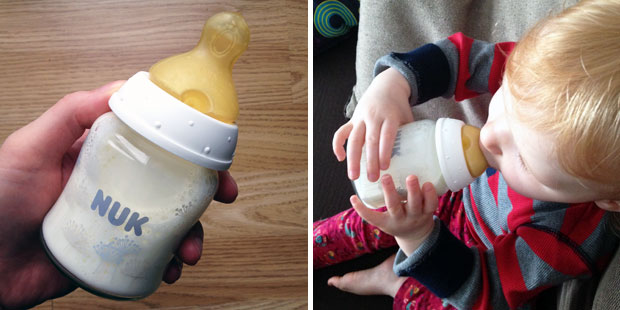 The bottles come in two different sizes, 240ml and 120ml.
Glass bottles are much heavier than plastic and it took my daughter a few tries before she got used to the new, heavier bottles. The smaller one of the two is naturally easier for small hands to hold and I think she prefers that one.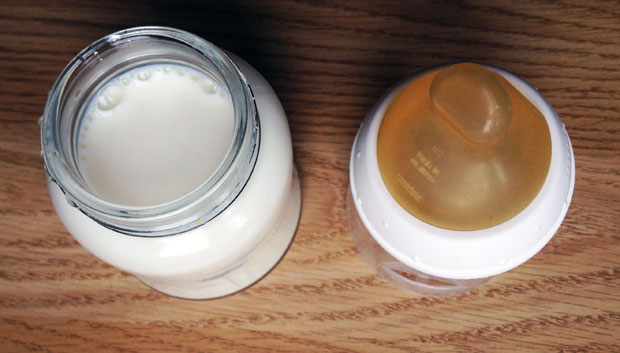 She happily drinks out of the larger one now too, but the smaller one is definitely her favourite, especially in the evenings when she is tired.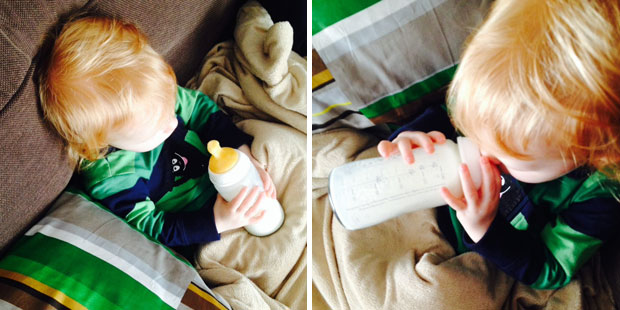 The bottles are really easy to clean and they stay looking this lovely and stain free! Glass is so much more durable than plastic. It's long lasting and environmentally friendly, too. Both the glass and the biodegradable teats can be recycled.
I think we'll be using these for a very long time! Unlike our plastic bottles, I plan to save our glass bottles and use them with baby number 2 as well. They are made to last and I'll just use new teats. If we introduce a NUK teat early on we will probably not have the problem that we had when we first got these.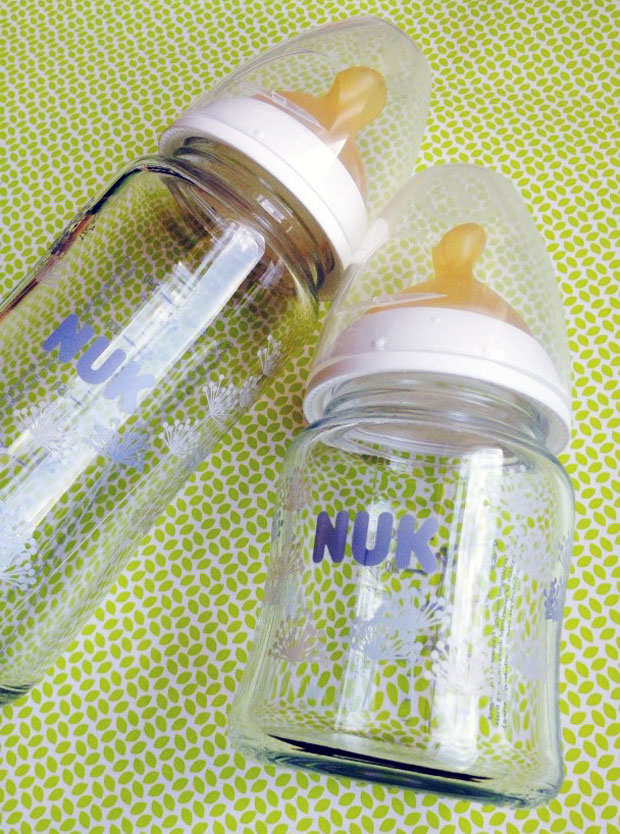 One last look at these gorgeous bottles!
A bit more about NUK and their products:
"For more than 50 years, NUK has been listening to the trusted experts; midwives, doctors, nutritionists and especially parents, in order to learn about the needs of mother and baby in those precious early years. NUK products are available in over 110 countries worldwide, and their teats are used in in over 90% of maternity and neonatal wards throughout the UK."
These bottles are really great quality and I would recommend them to other parents, especially if you are already using NUK teats or are still breastfeeding.
You can buy them from the NUK Online Shop, Amazon.co.uk or other great shops that sell baby feeding items.
I also love the look of this NUK First Choice Baby Starter Set that consists of two 240ml and two 120ml glass bottles in a handy storage box. What a great starter kit!

We were sent two glass bottles for this review. I bought the teats separately. As always, all my reviews are 100% honest and all thoughts and opinions are my own.