Palmer's Cocoa Butter Formula Tummy Butter For Stretch Marks Review
|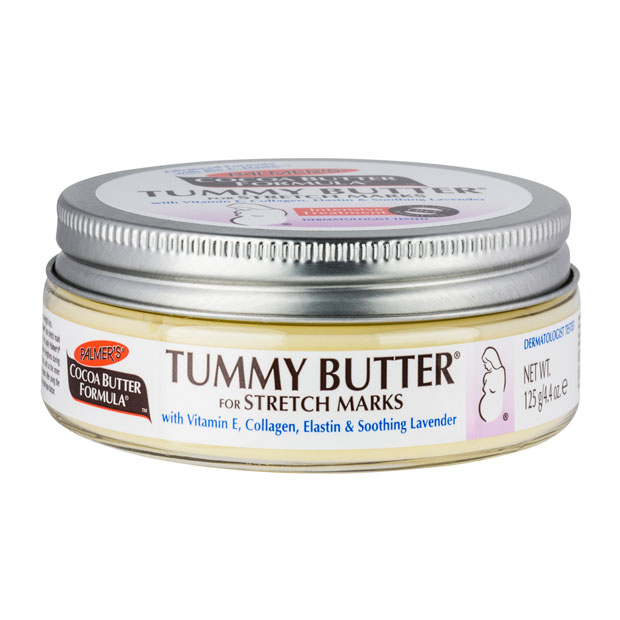 Palmer's Cocoa Butter Formula Tummy Butter For Stretch Marks Review
I tried a few different creams, butters, lotions and oils for stretch mark prevention during my pregnancy but the one I ended up using the most and the one I consider to be my favourite is Palmer's Cocoa Butter Formula Tummy Butter For Stretch Marks.
It is a solid, thick butter enriched with lavender, pure cocoa, shea butter, vitamin E and something called "new Bio C-Elaste™" (which I don't know what it is!). Palmer's Cocoa Butter Formula Tummy Butter For Stretch Marks has been proven to help improve skin's elasticity and moisture. I like it when things have been "proven" rather than "tested". It means the results in the studies were good!
It's non-greasy when rubbed in properly and is an intensive treatment to help prevent stretch marks and itchiness due to the skin stretching throughout pregnancy.
Some people say that it is purely your genes that decide if you get stretch marks or not and that you can't do anything to prevent them. Some people use creams and still get them and others use nothing and don't get a single stretch mark. I thinks genes play a big part but that you can also help your skin by keeping it moisturised.
I think it is worth creaming up. It's a nice little ritual and it feels good. I personally believe that creams can help your skin's condition. Acne creams, anti-wrinkle creams and sunscreen do their thing so why shouldn't stretch mark creams make a difference?
The instructions say to use this 3 times per day but I only used it once per day, in the evening after my shower. I took time to massage it in and used it up to about week 38 when I got too tired to massage my belly. That's when 2 mini stretch marks appeared under my bump!
After my pregnancy I also got stretch marks on my breasts due to them expanding quickly, so that shows that I'm genetically prone to get stretch marks but still didn't get any while I was using Palmer's Cocoa Butter Formula Tummy Butter For Stretch Marks on my bump.
The tub looks quite small but I still have quite a bit left (and I only bought one!) so it's a bargain at around £4 for a tub.