Impulse Acne Treatment Review
|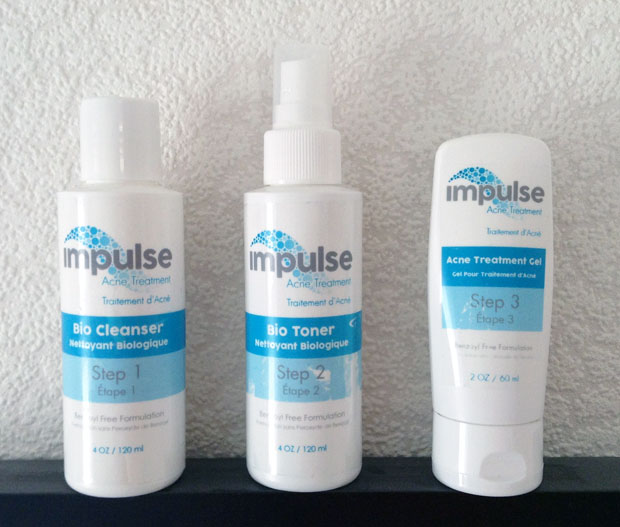 Impulse Acne Treatment Review
Impulse Acne Treatment is a new acne fighting system from across the pond. What's special about Impulse is that it is free from harsh and dangerous chemicals and can therefore be used by people with sensitive skin without causing irritation like dryness, peeling or burning. With you doctors agreement, Impulse can also be used when you're pregnant or breastfeeding.
Impulse has been proven to be safer, faster and more effective than some of the leading brands that use strong chemicals. Impulse is fortified with organic minerals and vitamins to help give you a clearer and healthier complexion.
The first step is the Bio Cleanser which is really creamy and gentle and feels like it does a good job thoroughly cleansing my skin.
Step two is the Bio Toner that can be applied as a mist, with your hands or a cotton pad. This might be too mild because I don't feel it doing anything, I used it as a mist and it just makes my face wet and doesn't absorb quickly enough for me.
The last step is the Acne Treatment Gel and this is my favourite. It's a thick but runny gel that smells gorgeous of cloves (smells like Christmas to me!). It feels natural and tightens my skin just slightly, in a nice way.
It's not clear if you are supposed to use a moisturiser afterwards or if the gel is a moisturiser too. I definitely need to moisturise with a day cream with SPF in the morning (I always use SPF in the daytime if I'm going outside) and at night I need to add a face cream or facial oil otherwise my skin feels dry.
I have used this system in December and in January and my results were not as good as I'd wished. When I first used the products I broke out in different places to normal. I've usually got classic hormonal breakouts along my jaw and chin but I was left with spots in other places of my face after using these products. I thought maybe it's the Christmas stress and lack of sleep and decided to try again after Christmas. My skin had just cleared up and I started using Impulse again and the same thing happened — I broke out in new places on my face. Not the same kind of hormonal spots that I usually get. This time I was not stressed.
Even though I find the cleanser and gel really lovely to use, Impulse is not a match for my skin. I am happy to say that the system did live up to the promise of not causing any irritation to the skin. Anybody suffering from breakouts knows that the journey to finding something that really works for you can be very long, frustrating and expensive.
The Impulse system has been proven to give results so it might work for you. What's great is that they offer a 60 day money back guarantee so you can be sure you are not wasting your money. If it works for you, it's a good investment and if not, you get your money back. Win-win!
Impulse offer free shipping to the US, Canada and UK. I have a discount code to share with you too, that gives you 10% your order if you decide to give Impulse a go.
The code is: "AMUMREVIEWS"
I was sent a kit for the purpose of this review. As always, my reviews are 100% honest and all thoughts and opinions my own.