Plan Toys Wooden Toys from Baba Me – Beehives & Sandwich Meal
|
Plan Toys Wooden Toys from Baba Me – Beehives & Sandwich Meal
It's not a secret that my daughters and I are big fans of wooden toys and especially food ones! We have a couple of new sets of wooden toys from Plan Toys from Baba Me that I will review in this blog post.
Baba Me is a shop and online retailer based in Northern Ireland and established over 15 years ago. Their initial idea was to make modern cloth nappies more accessible in Europe but the product range has expanded since then and now also includes wooden toys, natural beauty products, eco living products and much more.
Our aim is to be a one-stop ethical, natural and eco-friendly shop for the entire family. – Baba Me
Plan Toys make high-quality, eco-friendly wooden toys that are educational and entertaining. From baby toys to dolls houses and food toys and many more — they make lots of fun toys! The toys are sustainable and painted with organic watercolour based dyes, the glue used is non-toxic and the packaging is made from recycled cardboard boxes printed with natural soy ink. Every step of the production line has been reviewed to ensure they've done the best for the environment and the workers too.
The two sets we have are Plan Toys Beehives and Plan Toys Sandwich Meal. Let's have a closer look at them!
First, the Beehives! The set consists of six wooden hives and matching bees in a rainbow colours. We love rainbows in this family so this set is very appealing to us. It's truly a beautiful play set! You also get a pair of pincers/tweezer to use to grab the bees to put them in the hives. You can of course use your hands too but the pincers help develop fine motor skills. Other skills that this set helps are colour matching and counting.
There are so many ways to play with these hives and bees! You can make up games — turn the hives upside down and hide bees or mix the colours up and try to remember which colour bee is under which hive, etc. You can stack the hives in lots of different ways and make beautiful shapes and patterns.
We love this toy so much! It's made from sustainable rubber wood and the quality is wonderful. The girls choose this toy all the time and they keep coming up with new ways to play with the set on its own and by combining it with other toys.
I also like that the toy looks nice when the hives are just stacked up or lined up on the shelf when it's not in use. It's a nice bonus! The Beehives cost £20.95 from Baba Me.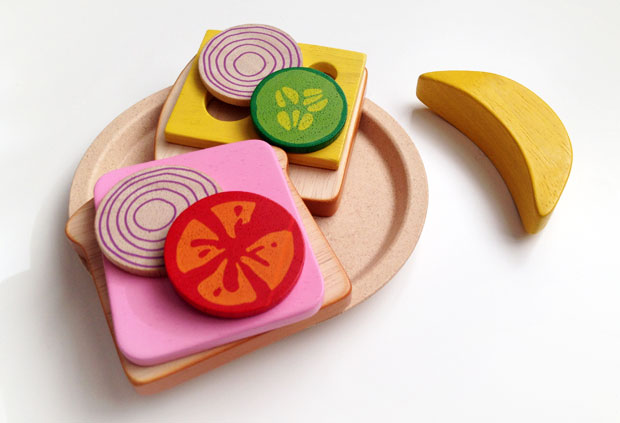 I have a bit of an obsession with wooden food toys and we have quite many different sets that the girls love to play with. I love adding to it for even more fun and the Plan Toys Sandwich Meal set is a perfect addition.
The set is a complete lunch with two slices of bread, two slices of onion, one slice of cheese, one piece of ham, a slice of cucumber, a slice of tomato and a banana too. You also get a lovely plate to put your meal on.
The kids have fun making different types of sandwiches for themselves or us parents. It's a nice set to use to promote imaginative play and healthy eating too with the selection of vegetables and fruit.
This set is also made from rubberwood and the quality is so impressive. Like I mentioned, we have many different wooden toy food sets (from many different brands) and the Plan Toys foods are by far the best quality. The wood is so smooth and each item is beautifully made and the paint seems like it will never chip — the stain looks like it's well absorbed into the wood instead of a coating that can easily get damaged. The Sandwich Meal costs £11.99 from Baba Me.
I'm really pleased with both these sets and will definitely look at Plan Toys and Baba Me first next time I feel like expanding the girls' wooden toys collection.
These toys were provided to us for this review. As always, all my reviews are 100% honest and all thoughts and opinions are my own.