Recipe: Best Ever Chocolate Chip Cookies by Paul Hollywood
|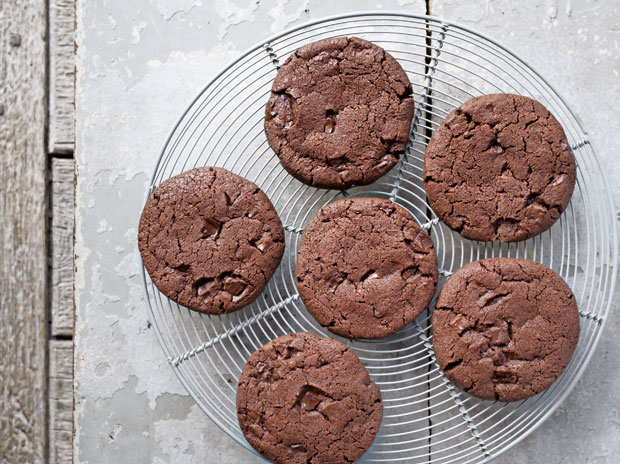 Recipe: Best Ever Chocolate Chip Cookies by Paul Hollywood
"The first ever chocolate chip cookie was invented in America in 1930 at the Toll House Inn restaurant in Massachusetts. Now a firm favourite across the world, the chocolate chip cookie is the most popular type of home baked cookie in the States. Big, soft and chewy, they are a treat for kids — especially big kids like me! This recipe will give you delicious cookies that are much better than any shop-bought version. The secret to the flavour is to use the best dark chocolate chips you can find! — Paul Hollywood
Best Ever Chocolate Chip Cookies
Makes 16 | Prep: 15 minutes | Chill: 2 hours | Bake: 12-15 minutes
Ingredients:
150g softened unsalted butter
150g caster sugar
100g light soft brown sugar
1 large egg
250g plain flour
1 teaspoon baking powder
½ teaspoon salt
45g cocoa powder
150g dark chocolate chips
Method:
1. In a large bowl, cream the butter and both sugars together with an electric whisk until smooth and fluffy. Add the egg and mix well.
2. In a separate bowl, mix the flour with the baking powder, salt and cocoa powder. Add to the butter mixture and mix well to form a stiff dough. At first it will look like there is too much flour, but whisk slowly and it will form a stiff dough. Add the chocolate chips.
3. Tip the dough on to a large piece of clingfilm or grease-proof paper. Roll the dough into a cylinder shape 27cm long and 6cm wide. Place in the fridge to firm up for at least 2 hours.
4. Line two baking trays with parchment paper. Preheat your oven to 160 degrees Celsius.
5. Unwrap the dough, cut into 16 equal slices and place on the prepared trays, leaving room to spread. Bake for 12-15 minutes. The cookies should have risen and spread out. They will still be soft when you remove from the oven, so leave to firm on the tray for a few minutes before cooling completely on a wire rack.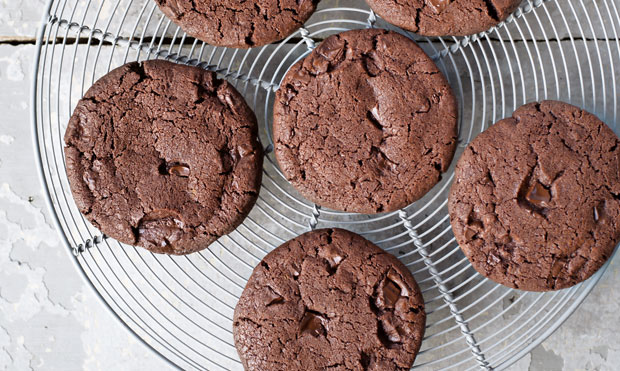 Paul Hollywood will be demonstrating his culinary skills at the BBC Good Food Show Northern Ireland on Friday 14th October 2016. Thank you to BBC Good Food Show for sharing this recipe with me!