Review And Giveaway: Vanish Stain Removal Products
|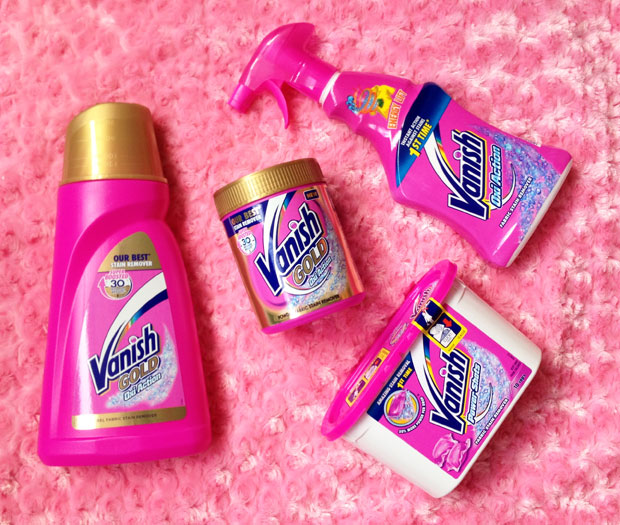 Review And Giveaway: Vanish Stain Removal Products
Before becoming a mum, I rarely needed to use stain removers. I'm a bit clumsy and even back then, I would sometimes spill pasta sauce on a white t-shirt but since having a baby I use stain removal products so much more often.
In the early days of parenthood, there are the newborn baby poo explosions to take care off. Luckily our daughter wasn't a sicky baby because that would have meant even more washing! After that phase is over, weaning starts and that comes with a lot of mess and stains. Then toddlers often become more opinionated and refuse to wear bibs and want to feed themselves and that of course makes an even bigger mess. At the same time, exploring the world becomes important and that comes with plenty of grass and mud stains and this last part can go on for many years.
Sometimes the spills are your own fault too — when you are sleep deprived you naturally get more clumsy and might spill tea/coffee/wine/food on yourself or on the floor. Well, that's me at least!
As a parent, you quickly become a pro at removing clothes stains. We've had some help from Vanish lately to make stain removing efficient and easy. One less thing to worry about!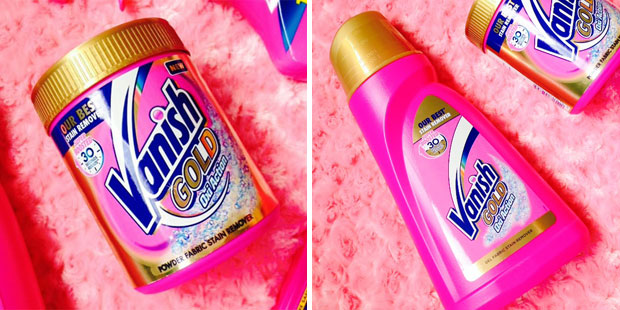 Vanish Gold Oxi Action Powder is the very best from Vanish. It's a super boosted formula that is so powerful that it removes some stains in just 30 seconds! You can use it on colours and whites and as a pre-treatment, for soaking or in the washing machine. We've used it in the washing machine so far and have had great results with old and new stains.
Vanish Gold Oxi Action Gel is very similar to the Vanish Gold Oxi Action Powder. The difference is that it's a liquid instead. You can use it for all the same things. We usually get washing powder residue on our sheets when we wash them but when I added a cap of this to the wash, that didn't happen. Amazing! Our sheets look so much better now.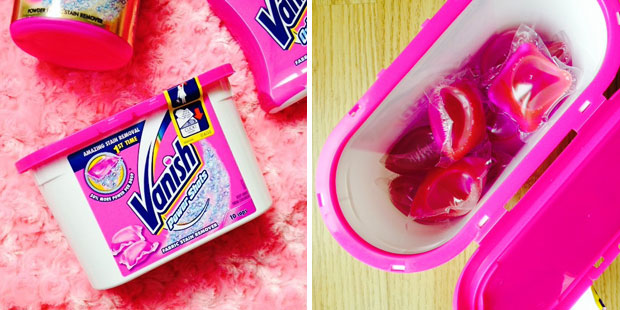 Vanish Power Shots are handy gel caps of powerful stain remover. They have 50% more power per drop compared to the regular Vanish Action Gel and they easily dissolve in the washing machine to remove stains efficiently. You can use it on colours and whites, in hot or cold water. You simply add one to the drum of the washing machine before loading it up with your washing. I love how quick and easy these are to use. Mess-free too! For those reasons, this is my favourite product out of the four but they do probably work out a bit more expensive per wash.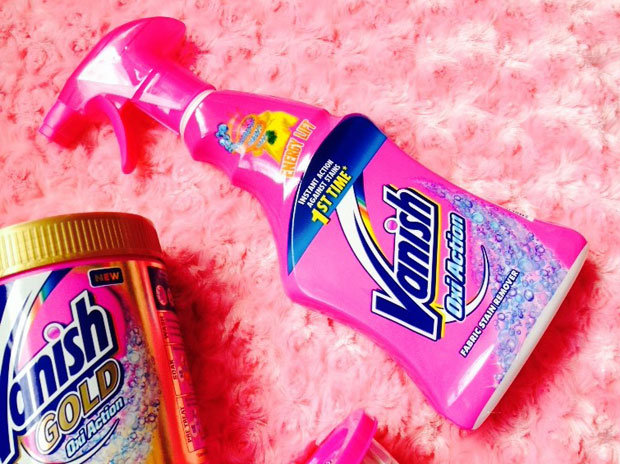 Vanish Oxi Action Pre-Treat Spray is a pre-treatment spray to help remove stains. Spray it onto the stain as quickly as possible and let the powerful formula penetrate the fibres of the fabric to break down even the toughest stains. For best results, treat both sides of the stain, rub in gently and leave it on for 1-5 minutes before washing the item as usual. It can be used on colours and whites. We put this to the test on a soy sauce and grease stain and the stain went away after the first wash.
For lots of tips and advice on how to remove specific stains, visit the Vanish website and use their handy Stain Solver tool to find the solution you need.
You can buy Vanish products from most supermarkets, Wilko, Amazon.co.uk and other shops that sell laundry and cleaning products.
Giveaway:
I've been given the opportunity to give a kit of Vanish goodies to one of my readers. The kit includes one of each of the products in this post. To enter the giveaway, use the Rafflecopter below. Terms & Conditions apply. UK entrants only. The giveaway will end on the 24th of August 2015.
We were sent the items in the pictures for this review. As always, all my reviews are 100% honest and all thoughts and opinions are my own.