Review & Giveaway: Lottie Dolls – Muddy Puddles & Forest Friend
|
Review & Giveaway: Lottie Dolls – Muddy Puddles & Forest Friend
My little girls are lucky and have recently received their very first dolls from Lottie. I'd been thinking about getting a doll for my eldest as I know she's at an age where she'd love one but most dolls in the shop are so unrealistic and look too grown up (or like toddlers with makeup!) that I just hadn't come across one that I wanted to buy for her.
Lottie dolls are not like most dolls though!
The aim of the dolls is to encourage children to embrace individuality and enjoy their childhood and the adventures that come with it. Unlike other dolls, Lottie and Finn dolls (there are dolls that are boys too!) are based on characters that are nine years old and have the right scientific proportions of a child this age — with the exception of the head that is a bit larger to accommodate hair play.
These lovely dolls are relatable and age-appropriate. There are lots of different styles, outfits and accessories to choose from to suit your child and many of the dolls were actually inspired by real children.
"Arklu carried out 18 months of research working with kids, parents, retailers, industry experts, child psychologists and child nutrition experts, leading to the generation of over 100 action points which have been incorporated into Lottie's development. The main issue was in protecting childhood and stop allowing our kids to grow old too soon."
Lottie dolls are positive role models for children and inspire kids to stay kids. The dolls do not wear jewellery, makeup or high heels and they can stand on their own two feet. The can also sit and move their arms and legs easily!
Lottie's motto is 'Be bold, be brave, be you'.
We have two dolls and a picnic accessories set. I chose a doll each for my girls and tried to match their hair colours to the dolls because it's fun to have dolls that are like yourself. My eldest has strawberry blonde hair so her doll is the blonde doll from the Muddy Puddles set and my youngest has ginger hair so her doll is the one from the Forest Friend set. However, my eldest is obsessed with fairies at the moment so she's swapped the clothes between the dolls.
The Forest Friend Lottie Doll has red hair and green eyes and has a delightful green and lilac fairy dress on with a velvet bodice and a petal tutu skirt. The outfit is complete with golden ballet flats and a lilac bow hairband. This character loves reading to learn all about the magical forest fairies that live in the woods. My eldest loves this outfit and tries to copy it with her own clothes!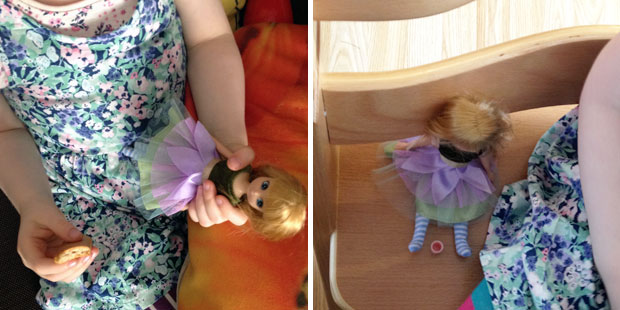 The Muddy Puddles Lottie Doll has blonde hair and blue eyes. She's wearing a long-sleeved rainbow print top, corduroy shorts, striped tights, yellow rain boots and a beautiful yellow hooded raincoat with a blue striped lining. I love this outfit! The coat is the coat of my dreams!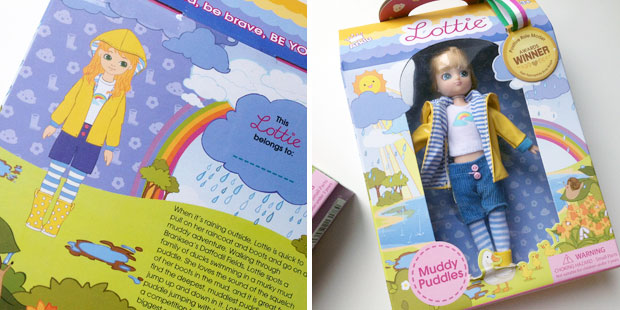 This character loves to head out on adventures in the rain, exploring nature and — of course — jumping in muddy puddles!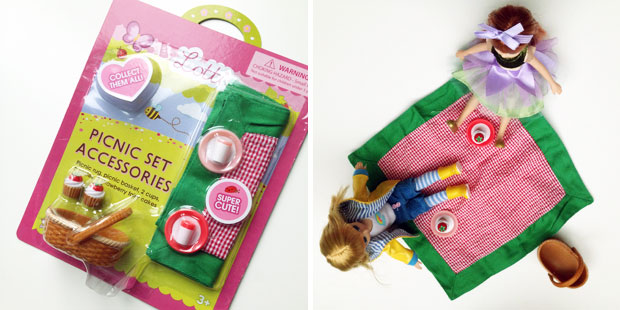 We have a bit of a thing about picnics in our house — well, the girls and I have! We love a toy picnic set, big or small, and this one is perfect for the Lottie dolls. The adorable set contains a classic red and white picnic blanket, a picnic basket, two cups, two plates and two delicious looking cupcakes. My eldest is very happy about these accessories and she plays with them a lot.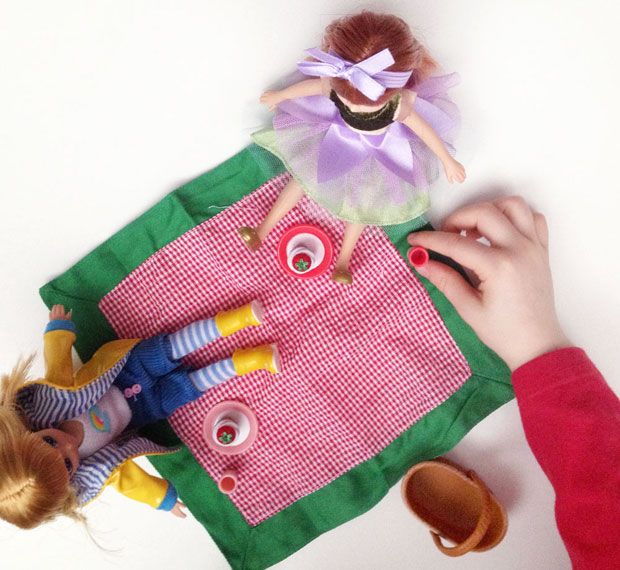 "Lottie is a feisty character; she can stand on her own two feet and whilst she occasionally makes mistakes, she learns from them. She is not perfect. Lottie loves adventure and the outdoors and uses her imagination. In many ways, she is inspired by the spirited female characters in books we loved as children: Anne of Green Gables, Pippi Longstocking, Jo in 'Little Women', Nancy Drew and George in the 'Famous Five'."

These dolls are amazing and they are so loved already! My girls play with them daily and my eldest takes her doll with her everywhere, whether she's having lunch or playing in the garden.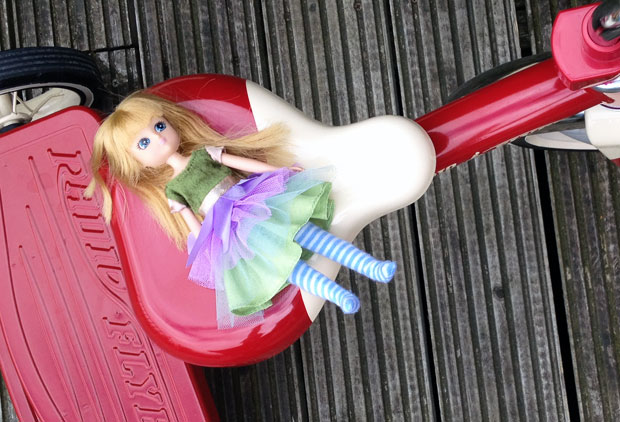 My daughters play with them together and when my youngest is napping, my eldest gets all the small parts out and sets the picnic up.
The dolls seem to be really good quality and I absolutely love the attention to detail! The clothes are vibrant and fun (not just all pink!) and activity based like they would be for a child. There are a huge variety of clothes and styles to choose from including dresses like the fairy one and more practical outdoorsy clothes like the Muddy Puddles set and everything in between.
There are dolls with all kinds of different hair colours and skin colours, boys and girls… One girl has short hair but you could always cut the hair of your long-haired doll if you want a different style — if you're trying to match your own children. The clothes are easy to put on and take off too for speedy outfit changes.
I can't wait to expand our collection and I'm sure my girls will be very excited to do so too. There are so many fun dolls with great themes and lots of accessories to enhance the play experience.
You can buy Lottie and Finn dolls here.
Win a Muddy Puddles or Forest Friend Lottie Doll!
Enter my giveaway below for a chance to win a Muddy Puddles or Forest Friend doll. The winner gets to choose which one. One winner will be chosen randomly by Rafflecopter. UK Entrants only. Terms & Conditions apply. By entering the giveaway, you agree to your email address being collected and shared with Lottie for promotional purposes. Your email address will NOT be shared with any third parties. The giveaway ends on the 31st of July 2017.

We were sent these dolls and accessory set for this review. We are Lottie Brand Ambassadors and there are affiliate links in this blog post. As always, all my reviews are 100% honest and all thoughts and opinions are my own.