Review & Giveaway: Squidge & Pip Sensory Teething Toys
|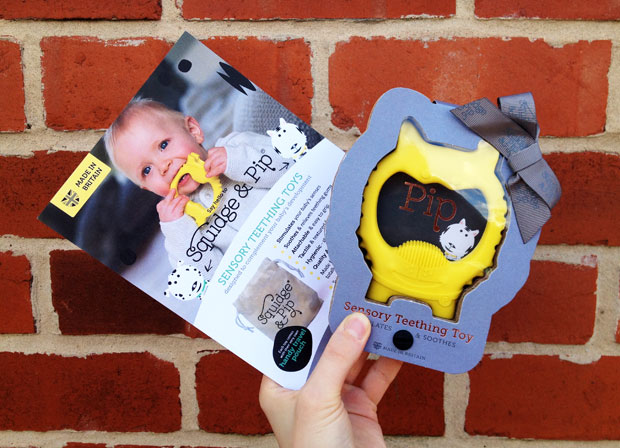 Review & Giveaway: Squidge & Pip Sensory Teething Toys
Teething is not fun for anyone! It must be very unpleasant for babies and toddlers judging on their mood and lack of ability to sleep when new teeth are pushing through.
We're going through a rough teething patch at the moment with the bigger back teeth slowly making their way out and the chewing on everything phase has suddenly returned together with sleep difficulties…
Luckily, we have a new teether for my toddler to play with and chew on whenever she wants. It's a lovely one from Squidge & Pip.
Squidge & Pip is a company that makes sensory teething toys for babies and toddlers. The toys are created by Sheffield based mum Mary Lord who is a mum of two boys. Mary was inspired to design and develop the teethers when her youngest was born with a cleft lip and palate. This experience helped drive the development of the fun yet stylish toys that blend function with contemporary design.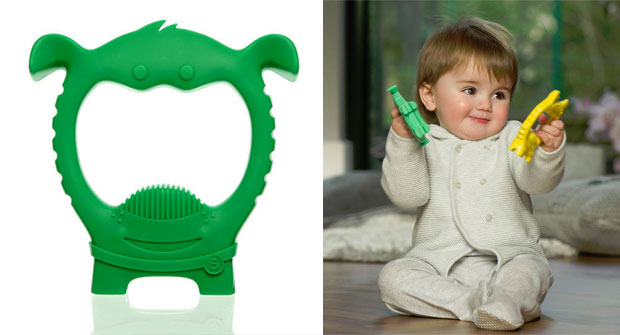 There are two teethers to choose from in the range: Squidge the Dog who is green and Pip the Cat who is yellow. I love the bright, unisex colours and the large size of these teethers! They are made from medical grade silicone which is the perfect density for babies to bite and chew, whilst remaining soft and comforting on their gums. They're flexible but sturdy and easy to hold for little hands. They're very ergonomic!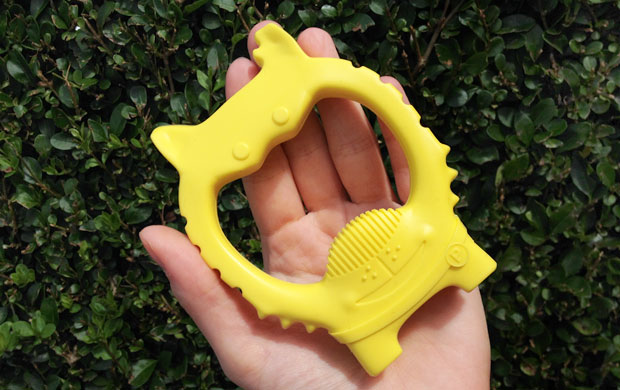 My toddler loves her Pip the Cat! She chews it and plays with it, plays peek a boo through the opening in the middle and shouts Meoooow!
The teethers feature lots of interesting parts and different textures that your baby or toddler can explore orally to find the most soothing one for them. They also help stimulate senses and help teach children about different shapes, all while developing the muscles needed for speech and weaning development. I like that its shape is one your baby can't gag on unlike a few very popular animal shaped teethers on the market.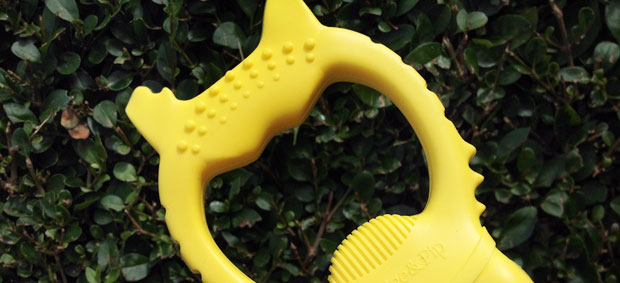 The shape also means that you can easily attach a strap to attach the teether to your buggy or baby carrier to keep it safe off the ground when out and about. You also get a little storage pouch to keep the teether in when not in use which is lovely.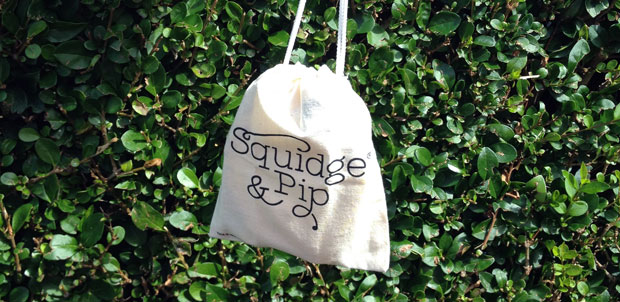 Of course, the teethers are made from materials that are completely safe for chewing and they are virtually indestructible. They can also stand up, making them suitable for other types of play too.
Another thing that sets them apart from many other teethers is that they can be sterilised. There are no holes where water could get in and cause mold issues which is very important to me. The packaging is beautiful too and makes the teether a lovely gift for a new baby or a first birthday or Christmas.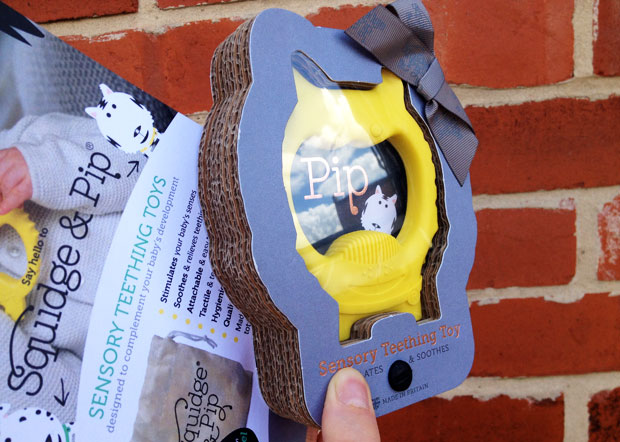 Squidge & Pip Sensory Teething Toys are made in Britain and cost £20 each. You can read more about them and buy them here.
Giveaway: Win Squidge or Pip!
I have a Squidge and a Pip teether to give away to two lucky readers. Enter the giveaway through my Rafflecopter below. Terms & Conditions apply. UK entrants only. The type of teether (Squidge or Pip!) will be allocated randomly. The giveaway will end on the 6th of September 2017.
We were sent this item for this review. As always, all my reviews are 100% honest and all thoughts and opinions are my own.