TOMY Sort 'n' Pop Farmyard Friends Review
|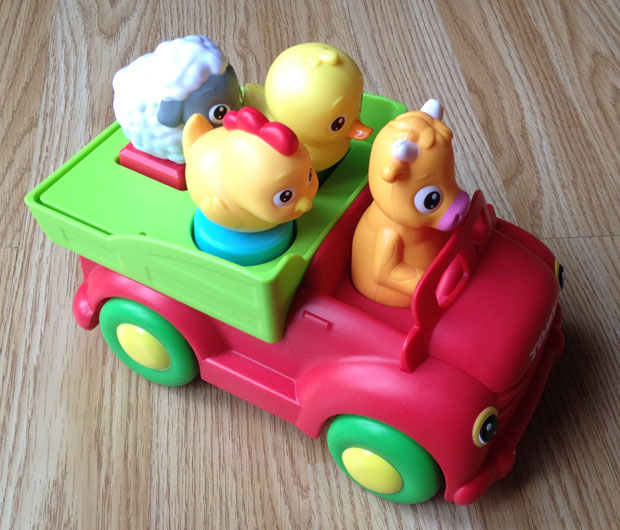 TOMY Sort 'n' Pop Farmyard Friends Review
This is my daughter's newest toy — the Sort 'n' Pop Farmyard Friends from TOMY. It's a cute, motorized and musical truck with a cow as the driver and a chicken, a duck and a sheep riding in the back. The truck plays a happy tune as it rolls and after a while the passengers pop up and jump out of their seats.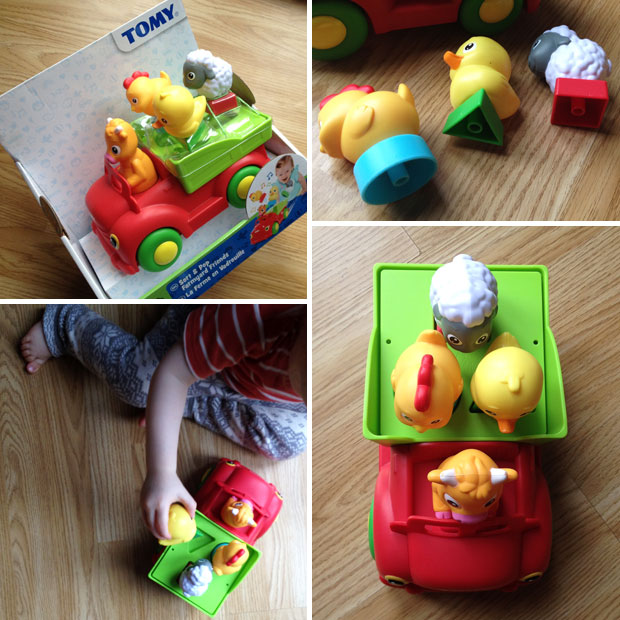 The chicken, the duck and the sheep are also shape sorters and have different shapes and colours on the bottom. You have to match them up to their spot in the truck for them to sit right which is great practice for young children. When you get it right you can hear the sound for that animal.
This toy lets your toddler discover shapes, colours, sounds and music in a fun and challenging way and also helps develop dexterity, attention and memory skills.
The truck comes with the 3 x AA batteries needed for it which is very helpful as not all toys come with batteries included. The toy is recommended from 12 months+.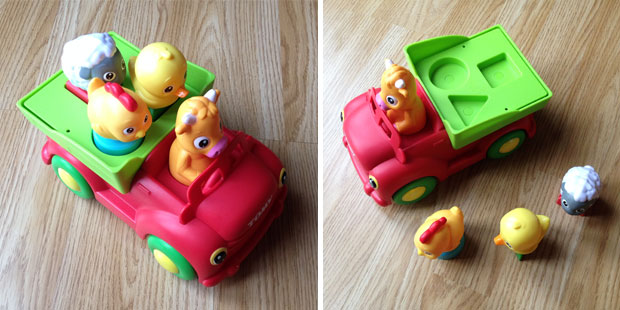 My daughter (19 months old) was so excited when this arrived that she barely would allow me to take photos of it! She loves animals and cars and was eager to play with this one straight away. She loves rolling it over the floor and getting the animals out and saying what they are and what noises they make.
The toy is made from sturdy plastic and the car rolls so smoothly and effortlessly. It's a really cute design too, with the red and green colours and the headlights looking like eyes. The colours are all bright and vibrant and the truck is a decent size, too.
The only thing that I would change is to add another volume setting. You can currently have it on or off and the on setting makes the sounds really loud and at the moment my daughter seems to be a bit scared of the sound and it's probably due to the volume. I'm sure she'll love the sound aspect when she's a bit older though. It would also be great if you could take the cow out of its seat but it's attached.
The whole family loves this TOMY truck and I'm sure my girl will play with it for years to come. I really like that it's a toy that's lots of fun but also stimulates learning and practices problem solving skills.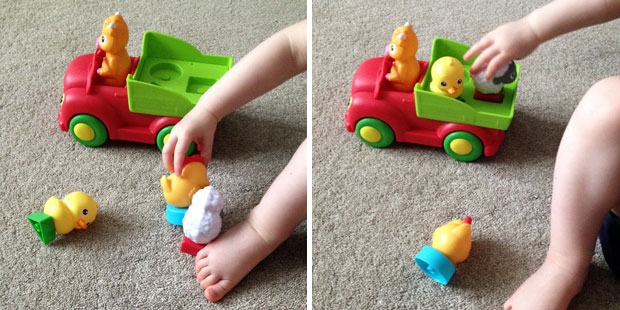 Read more on TOMY.com and buy from Amazon.co.uk. The RRP is £19.99 but it's currently only £13 from Amazon.
We were sent this toy for this review. As always, all my reviews are 100% honest and all thoughts and opinions are my own.