Review: Reading Chest, the Children's Book Rental + Giveaway!
|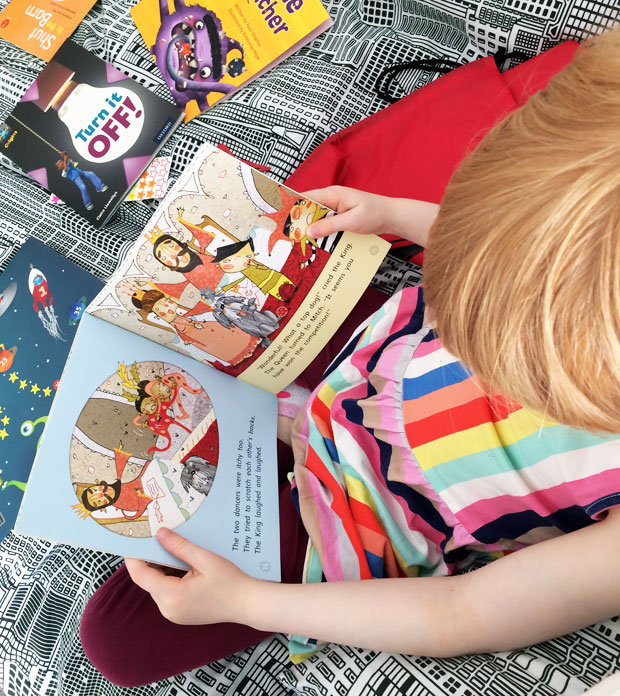 Review: Reading Chest, the Children's Book Rental + Giveaway!

We are big book lovers in this family and now that my 5-year-old can read quite well after her first year at school, she's enjoying independent reading even more. One thing she doesn't enjoy too much though is when they're sent home with a book from school that they have to read a certain amount of time before swapping to a different one. She prefers to mix it up a bit but I can't keep buying lots and lots of new books and we don't have a library near us now.
Liz, creator of Reading Chest, had a similar problem with her son and that's how the idea of Reading Chest was born. Reading Chest is a through-the-post children's book rental service for 4 to 9 year olds who are learning to read or developing their reading skills. The service specialises in book banded books for 4 to 9 year olds and Reading Chest stock the same reading schemes used in UK schools (Collins Big Cat, Oxford Reading Tree, Treetops, Bug Club, Project X etc.) but with a much wider and more up to date selection than any school would have.
How does it work?
It simply works like this:
First, you choose your subscription package (different amount of books and swaps per month).
Then you set your child's reading level. You don't have to do anything else here but if you wish you can choose books you'd like to avoid receiving (maybe titles your child has already read at school) and make lists of books you'd like to receive when available.
Your books will arrive in the post sent with First Class. Your first delivery also includes some fun goodies to encourage reading and help you look after the books — a sticker chart and stickers (you can request more when needed) and a bag to store your Reading Chest books in.
Keep the books for as long as you like and send them back when you want to swap some. You can send up to 3 books back at a time in the prepaid envelope that comes with each delivery. On the website, you can also download reading certificates for your child and see a list of all the books they have read.
My 5-year-old is really enjoying her Reading Chest subscription and I'm sure it's made her love reading even more!
Giveaway: Win a Reading Chest Subscription!
For a chance to win a 6 month bronze membership gift voucher for Reading Chest, enter my giveaway through my Rafflecopter below. Terms & Conditions apply. UK Entrants over the age of 18 years only. The giveaway will end on the 20th of September 2019.
Subscription provided free of charge for this review. As always, all my reviews are 100% honest and all thoughts and opinions are my own.