Scruffs Waterproof Pac-Away Jacket and Trousers Review
|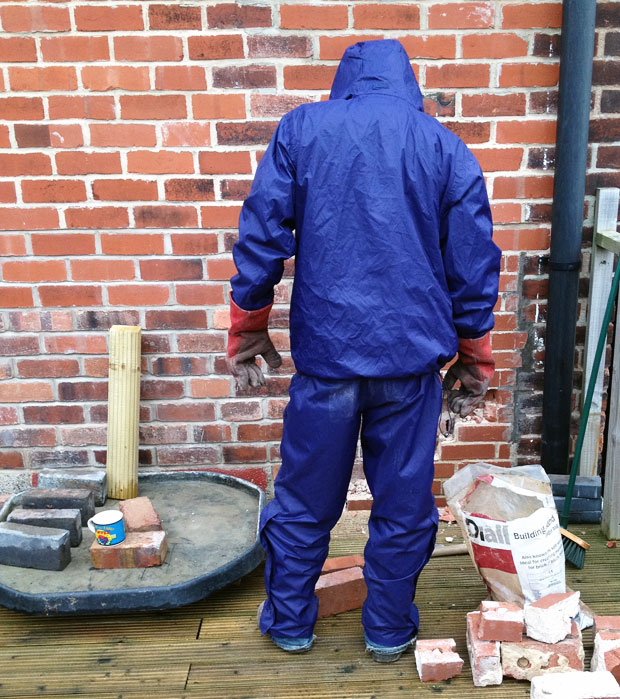 Scruffs Waterproof Pac-Away Jacket and Trousers Review
My husband does a lot of DIY all around the house, on the outside of the house and in the garden so he's the perfect person to try out workwear from Scruffs. We still have a few outside projects that we'd like to get finished and with the autumn weather this can be quite difficult. Not only are evenings off limits due to the dark but the past few weeks we've had lots of bad rain and blustery, stormy winds. It's not the ideal weather situation to be working outside but sometimes things need to get done anyway. Luckily, some waterproof trousers and a jacket arrived just in time for the bad weather and a fun job of exchanging a bunch of bricks on our back wall.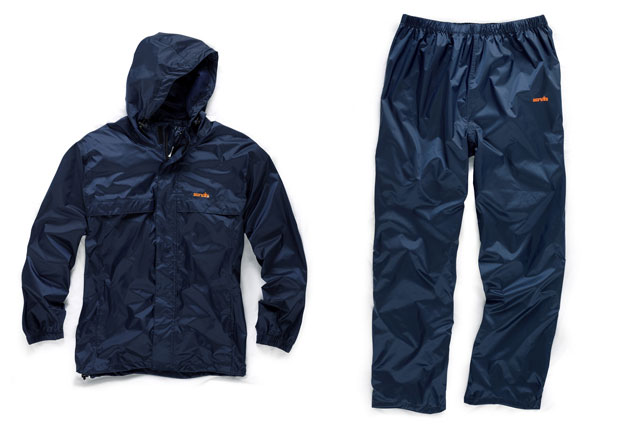 The Pac-Away jacket and trousers are part of the Scruffs Waterproof Workwear range and are sold separately. Both items pack away neatly into a mesh drawstring bag for convenient storing and packing. Perfect for keeping in the car too. They're available in sizes M to XXL.

Both these products are manufactured from a breathable, windproof and waterproof polyester. The jacket is fitted with waterproof taped seams, multiple drawcord adjusters, various pockets and Velcro fasteners. The trousers have taped seams, an elastic waist, Velcro fastening back pocket and zipped lower legs for ease of use. The leg zips make the trousers flared to make them easy to put on over work boots and the elasticated waist is comfortable and ensures the trousers fit people of different sizes.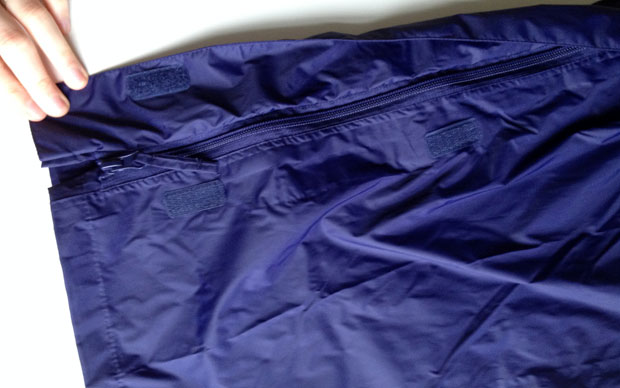 The jacket can be adjusted at the bottom to pull it tighter to the body to avoid any water coming in. The hood can be pulled really tight too to help keep you dry. The jacket has two velcro pockets at the waist. We'd prefer them to be zipped to make them more waterproof and to make it less likely that items fall out.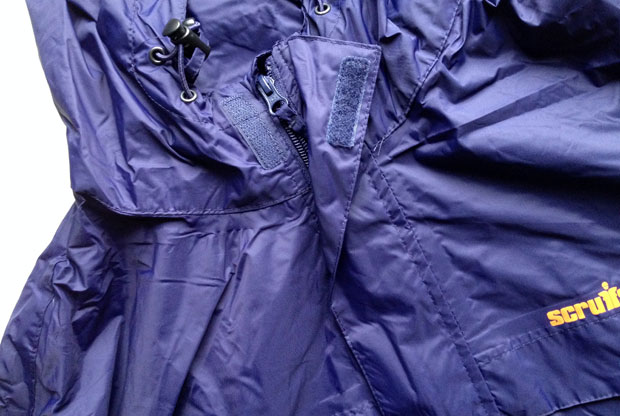 The trousers fit my husband perfectly and are roomy enough to move around easily in as he's working. They've been perfect for this brick job as he's had to sit down on the wet decking when working. The trousers have kept him nice and dry. He's very warm naturally and was worried that the material wouldn't be breathable. He didn't need to worry about that though, since it is. It does make him a bit warmer than regular clothes since the material is synthetic but it has to be to be waterproof and windproof. It's good in the cold autumn/winter months but he might get too warm on rainy days in spring/summer. We usually have enough dry days then anyway so it doesn't really matter. We're very happy with the trousers!
The jacket is quite a good fit too overall and it's got plenty of room for movement and extra layers underneath if needed. The only thing that's not quite right for my husband is that the sleeves are too short for him. He has got exceptionally long arms though! It still works well when he's wearing his work gloves as they cover the exposed skin. He needs to wear them when working on projects like this so it's not an issue but he wouldn't be comfortable wearing the jacket in the rain without gloves on a hike for example.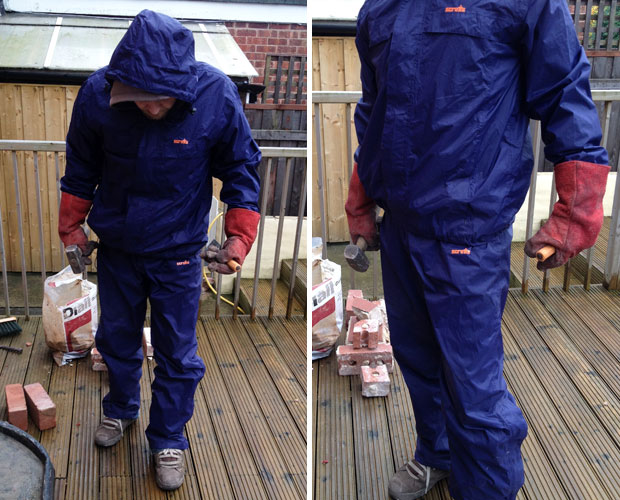 The other day, it was really stormy and rainy and I needed to get to the supermarket with my daughter. I don't drive, so walking was the only option. I dressed her in all her waterproof gear and borrowed the Scruffs jacket for myself to stay dry and the sleeves are fine on me. I'm the same height as my husband but I guess my arms are more average length! The jacket kept me nice and dry on the top half of my body and I quickly wished I'd borrowed the trousers too because my legs were freezing and wet. I can definitely confirm that these Pac-Away items are completely waterproof. We love the tidy pouches as they make it so easy to store the items when not in use.
The jacket and trousers cost £12.95 each and are available to buy from Scruffs here.
We were sent these items for this review. As always, all my reviews are 100% honest and all thoughts and opinions are my own.