The Dinosaur That Pooped Daddy + A Rainbow Board Books Review
|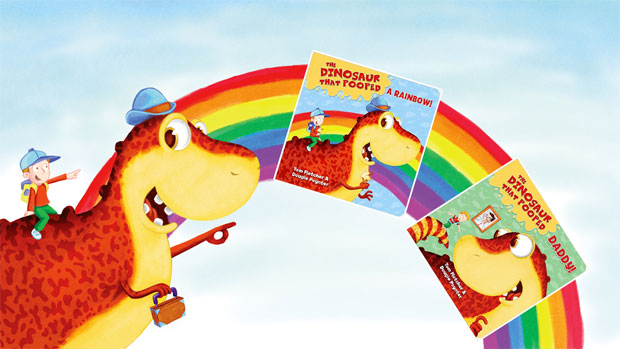 The Dinosaur That Pooped Daddy + A Rainbow Board Books Review 
Tom Fletcher and Dougie Poynter are back with two new books about The Dinosaur That Pooped. We love the previous books and I'm happy that the two new books are board books designed for younger readers as this means my toddler can read them without help too. She loves books and feels independent reading them on her own.
These board books also make a wonderful introduction to the rest of the series for very young readers. The sturdy board books have 12 pages each.
The Dinosaur that Pooped Daddy
is a numbers primer and is the perfect book to read with toddlers around Father's Day. In this book we count down from 10 to 1 with Danny and Dino as they look for Daddy who's hiding. But something is rumbling in Dino's tummy… The story might have a messy ending!
The Dinosaur That Pooped a Rainbow
is a colours primer. In the story, Danny and Dino see a rainbow in the sky and go through all the colours they can see. They notice that an important colour is missing though so Dino tries to correct it…
Both books are fun and great because they incorporate learning too! They're about numbers and colours and… poop! Kids love poop and trumps and all go through a phase where it's the most interesting topic so let them enjoy it. The illustrations are lovely and fun, too.
My daughter is nearly two and a half and she's been obsessed with rainbows for a long time and counting for a few months so both books are ideal for her. I hope an alphabet book is coming next!
Make your own Father's Day card to go with the books here and don't miss the free activity sheets for your little ones here.
The books are £3.99 each and available from all good bookshops that sell children's books.
We were sent these books for this review. As always, all my reviews are 100% honest and all thoughts and opinions are my own.