The Best Books for Babies & Toddlers
|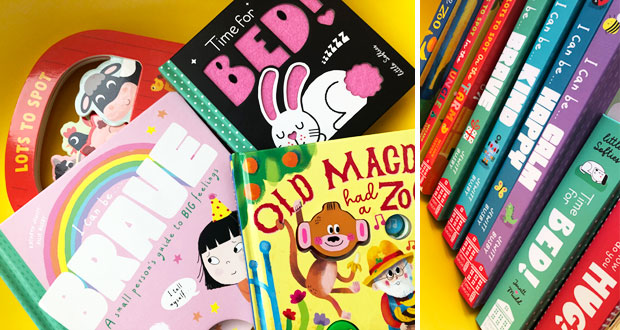 The Best Books for Babies & Toddlers | AD
I'm a firm believer of introducing lots of books to children while they are little. The interest in books and reading can start from such an early age and blossom into a lifelong love for reading.
In this article, I'm going to share some book recommendations for babies and toddlers and highlight some things to look out for when looking for books for your little one.
The books shown in this blog post are all by Townhouse Books Ltd which is a new independent children's book publisher that have a wonderful selection of beautiful and fun books for kids of different ages.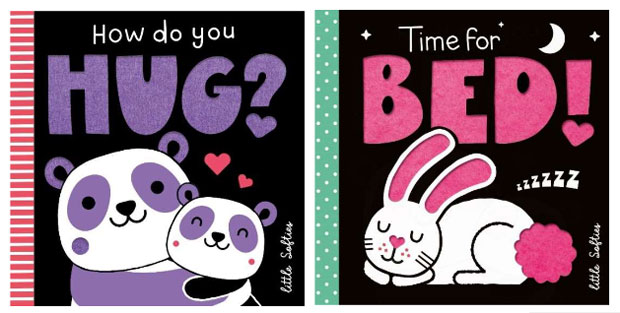 How Do You Hug? & Time for Bed!
Let's start with something for the very youngest readers! These sweet books are from the Little Softies series by Kathryn Jewitt, illustrated by Danielle Mud.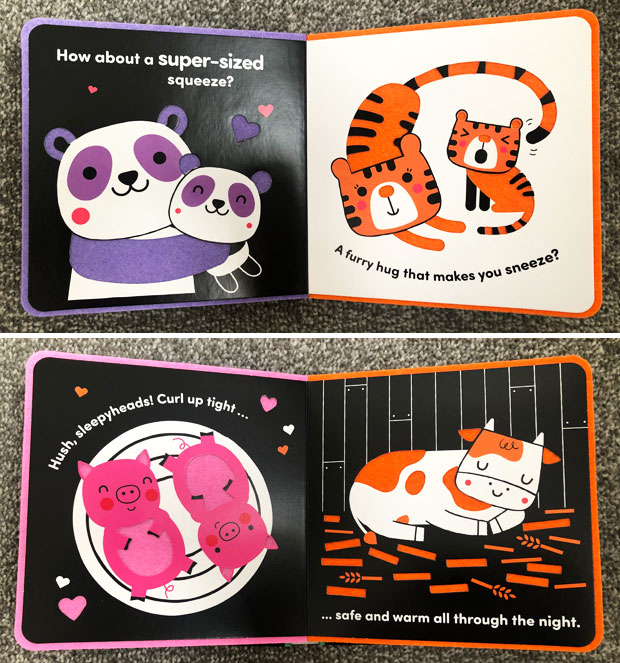 They are chunky board books that are the perfect size for little hands and the soft felt spacers make the books lighter to hold too. This series is recommended from 0+ so the books make perfect first books. The books feature high-contrast illustrations which are extra appealing for young babies as they help them focus and keep them interested for longer.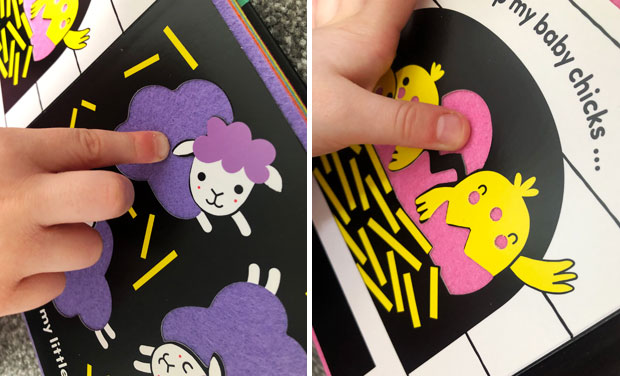 The illustrations are really sweet and the books also have die-cuts to soft felt on every page to make reading a sensory experience too. I love that the chunky pages are so colourful all the way round too!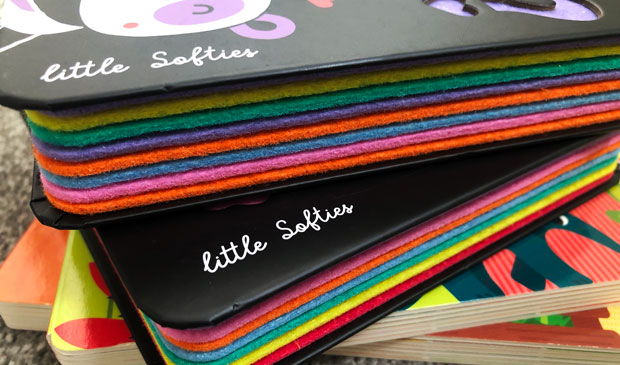 Here you can see How Do You Hug? and Time for Bed! which are two out of four books available in this series. As the titles suggest, they're about hugging and bedtime with gorgeous illustrations for little ones to look at and simple sentences for the parent to read out loud.
Look out for: Books that are easy to hold, high-contrast images, chunky pages and touch and feel elements.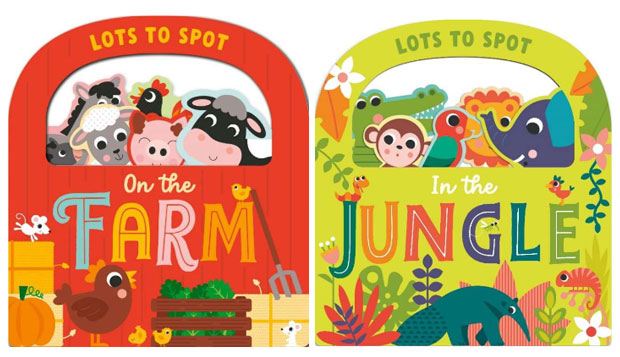 Lots to Spot… On the Farm & In the Jungle
Now onto a fun series for children aged 1+. The Lots to Spot… series by Jackie McCann, illustrated by Julie Clough, currently consists of four books. Here you can see Lots to Spot on the Farm and Lots to Spot in the Jungle. The other books in the series are I Love Things that Go (about vehicles) and I Love Pets.
These sturdy board books have a clever carry handle to make them easy for little ones to carry around and take them with them wherever they go.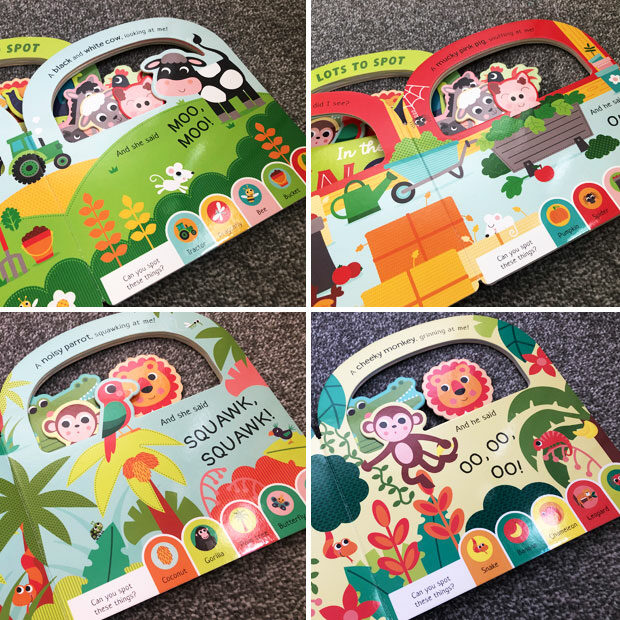 The books have bright and colourful illustrations and a rhyming text which kids love (it's also more fun for parents to read in my opinion!). Each spread has lots of things to spot which makes story time into a bit of a game too – great for keeping children interested and focused.
These books teach young readers lots of words too and the layered cut out animals that are peeking out through the hole in the pages also introduces children to the concept of "in front" and "behind".
Look out for: Books with cut outs, colourful illustrations, interesting themes, things to spot, rhyming text and fun details such as the carry handle.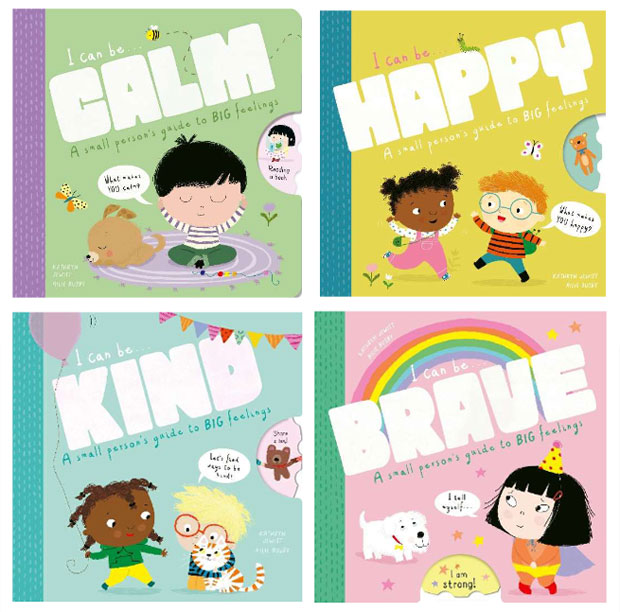 I CAN BE… Calm / Happy / Brave / Kind
Next, a lovely series of books about exploring big feelings, by Kathryn Jewitt and with illustrations by Ailie Busby. This series is recommended from age 2+ but can be enjoyed for children for many years as they cover topics that are important to keep talking about.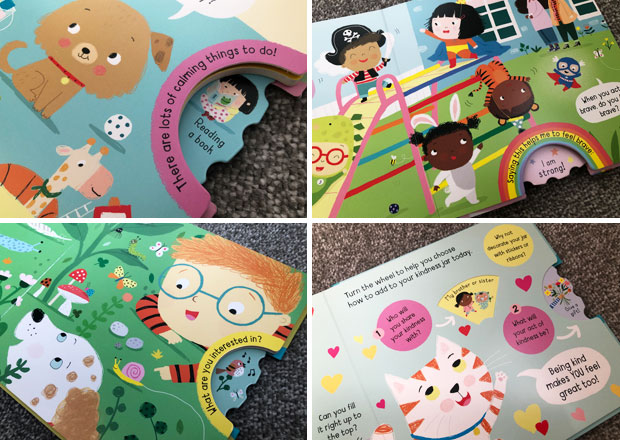 The books in this series are all board books with an interactive wheel that help children express how they feel. Each book focusses on a theme (Calm, Happy, Brave, Kind) and has a mindful message and practical activity to help children explore these important feelings.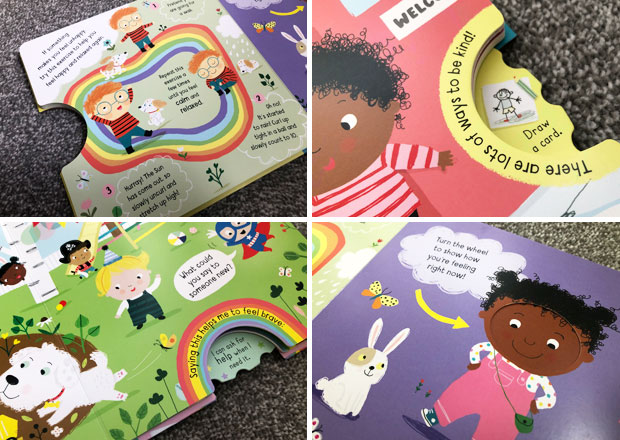 These books are absolutely brilliant! It's so important to talk to children about their emotions from an early age and these books are full of useful tips and techniques while being fun for children to read too. The illustrations are gorgeous too and fit so well with the themes of the books.
Look out for: Books with important topics, that teach life skills, that are interactive and that encourage discussion.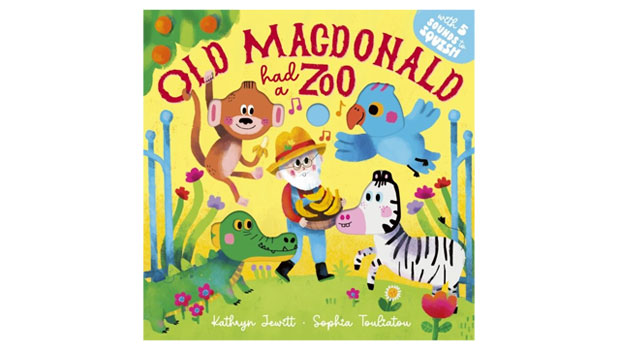 Old MacDonald had a farm is a nursery rhyme that we all know. This entertaining book provides a twist on the classic rhymes with a story about Old MacDonald who had a zoo! We meet the different animals and help spot the one that's asked for on each spread.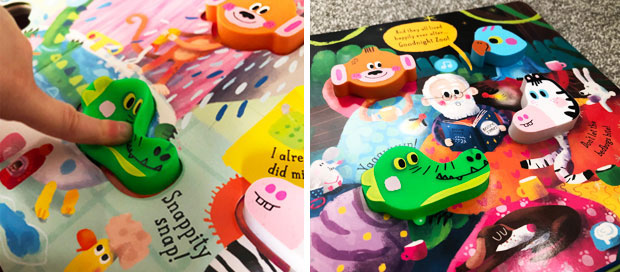 The book has four squishy-squashy silicone animal head buttons that all make funny animal sounds and one music button to play the tune. Children love noisy books and this a great one! The illustrations are bold and bright, the theme is fun and the squishiness of the buttons provides a tactile experience.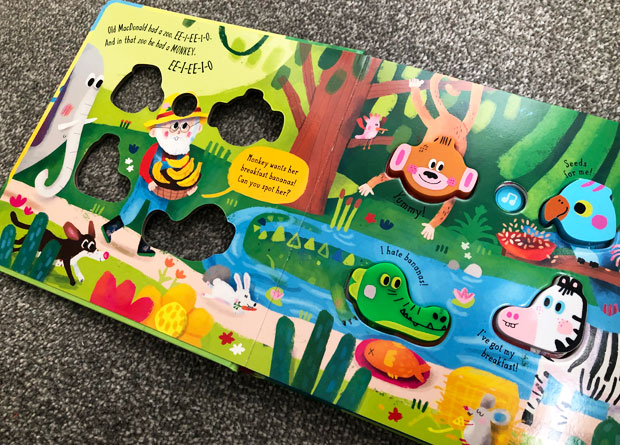 The book has an on/off button which is great – not all sounds books have these! A pro parenting tip: to make any noisy toy or book a little bit gentler on the (parents') ears, simply put some washi tape over the speaker. Layer up if required. This book is not too loud if it's laid on the floor or a table.
Look out for: Books that have sounds effect (music or noises), that have familiar nursery rhymes, that have buttons, that are interactive.
There you have it – a bunch of brilliant books for babies and toddlers with tips about what to look for when shopping for children's books for these age groups.

Collaboration. These books were kindly gifted for review. As always, all my reviews are 100% honest and all thoughts and opinions are my own.