The Milky Whey – Pregnancy & Family Cookies Review
|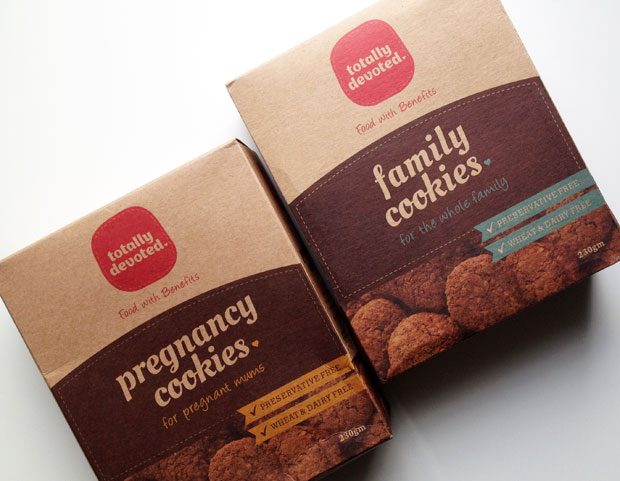 The Milky Whey – Pregnancy & Family Cookies Review
The Milky Whey cookies range started with cookies designed to help breastfeeding women increase their milk supply. Due to tiredness and stress this is quite a common problem but there are ingredients that are known to help this. Baking them into cookies is a great way to easily get those ingredients into your system and will give you other healthy nutrients too, as well as a bit of an energy kick — essential for sleep-deprived mums!
Now the range contains four types of cookies: Clever Cookie, Family Cookie, Feeding Cookie and Breastfeeding Cookie. They all come in 230gr boxes with approximately 10 individually wrapped cookies in each box.
All the cookies are 100% natural and free from dairy, wheat, eggs and preservatives. They all contain the following ingredients:
Oats which is a great source of iron and essential vitamins (like thiamine, folic acid, biotin and vitamin E) and have a low glycaemic index which means slow release energy that will last longer.
Buckwheat flour which is high in fibre and B vitamins, lysine, phosphorus, magnesium, iron, zinc and copper. It's also rich in flavonoids and contains the eight essential amino acids.
Linseeds which are very high in omega 3 and a great gluten and wheat free fibre source.
Cinnamon which is an antioxidant that has anti-inflammatory, antifungal, and antibacterial properties.
Coconut oil which is full of healthy fatty acids, can help with lactation and also has antiviral, antifungal, and antimicrobial properties.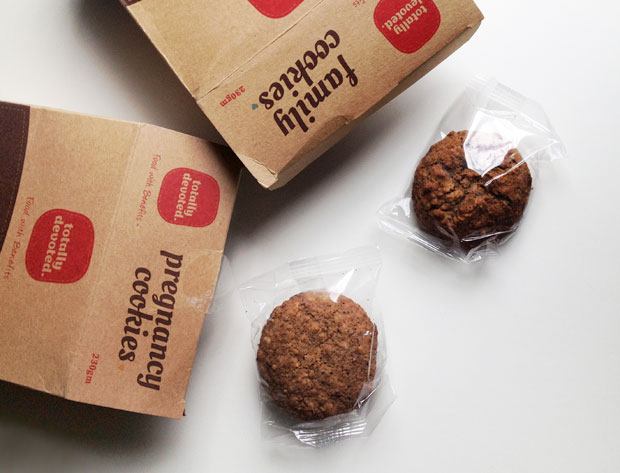 The different cookies contain extra ingredients for their different goals. We've tried the Pregnancy ones and the Family ones.
The Pregnancy Cookies are perfect for mums-to-be to help with some of the uncomfortable side effects of pregnancy. The cookies are nourishing and delicious and offer plenty of benefits at the same time thanks to natural ingredients and herbs.
The ingredient list is nice and short:
Brown sugar, buckwheat flour, coconut oil, rolled oats (13%), ground linseed (13%), chia seeds (1.4%), cinnamon (0.8%), baking soda, ginger extract (0.4%), Himalayan mineral salt.
Ginger is great for morning sickness and nausea in general. It can also help relieve migraines and help prevent colds and flu. Chia seeds are one of nature's few complete proteins. They are very nutritious and also provide calcium and boron which helps you absorb the calcium efficiently. They are also high in omega 3 fatty acids, antioxidants, magnesium, iron, niacin and zinc — perfect for pregnancy!
They are very tasty and the ginger is nicely balanced and not too overpowering.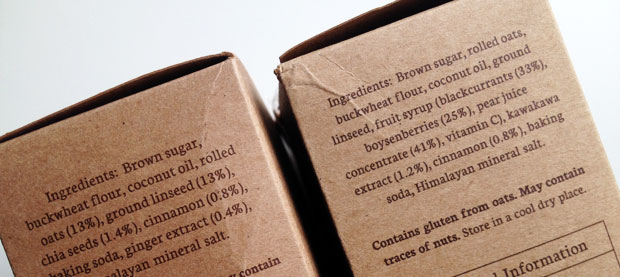 The Family Cookies are designed to boost the whole family's immune system and general wellbeing while being delicious at the same time.
They contain:
Brown sugar, rolled oats, buckwheat flour, coconut oil, ground linseed, fruit syrup (blackcurrants (33%), boysenberries (25%), pear juice concentrate (41%), vitamin C), kawakawa extract (1.2%), cinnamon (0.8%), baking soda, Himalayan mineral salt.
Kawakawa has traditionally been used as a treatment for colds and flu and it also has anti-fungal properties. Blackcurrants are a brilliant source of vitamin C which will help boost your family's immune system.
My daughter loves these and asks for more as soon as she's finished one.
I love that the cookies are individually wrapped because that makes them so easy to take with you as snacks. You can just pop a few in your bag and when hunger strikes, you are prepared. I also really like that The Milky Whey has taken a sweet treat and made it nutritious. The cookies are still high in sugar as brown sugar is the first ingredient but unlike most biscuits and cookies they are not just sugary but actually contain healthy and essential nutrients to support your wellbeing. Sweet treats with health benefits! I think it's a great idea and I definitely prefer sugar to sweeteners.
The feeding cookies are an amazing idea and if I ever have any breast milk supply problems in the future, I will definitely give them a try.
Read more on The Milky Whey's website where you can also buy the cookies. Each box costs £5.50.
We were sent these cookies for this review. As always, all my reviews are 100% honest and all thoughts and opinions are my own.