The Moorlands Sheffield Stonehouse Pizza & Carvery Review
|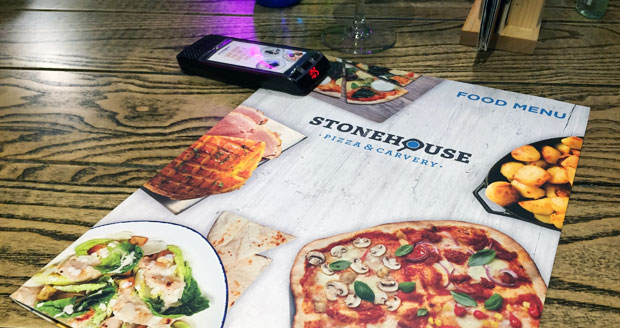 The Moorlands Sheffield Stonehouse Pizza & Carvery Review
We're a food loving family and love going out for meals together and trying new restaurants. On Saturday we headed to the Moorlands Stonehouse Pizza & Carvery here in Sheffield to sample their delicious new pizza and carvery menu.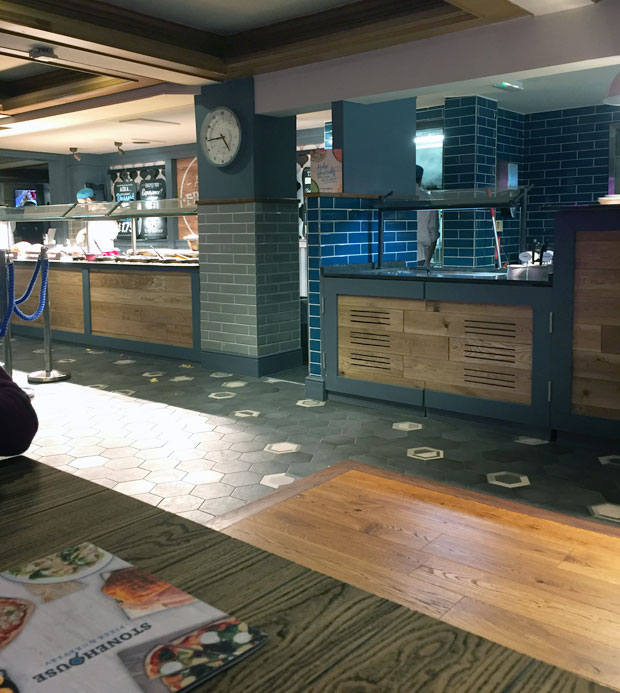 The Moorlands offers a relaxing environment for meeting with friends and family for a bite to eat and there's plenty to choose from! There menu includes classic carvery with slow cooked roasts and all the trimmings, tasty pub food classics like hand battered fish and steak and ale pie, burgers and lots of amazing pizzas and garlic breads — all made with fresh dough and stone baked right in front of your eyes. All main courses come with unlimited veg, salad and sides, including chips. There are also lots of desserts on the menu!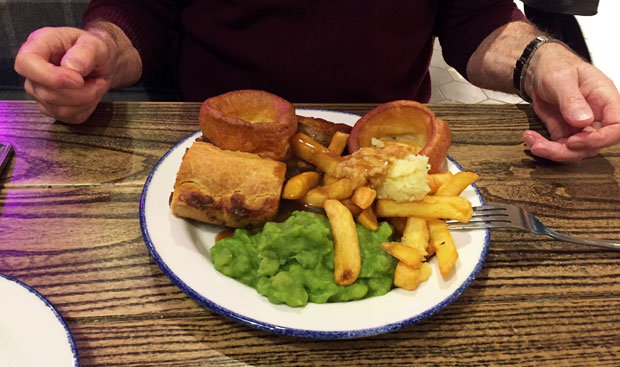 Being a vegetarian myself, I was pleased to see that there are many vegetarian meals on the menu too. I'm used to there only being one of two things to choose from when eating in pubs but there were loads of things to choose from that was vegetarian and to my taste.
We visited the Moorlands at 4.30pm on Saturday as we thought it was a good time to go with the kids so that they could eat before getting too tired. We also thought it was good to go for our meal before it got too busy as pubs and carvery restaurants usually are on a Saturday night. We visited with the kids and also invited their granddad who loves a carvery and classic British foods.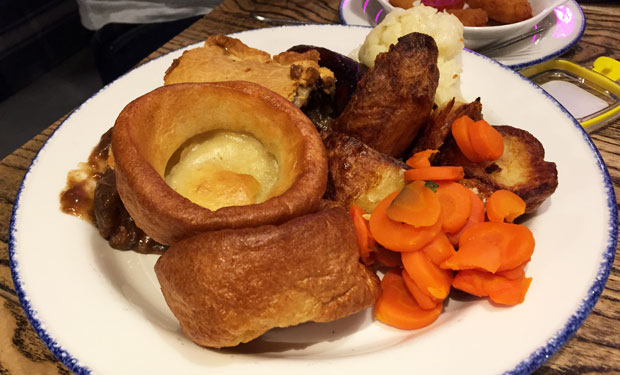 The fact that the Moorlands is a pizza and carvery restaurant is quite perfect for our family as my husband and his dad love carvery and pies and I love pizza! This means there's something we all love under the same roof.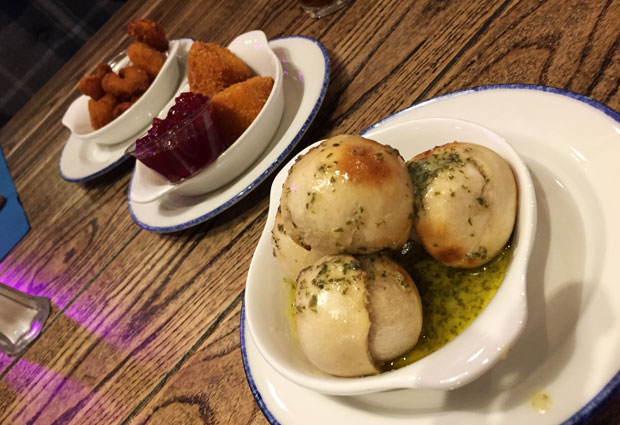 We started with some delicious starters: Spicy Crackerjack Prawns, Breaded Brie Wedges and Mini Dough Balls. They were all great! My husband had the prawns, I had the breaded brie wedges (I want these to be part of my everyday life — they were so good!) and the girls had a serving of dough balls each. They were swimming in garlic butter which made them amazing!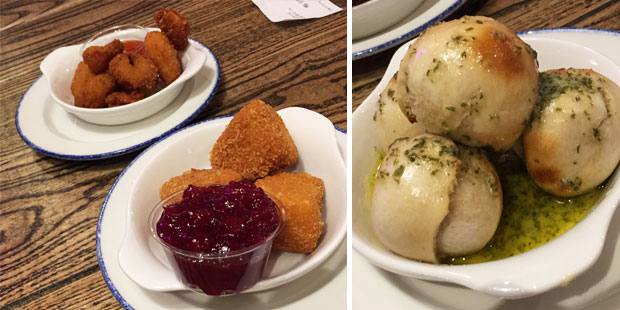 Then it was time for mains. Both my husband and his dad had the steak and ale pie with Yorkshire puddings, potatoes/chips and vegetables from the carvery and the girls had some chips and veggies as well.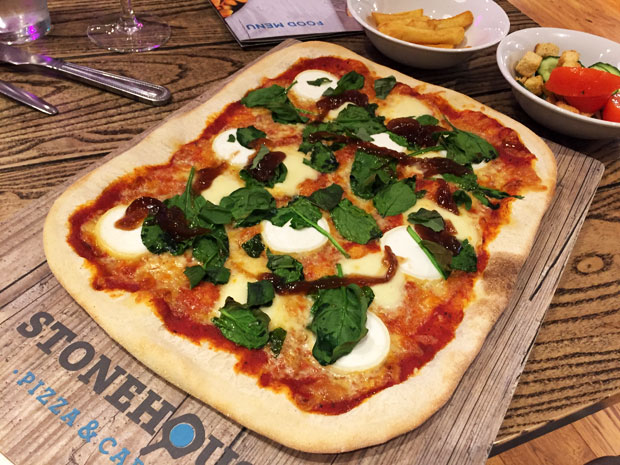 I had the goat's cheese, spinach and red onion chutney pizza which was great too! The fresh dough made the crust lovely and the pizza was the ideal thickness and perfectly cooked.
After main dishes, it's time to eat dessert which is one of my favourite parts of dining out! My eldest daughter had a bottomless ice cream sundae which she was very pleased about. You get a glass serving dish and head over to the ice cream bar to fill it up with as much ice cream, sauces and toppings as you wish. You can also add 50p sweets if you want to.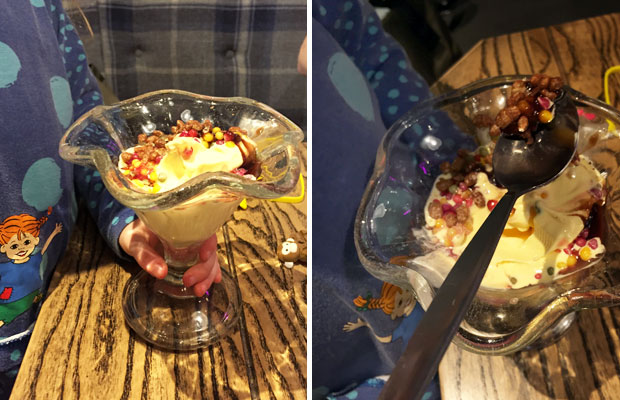 I had a chocolate brownie with ice cream and chocolate sauce which was yummy. It was served warm which was nice on a cold winter day.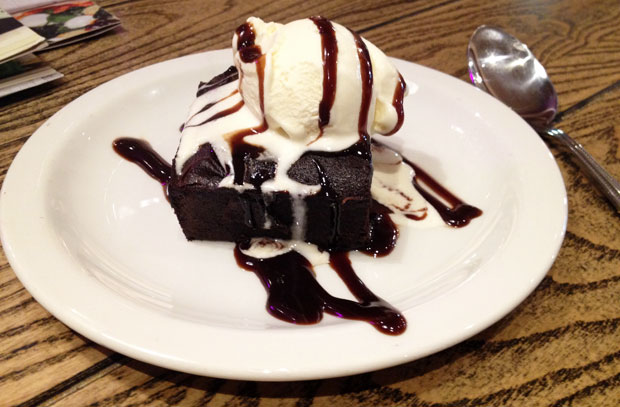 We really enjoyed our meal! Our waitress Ella was lovely and the pizza bakers were so jolly and friendly too. We were sat near where they made the pizzas and they were chatting lots and singing which created a welcoming and relaxed environment. The staff serving the carvery were chatty and friendly too and was telling us about the food and offering to make up plates for the girls too.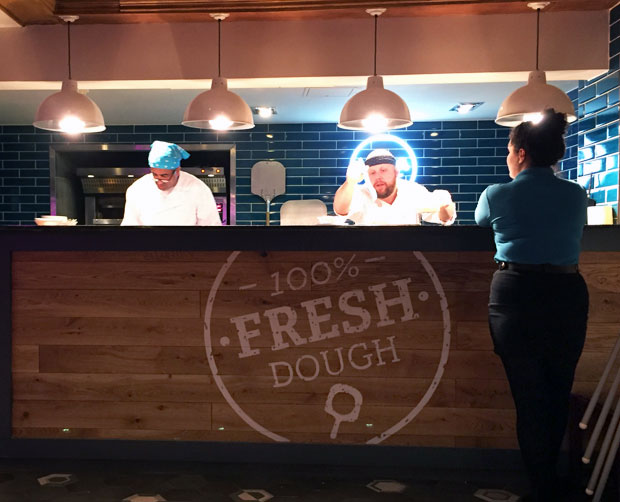 The restaurant itself was well looked after and the furniture nice and new. We saw staff tidying and cleaning several times which is of course good. The atmosphere was buzzing with lots of happy customers enjoying food, drinks and socialising this Saturday afternoon.
We will definitely go back to Moorlands Stonehouse Pizza & Carvery again! The food was delicious, there's a good selection of food choices for the whole family and it's affordable too. We really enjoyed the whole experience!
Thank you to Moorlands Stonehouse Pizza & Carvery for inviting us to sample their menu. As always, all my reviews are 100% honest and all thoughts and opinions are my own.