The Walk To School Campaign With Brantano
|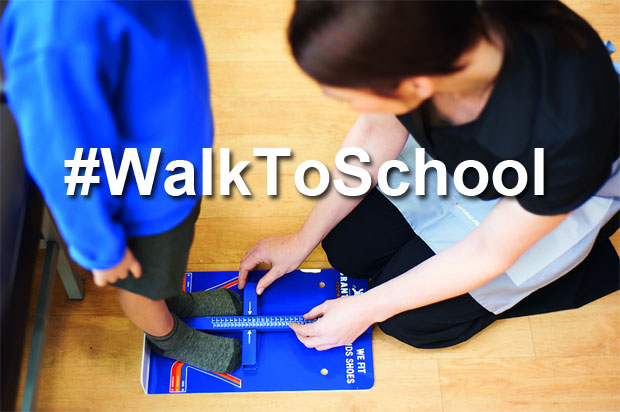 The Walk To School Campaign With Brantano
Brantano is calling for children and their parents to walk to school more to help raise money for the road safety charity Brake.
Research shows that only a third of children and parents regularly walk to and from school every week and that only a quarter of parents deem their route between their homes and school to be safe.
Brantano is encouraging the school run to be made on foot instead of by car to help reduce congestion and traffic dangers but also to help promote a healthy lifestyle and safe walking in correctly fitted, ergonomic shoes.
For every pledge Brantano receives, it will donate 10p to Brake to help fund the lifesaving work it does in campaigning to prevent road deaths and injuries, and supporting people bereaved by traffic collisions.

To take part, simply head to a Brantano store and take advantage of the free expert fitting service and pick up a pledge card. Then share a photo of yourself or your kids holding the pledge card on Brantano's Facebook or Twitter pages and Brantano will donate to Brake for every pledge photo shared.
#WalkToSchool
"Our research found that 82% of parents were unaware of all the dangers of ill-fitting shoes. It's hugely important for children to protect their feet by wearing correctly fitted shoes. Shoes that are too big or too tight can cause a number of issues from short term redness, soreness and blisters to longer term conditions such as foot deformities and back and knee pain that can directly affect their walking for the rest of their lives.
At Brantano, we are already committed to providing a service that looks after children's foot health, we are keen to promote and encourage the health and environmental benefits of walking to school. The collaboration with Brake allows us to not only raise awareness of the importance of correctly fitting shoes for children's foot health but also to reinforce messages about the dangers of roads and the importance of safe road use to both children and parents."
Louise Williams, Brantano fitting expert
There are lots of exclusively designed shoes for kids and adults available in store and along with Brantano's Back to School collection, there's something for every child to keep those growing feet in a safe pair of shoes. For every pair of Brake shoes purchased a donation will also be made to the charity.
Some of my favourite Brantano shoes for my daughter are these ones below. All available from Brantano.co.uk.