Things to Consider When Installing a Garden Shed
|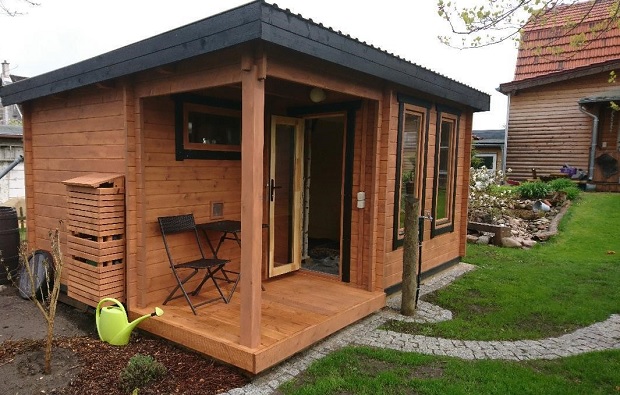 Things to Consider When Installing a Garden Shed
Sheds are an excellent option for putting away your patio furniture, mowers, tools and toys. It offers a good alternative if your garage is getting full, or you just need to create more space.
If you want to install a shed in your garden, there is a lot that you should consider. It takes more than ordering a log cabin kit and building it.
Do you need a permit for your shed?
Before starting the build, your first job is to find out whether you need a building permit as even small sheds may require a permit. In some places, you are free to start working on extensions without approval from the local authority. But you may find that you need a permit to build or install log cabin kit on your land or that you are not allowed to have another building on your property—because too much of your lot is already covered. You also don't want to find out after the shed is in a place where it's half a meter too close to the neighbour's fence. You should consult the local relevant authorities to ensure that you stay out of legal trouble.
The size and design of your shed
First question to ask yourself is what are your needs? People install garden sheds for various reasons. Some do so in search of more storage space; others want a garden office or to build an outdoor sauna. There are many ways in which you can enjoy a shed, and most likely you already have an idea in mind.
In regards to the size of your shed – it will depend on the amount of space available and your storage needs. When your contractor is drawing up the plans for a log cabin kit, or if you are looking at premade plans online, you'll need to consider architectural style – what matters to you most when it comes to the appearance of the shed? In some ways, this space is an extension of the main house. As such, you may want it to reflect the same style and colours. You could also choose to have it as a standalone building. Luckily, you do not have to make one yourself as there are reputable manufacturers that can offer designs for you. For a wide selection of log cabin kits visit maestrocabins.co.uk.
This is the single most important thing that you need to get right for your new shed and also for all the log cabin kits Maestro Cabins supply. It keeps your shed stable and protects it from ground moisture. The type of foundation you build will depend on the size of your shed and your regional climate. If you don't get the base right from the start you may as well not bother putting the building up. The base has to be solid, level and completely 100% flat and it has to be made of the right materials. You CANNOT built a log garden shed on grass or mud.
At some point the ground will start to sink which will cause the shed to bend and split, not to mention doing this will cause premature rotting of the wood on the floor bearers.
A concrete slab may be enough for small sheds – but larger sheds may require a frost-proof foundation, with footings. You can get the advice on this from our professionals when ordering a log cabin kit.
After considering all the above, you can then think of future connections that you would like to make. If you want water in your shed, how easy is it to connect it? And how about electricity? All these things may seem insignificant, but they will affect the success of your project.
If you need to ask any further questions about installing a garden shed, then please feel free to contact the team at maestrocabins.co.uk. They are always happy to help!
Guest Article.