Three Very Beautiful Children's Books from Little Gestalten
|
Three Very Beautiful Children's Books from Little Gestalten
We're all book lovers in this family and I love adding to my daughters' library. We've recently added three new books from Little Gestalten and I'm so impressed with them. All three of them are gorgeous and one of them is so special that it's become one of my all-time favourite children's books!
The three books are:
The Mystery of the Golden Wonderflower
The Carousel of Animals
Space Kids
I'm going to start with my favourite — The Mystery of the Golden Wonderflower by Benjamin Flouw. It's about Fox who is an avid botanist who loves flowers and trees. One night, he's flicking through his books and spots a very special flower called the Golden Wonderflower. Not much is known about this precious flower but Fox really wants to see it with his own eyes.
He heads out to search for it, packing his backpack with everything he might need. We join him on an adventure through forests, meadows and the mountains as he looks for this special flower. Spoiler alert — he finds it at the end and it's beautiful and in golden paper on the page.
I'm really into spending time outdoors and discovering nature and I absolutely adore this book! I love the idea, the story and the illustrations too. There are spreads showing Fox's equipment and ones featuring wild flowers and trees and their names so you can learn a lot whilst enjoying this sweet story.
It's very beautifully illustrated and a lovely book to read with the kids!
My daughters love the golden flower at the end too — it's very effective and just as exciting every time we read the book!
The second book is a very unique book — it's The Carousel of Animals by Gérard Lo Monaco.
It's a 3D pop-up book that redefines how we tell a story…
"It's a book, a mobile, and a magical menagerie, expertly crafted for an interactive storytelling experience that can be enjoyed time and time again."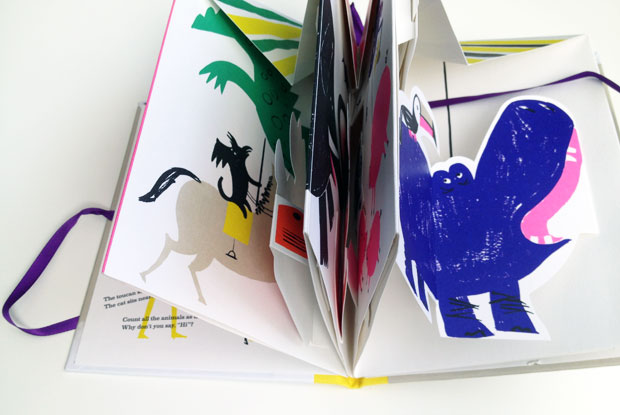 This fun book features lots of animals and as the book unfolds, the carousel can start turning and we can observe all the fun and colourful characters as they spin past us. How many can you spot? Which animals can you see? There's a little bit of text to read too.
It's a really fun and creative book and it's absolutely beautiful! There's so much to look at and the pop-up effect is lots of fun. My 4-year-old wants to hang it up in her room in our new house — she loves it so much!
The third book is called Space Kids: An Introduction for Young Explorers. It's written by Steve Parker and illustrated by Andrea De Santis.
It's a fun book that teaches kids about the big universe around us. Adults can of course learn from it too! The book covers topics such as stars, planets, moons, alongside the basics of gravity and even how astronauts are able to eat and sleep in space.
The illustrations are lovely and interesting to look at and the text snippets are concise and easy to read. It's a great introduction to space and a wonderful tool to use to start conversations about the universe and how it all works. I would recommend this one to children who are slightly older than my eldest daughter who is four years old. 5-8 years would be the ideal age, in my opinion.
These books were sent to us for this review. As always, all my reviews are 100% honest and all thoughts and opinions are my own.