UK Nutrition Labs IngestaPure Review
|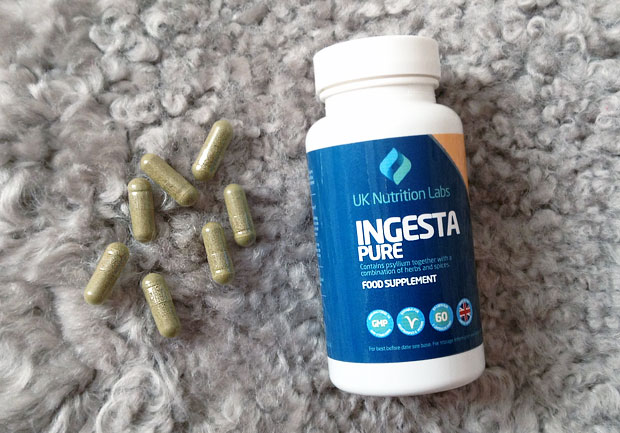 UK Nutrition Labs IngestaPure Review
IngestaPure by UK Nutritional Labs is a supplement that helps eliminate toxins from the body and promotes healthy digestion. It's made from the highest quality natural ingredients — a combination of psyllium, herbs and spices — that help detoxify the body, aid digestion and reduce bloating.
IngestaPure capsules are easy to swallow, vegan and manufactured and tested in GMP certified UK laboratories.
You take two capsules with a full glass of water right before going to bed. UK Nutrition Labs also recommend that you drink at least 2 litres of water per day.
My Experience
The reason I wanted to try IngestaPure is that I suffer from bloating related to my cycle. I usually get painful bloating before and during my period and ovulation.
I find IngestaPure really easy to incorporate into your life and I find that they do decrease bloating overnight. This is a temporary effect, though. I do have one problem with this supplement: after taking IngestaPure, I always have to get up to pee a few times during the night which disturbs my sleep sometimes more than they help with my bloating. Therefore, I have not used them as much as I wanted and will only use them if the bloating is really bad and/or I really want it to be reduced for the following day even though I will be more tired. As a mum who already experiences broken sleep most nights, I really don't want to wake up any more than I already do. Part of the effect might be from dehydrating, or maybe it's the full glass of water before bed that makes me need to pee. IngestaPure does work if you need a temporary fix for your bloating and if you have a bigger bladder than me then you might not need to get up in the night.
60 capsules cost £10.99 and are available to buy from the UK Nutrition Labs website.
I was sent these for my review. As always, all my reviews are 100% honest and all thoughts and opinions are my own.