Valentine's Day Gifts For The Home From House Of Fraser
|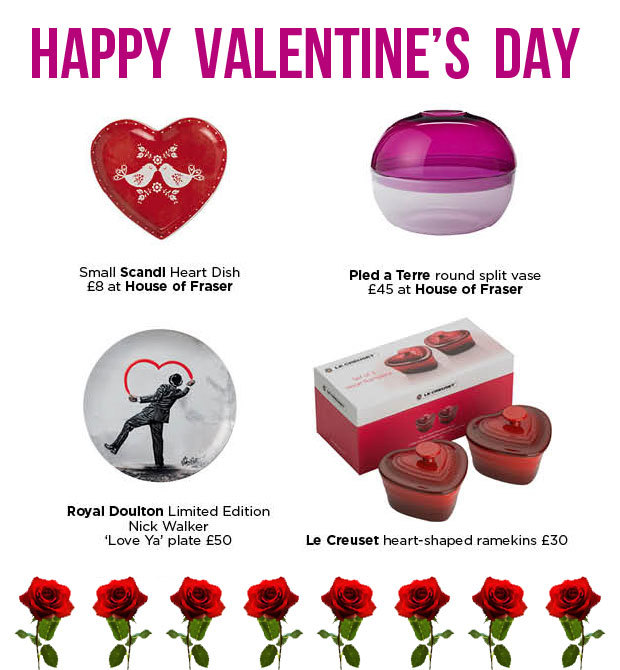 Valentine's Day Gifts For The Home From House Of Fraser
I recently received a press release from House Of Fraser with lots of lovely products suitable for Valentine's Day. I chose my favourite items and decided to only go for practical gifts that will actually get used throughout the year(s).
The items above are all useful but also pretty and would make lovely gifts for someone you love who loves interior design.
This would make a great dish for keys, rings, hair pins and things like that that always seem to clutter up the table in the living room. Could also make a cute snack or dessert plate.
We only have one vase in our household so we could do with one more. This one is really cool and retro looking. It can be split into two pieces and used as a bowl, vase or just a decorative piece.
Royal Doulton Limited Edition Nick Walker 'Love Ya' plate
We need new plates and these are lovely! Fancy, different and would make the table setting look interesting for special occasions without needing to add much else.
Le Creuset heart-shaped ramekins
Le Creuset make great quality items and these ramekins are adorable! Use them for a home-made Valentine's Day dessert or starter and then use them over and over again! Can also be used to serve dips or nuts or to keep trinkets or jewellery in.

I would love any of the items above for a Valentine's Gift — for myself and our home. I like things that are lovely to look at and useful at the same time.
Some of the prices of the products mentioned have changed since the press release and are already on sale for lower prices. Head over to House Of Fraser and grab a bargain before Valentine's Day!