Vital Touch Natalia New Parent Survival Box Review
|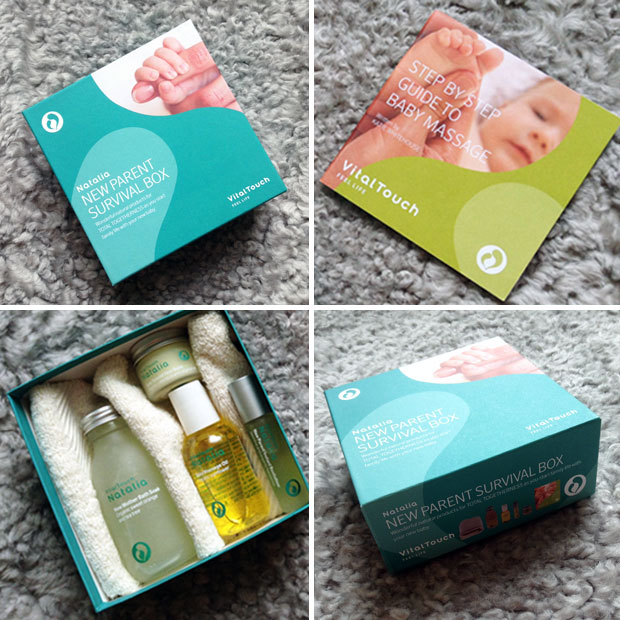 Vital Touch Natalia New Parent Survival Box Review 
The New Parent Survival Box is a kit with Natalia products for mother and baby to help both of you relax in those early days. It contains:
New Mother Bath Soak (100ml)
Baby Massage Oil (50ml)
New Parent Instant Revitaliser (10ml pulse pointer)
Baby Special Skin Balm (15ml)
Organic Ultra soft Cotton Flannel (ideal for the whole family)
Step By Step Baby Massage Guide (full colour booklet)
About the Natalia range:
Katie Whitehouse is a massage therapist/aromatherapist and reflexologist and the founding director of Natalia by Vital Touch. Katie specialised in massaging pregnant women and after creating Vital Touch Pure Oils with her husband Martin, the Natalia range or organic skincare for pregnancy, new parents and babies was born.
"I firmly believe that pregnancy is a time when really well blended aromatherapy and base oils can be most valuable in terms of relaxation, skincare, stretch marks, tired legs and muscle tension. Our Natalia skincare products for pregnancy, birth and new parents were inspired by a combination of my own pregnancies, and my work with pregnant women & midwives over 20 years in massage practice, and of real life!" Katie Whitehouse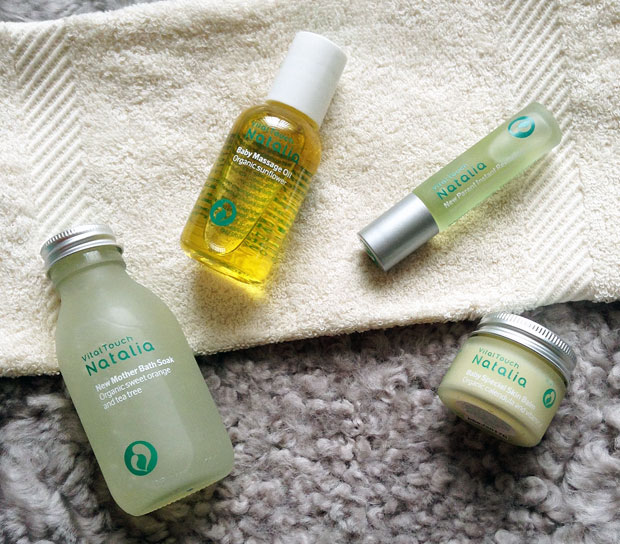 I love that the New Parent Survival Box contains items for mum and baby. New mums often forget about themselves and focus completely on their new baby so it is important to remind them to take some time to look after themselves, too. Happy mum, happy baby! This box encourages pampering for both mum and baby. The products are all natural, high quality and very luxurious. Even the flannel is incredibly soft and organic, too! The design of the packaging is so beautiful and simple and the products look lovely on display in my bathroom. I love the frosted glass and metal caps.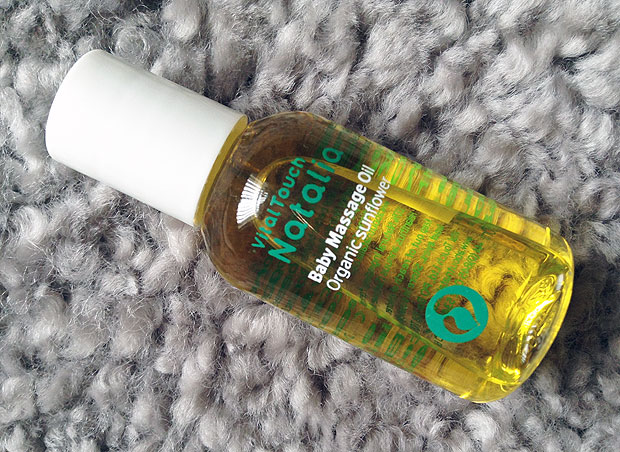 The Baby Massage Oil by Natalia is a pure massage oil made from sunflower oil which is a gentle oil suitable for delicate skin. Baby massage is a great way to bond with your baby and to help your baby relax before bedtime. It can also help with wind and colic. The New Parent Survival Box comes with a full colour Step by Step Guide to Baby Massage with lots of photos and tips to make massaging your baby a fun and relaxing experience.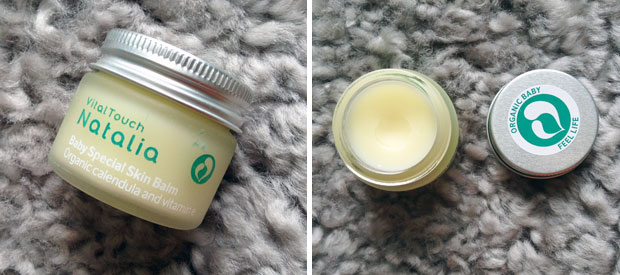 Natalia's Baby Special Skin Balm is a lovely multi-tasking balm. It can be used for dry skin, cradle cap and even as a nipple balm. Since it doesn't contain any essential oils it is suitable for breastfeeding mums. It's made from shea butter, olive oil, calendula and vitamin E — nourishing and natural ingredients. We've been using the balm on some dry patches on my baby's legs. It's lovely and creamy and very moisturising. At a weekend away last week I even borrowed some for my face after feeling dry after too many hot baths. It really helped soothe my skin too.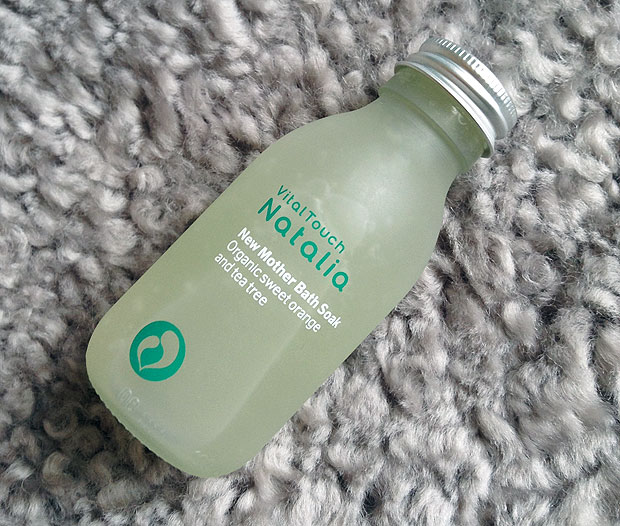 Mums should try and fit in a little bit of me time and what's better than a relaxing bath? I love a hot bath with a good book and the products you use in the bath can make such a difference. This bottle of New Mother Bath Soak contains organic tea tree and lavender to soothe and ease the pains from childbirth. It smells lovely of sweet oranges — a scent that is uplifting, reviving and relaxing too. You only need a small amount to create a wonderful aroma and a bath full of luxurious bubbles. Natalia's New Mother Bath Soak is a perfect treat for all mums.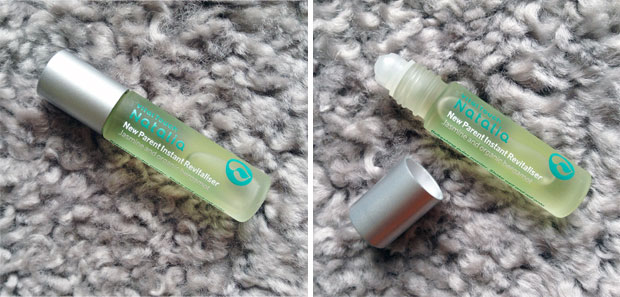 The New Parent Revitaliser by Natalia is a blend of supportive and refreshing aromatic essential oils (jasmine, bergamot and grapefruit) in a roller applicator. You apply is to pulse points, like your wrists or neck. I find it uplifting and energising but at the same time relaxing too. Perfect after a bad night's sleep or a long day. It's a very conveniently sized product too — the roller easily fits in your handbag, changing bag or pocket.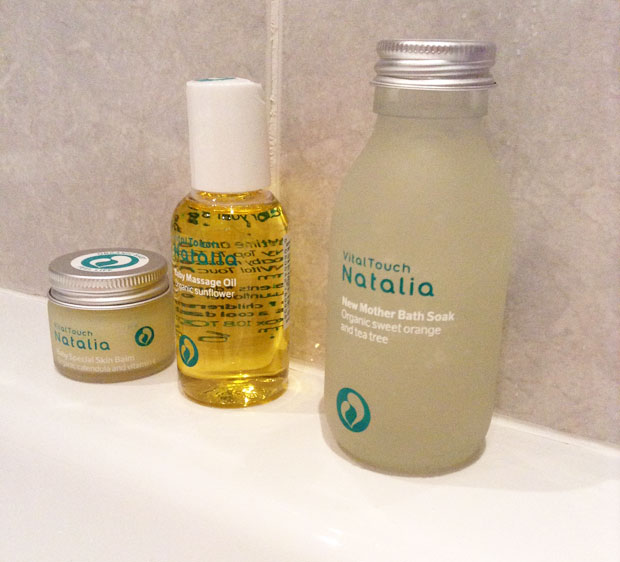 The New Parent Survival Box would make a lovely gift to someone you know who's just had a baby or for yourself! There's nothing wrong with treating yourself, especially when you've just created a person. The Vital Touch Natalia range consists of loads of wonderful products for mums-to-be, mums and babies. You can buy them all separately or choose from six gift sets designed for different stages of pregnancy and new parent life. They cost between £32 and £34.50 which is a great price for beautiful gift sets that contains really high quality luxury products.
The gift sets are:
Pregnancy Relaxation Box
Beautiful Pregnant Body Box
Labour and Birth Box
New Parent Survival Box
New Parent Survival Box
Mum's Gorgeous Pampering Box
I love our New Parent Survival Box and will definitely look to get the other boxes for my next pregnancy. Find all products and gift sets on vitaltouch.com. Follow Vital Touch on Twitter for updates and reviews from other #nextorganicmums.
I was sent a box for this review. As always, all my reviews are 100% honest and all thoughts and opinions are my own.