Wean Green Glass Wean Cubes, Snack Cubes & Lunch Cubes Review
|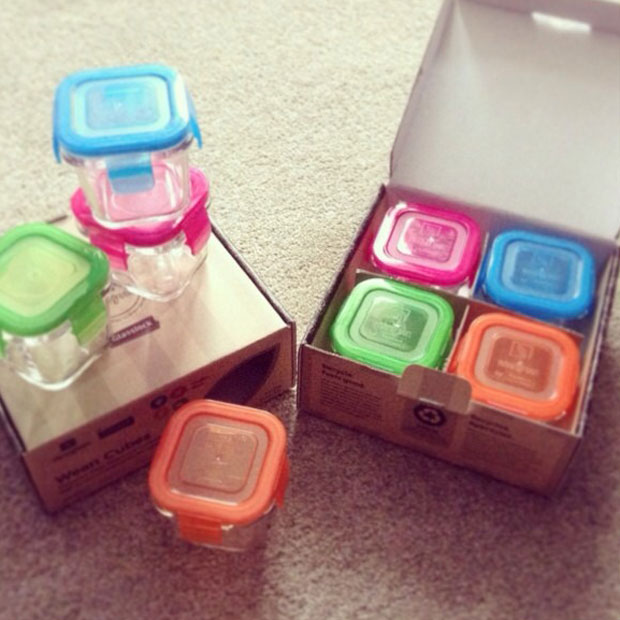 Wean Green Glass Wean Cubes, Snack Cubes & Lunch Cubes Review
I love Wean Green's glass boxes! In the past year or so I've built a collection of glass lunch boxes and snack boxes and the latest additions are these sets of 4 Wean Cubes.
They are not only very pretty and absolutely gorgeous but they are better than plastic boxes in so many ways! I've got nothing against plastic, but boxes that are going to be frozen and reheated and used over and over again are much better when they are made of glass.
What I love about the Wean Green boxes:
They are free from harmful chemicals – 

BPA-free, PVC-free, Phthalate-free

(extra important for baby food storage).
Freezer, microwave and dishwasher safe (without discolouration and damage!).
The glass is very durable and temperature resistant.
The lids are leak-proof and lock very tightly and securely (and come in lots of cute and bright colours!).
They stack really well so are perfect to store anywhere.
The glass is really thick and strong (4-5 stronger than a drinking glass).
The boxes and lids are really easy to clean! Nothing sticks and the seal can easily be removed from the lid for thorough cleaning.
I use the Wean Green Glass Wean Cubes (mixed colours "Garden" pictured above) for home-made baby food, the slightly bigger Snack Cubes for home-made pasta sauces or small amounts of leftovers and the big Lunch Cubes for lunches and to freeze servings of lasagna, chilli, soup etc. I have the big ones in green and orange!
My collection will keep growing! I love using these because I know they are safe and the quality is amazing. They cost more than plastic boxes but these will last a very long time and will definitely end up being cheaper in the long run.