Why A Bodycon Dress Is For Everyone
|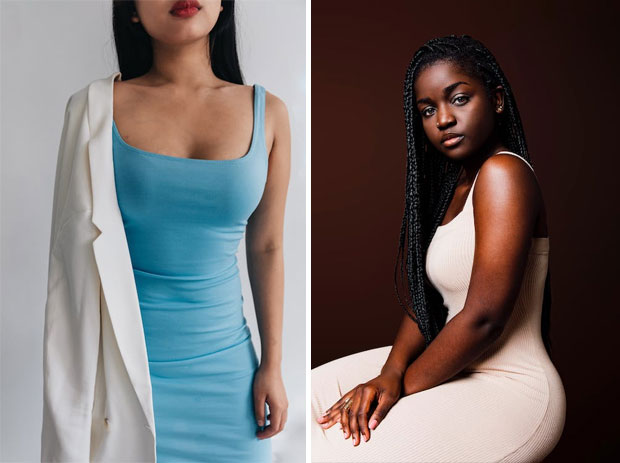 Why A Bodycon Dress Is For Everyone
Are you under the impression that a bodycon dress is only meant for those with a certain body type or size? Think again! Bodycon dresses are versatile and flattering on all shapes and sizes. Whether you're curvy, petite, or tall – there's a perfect bodycon dress out there waiting for you.
In this blog post, we'll delve into why everyone should own at least one bodycon dress in their wardrobe. Get ready to discover just how incredible this style can make you feel!
What Is A Bodycon Dress?
A bodycon dress is a tight-fitting dress that huggingly follows the contours of your body. Because it is form-fitting, it often looks best on those with an hourglass figure. But, really, anyone can wear a bodycon dress and look amazing in it. The key is to find the right style for your body type.
If you have a larger bust, look for a bodycon dress with ruching or gathering at the bustline. This will help to create a more flattering silhouette. If you have a pear-shaped figure, try a bodycon dress with an asymmetrical hemline. This will help to balance out your proportions and give the illusion of a smaller waist. And if you are petite, don't worry – there are plenty of short bodycon dresses out there that will fit you perfectly.
So whatever your shape or size, there's a bodycon dress out there for you. So go ahead and embrace your curves!
The Benefits Of Wearing A Bodycon Dress
A bodycon dress can be a versatile and flattering piece for anyone's wardrobe. The fitted style hugs the curves of the body, accentuating the natural shape. This can be a great way to show off your assets and feel confident in your own skin. Additionally, the tight fit of a bodycon dress allows for a greater range of movement, making it more comfortable to wear than loose fitting dresses or skirts.
One big benefit of wearing a bodycon dress is that it can help you to avoid any unwanted wardrobe malfunctions! The snug fit ensures that everything stays in place, no matter how much you move around. This can be a lifesaver if you're worried about your dress slipping or your straps falling down.
Another plus of bodycon dresses is that they tend to be very affordable. Because they don't require much fabric, they are usually cheaper than other types of dresses. This makes them a great option if you're on a budget or if you want to buy multiple bodycon dresses in different colors or patterns.
So, if you're looking for a flattering, versatile and affordable piece of clothing, then why not try out a bodycon dress? You might just be surprised at how much you love it!
How To Style A Bodycon Dress
Bodycon dresses are a great way to show off your curves, but they can be tricky to style. Here are some tips to help you get the most out of your bodycon dress:
Choose the right size: Bodycon dresses are meant to be snug, so make sure you pick a size that fits you well. If you're in between sizes, it's better to go up a size rather than down.
Find the right shoes: Heels look great with bodycon dresses, as they help elongate your legs and create a sexy silhouette. But if you're not comfortable in heels, try pairing your dress with some strappy flat sandals instead.
Accentuate your waist: A bodycon dress is the perfect opportunity to show off your waistline. Add a belt or sash around your waist to really make it stand out.
Keep it simple: Bodycon dresses can be very flashy and over-the-top, so it's best to keep the rest of your look simple and understated. Stick to neutral colors and minimal jewelry for the best effect.
Bodycon Dress iInspiration
Bodycon dresses are not just for the young and fabulous. You can be any age, shape, or size and still look great in a bodycon dress. The key is to find the right style for you.
There are so many different backless bodycon dress styles out there. You can go for a classic look, or try something more edgy. If you want to show off your curves, go for a fitted bodycon dress. If you're looking to hide some imperfections, try a looser fitting bodycon dress or one with ruching.
No matter what your style is, there's a bodycon dress out there for you. And once you find the perfect one, you'll wonder how you ever lived without it!
Where To Buy Bodycon Dresses
If you're looking for a bodycon dress, there are plenty of places to find one. You can start by checking out your local department store or clothing boutique. If you don't find anything you like, try searching online. There are many online retailers that sell bodycon dresses.
Conclusion
A bodycon dress is a great piece of clothing for any wardrobe, as it can be styled to flatter all body shapes, sizes and ages. Whether you're looking for something casual or something chic, there is sure to be a bodycon dress that will suit your needs. From bold colors and prints to classic neutrals and timeless silhouettes, there are endless options available when shopping for a bodycon dress. So if you want to show off your curves in style this season – why not give the bodycon trend a try?
Guest Article.