Why your Wedding Needs a Confetti Cannon
|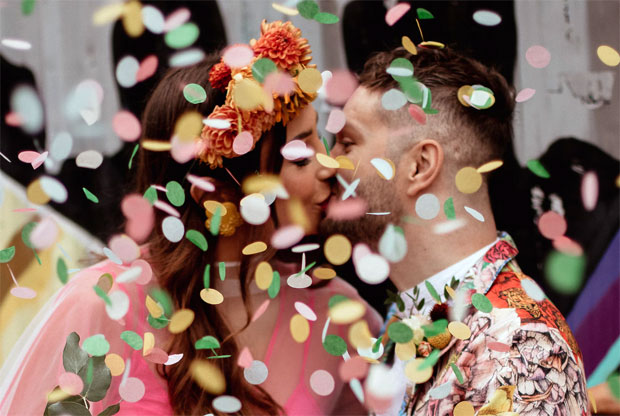 Why your Wedding Needs a Confetti Cannon
Your wedding day is are one of the most important events in a person's life. It's a time to celebrate love, unity, and commitment between two individuals. A wedding is not only a day for the couple, but it's also a day for family and friends to come together and share in the joy of the occasion. One of the ways to make a wedding more memorable and exciting is by using a confetti cannon.
Confetti cannons are a popular choice for weddings because they create an unforgettable moment. These cannons are designed to shoot out colorful confetti, streamers, or glitter, adding a touch of magic to the event. There are many benefits of using confetti cannons at weddings, and we'll explore them in this article.
Creates a festive atmosphere
Confetti cannons add to the festive atmosphere of the wedding. They bring a sense of joy and happiness to the occasion, which can be infectious. As soon as the confetti is released, guests will start cheering and clapping, creating a lively atmosphere. The confetti cannon adds an element of surprise, making the event even more exciting.
Wedding photos are an essential part of the event. They capture the special moments that the couple will cherish for the rest of their lives. Confetti cannons make for memorable photos as they create a beautiful backdrop. When the confetti is released, it creates a stunning visual effect that makes for great photos. The couple can even plan their poses in advance, making sure that they get the perfect shot.
Confetti cannons are very easy to use. They don't require any special skills or expertise to operate. The cannons come with simple instructions that anyone can follow. All that is needed is to aim and fire the cannon, and the confetti will do the rest. It's a simple yet effective way to add some magic to the wedding.
Safe for indoor and outdoor use
Confetti cannons are safe to use both indoors and outdoors. The cannons are designed to shoot the confetti high up into the air, ensuring that it falls gently to the ground. This means that there is no risk of injury to guests. Some confetti is also biodegradable, making it an eco-friendly option.
Confetti cannons are an affordable option for adding some fun to the wedding. They come in various sizes and styles, making it easy to find one that fits within your budget. The cost of renting or purchasing a confetti cannon is relatively low compared to other wedding expenses. The cost-benefit ratio makes it a great investment for creating a memorable event.
Confetti cannons are versatile and can be used in various ways to create different effects. For example, you can use them to create a grand entrance for the newlyweds or as a surprise element during the reception. Confetti cannons can also be used to mark significant moments, such as the first kiss, first dance, or cake cutting.
Confetti cannons can be customized to fit the wedding theme or color scheme. You can choose the color and shape of the confetti, ensuring that it matches the overall aesthetic of the event. This personalization adds a unique touch to the wedding and makes it even more special.
Conclusion
In conclusion, confetti cannons are a great way to add some fun and excitement to a wedding. They create a festive atmosphere, make for memorable photos, are easy to use, and are safe for both indoor and outdoor use. Confetti cannons are also affordable, versatile, and customizable, making them a great investment for creating a memorable event. If you want to make your wedding unforgettable, consider adding a confetti cannon to the celebration.
Guest Article.