10 Best Nail Accessories To Keep Your Manicure looking Perfect
|
10 Best Nail Accessories To Keep Your Manicure looking Perfect
Looking after your nails are an important part of your hygiene and beauty routine. Healthy nails that are kept in good condition and manicured regularly at home or at the salon will help achieve a polished appearance. From cutting and filing to applying different types of nail polishes, there are many steps involved in keeping your nails looking their best.
Luckily, with the help of some handy nail care accessories, you can make these tasks easy and enjoyable. In this article, we're going to take a look at 10 of the best nail accessories to keep your manicure looking perfect. So be sure to read on for all the tips and tricks you need to keep your nails looking their best!
What are some of the best nail accessories for keeping your manicure looking perfect?
There are a lot of nail accessories out there that can help make your manicure look perfect. From files and buffers to top coats and sealants, these tools can help you achieve the perfect finish every time. Here are some of the best nail accessories for keeping your manicure looking perfect:
Nail Clippers: Clipping your nails is something everyone needs to do as part of a basic hygiene routine. It will keep your nails neat and clean and using nail clippers will provide a good cut and do not damage your nails.
Secateur Nail Nippers: These are a handy tool to keep your nails neatly trimmed with ease.
Nail Files: Acrylic nail files are great for making any rough edges on your nails smooth. They're available in a range of shapes and sizes to suit your needs.
Nail File Pens: Nail file pens are great for accuracy too as they make it easier to see where you are filing.
Wooden Cuticle Sticks: These are ideal for pushing back your cuticles and tidying your nails.
Base Coat Nail Polish: A base coat or a nail strengthener is the first layer of polish in a manicure. It forms a protective layer, helps improve your nail health and helps prevent chipping and fading.
Nail Polish/Nail Wraps: To add colour to your nails, choose a nail polish in a colour that you love and one that complements your skin tone. If you haven't tried nail wraps yet, this would answer your "are nail wraps worth it?" question perfectly.
Top Coat Nail Polish: A good top coat will help keep your nail polish looking flawless for longer. You can reapply this as needed to help prevent chipping and fading for an extended period of time.
Nail Polish Remover: An essential for removing nail polish and also for doing a quick cleanse of your nails before your next manicure.
Cuticle Oil: A good cuticle oil will nourish and hydrate your cuticles, nails and hands to keep them looking and feeling healthy.
Don't forget to use a moisturising hand cream and take supplements that promote nail health too.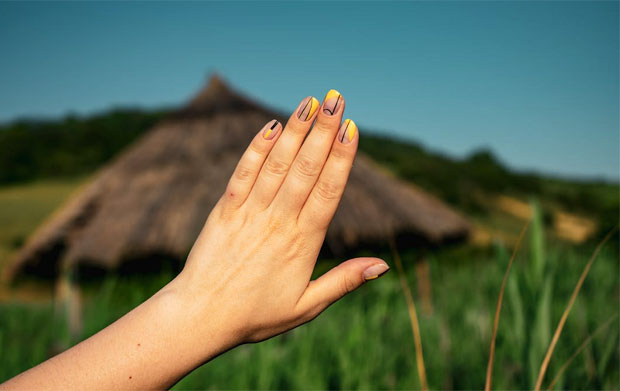 Conclusion
There's no one right way to do a manicure, and that's the beauty of it! Whether you want to go for a classic look with just nails and a simple neutral nail polish, or something more playful and colourful, there are all sorts of great options out there. Keeping your manicure looking perfect can be a challenge, but with the right nail accessories, it is possible. The above 10 accessories will help you keep your nails in great condition and looking their best.
Guest Article. Contains a sponsored link.