10 Ways to Style a Grey Sofa in Your Home
|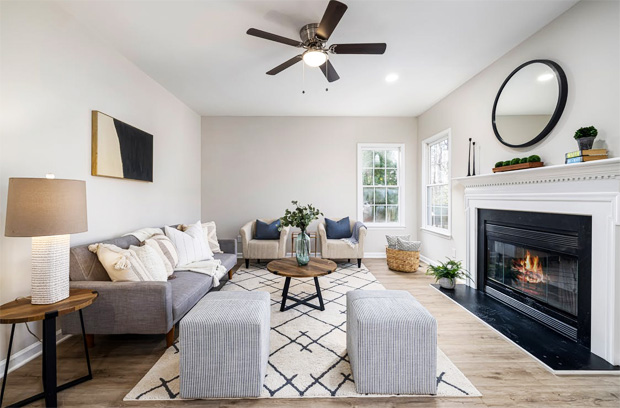 10 Ways to Style a Grey Sofa in Your Home
A grey sofa is easily styled with accented colored pillows and throws using shades that create a smooth flow through the living space. Let grey provide the perfect neutral base for fun with a complementary color.
Grey sofas can really be the best choice for a home with any design style, as they go well with all kinds of color schemes and are timeless and much easier to keep clean than an all-white sofa. So what are the best ways to style a grey sofa? Here are ten ways to style a grey sofa in your home:
The first step in decorating your sofa is the cushions. And for the grey couch, we recommend one layer of cushions in a high gloss and another layer with more matte fabric. Choose high-gloss cushions that reflect the colors elsewhere in the room.
Choose high-gloss cushions that echo the colors elsewhere in the room, as we did in this luxurious transitional redesign. And add a central pillow to act as a focal point.
Mid-century sofas pair perfectly with familiar retro accessories, from elegant teak pieces to side tables and Sputnik pendant lights. Grey has an ageless feel, meaning a new sofa can exude vintage charm when surrounded by a retro aesthetic. It provides a certain degree of freedom of appearance and the impression of modern retro decor.
Have fun styling your mid-century sofa to express your personality. Your grey and neutral sofa/rug combination allows you to really express your personality with the pillow.
You can also add retro warmth with bright orange or red. Create a more natural tone with a range of greens. And don't be afraid to add contrast with bold patterns – black and white work particularly well.
With any interior design scheme, it's essential to consider the shape and outline of your furniture. So if you have a square sofa, consider a coffee table with a bit of a curve.
4. Add dimension with wall art
Installing artwork behind a grey sofa adds another layer to the space while adding dimension to the room and creating an eye-catching design.
Abstract paintings can work particularly well in modern and postmodern interiors. The clean lines of artwork, especially those that feature geometric shapes and interesting patterns, will work well with a grey sofa to create a sharp and cohesive aesthetic.
5. Combine a grey sofa with neutral decor
Grey upholstery also provides a beautiful base for neutral color schemes. Depending on the undertone, a grey sofa goes well with white, beige, black, sepia, and wood tones. Vary the brightness of the room's neutral colors to add depth and dimension to the palette. An assortment of textures such as velvet, shiny metal, and chunky cable knit will add interest to a neutral space.
For example, try pushing a dark charcoal sofa against warm grey walls, complementing it with creamy white pillows and richly stained wooden furniture. An assortment of textures such as velvet, shiny metal, and chunky cable knit will add interest to a neutral space.
6. Create a pastel color scheme
Pairing a grey sofa with a pastel color palette ties the room together in a soft and subtle way. Darker shades of grey work particularly well with this color scheme as they contrast elegantly with lighter accents such as bright shades of pink, blue and green.
7. Combine grey with blue for a contemporary look
 Grey sofas fit easily into a wide range of color schemes – if you want a highly modern and efficient pair, add one to your blue living room ideas. Blue has proven to be a soothing color for interiors and grey is an excellent neutral combination for a cool and fresh design.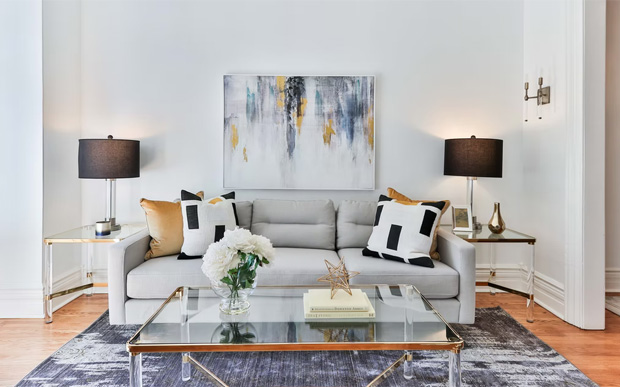 Lighting is an essential part of your living room and you should have at least one source that is right for your sofa.
A grey sofa in a white room provides the perfect canvas to add your own style. Here, a neighboring shocking pink sofa, some well-chosen accessories, and a bright piece of art completely change the scheme.
10. Choose subdued and elegant
This peaceful space is created with a combination of grey, teal, and beautiful soft mustard. The colors work together to create complementary shades. For example, mustard brings out the yellow tones of teal, which in turn brings out the green elements of yellow.
Since the grey sofa is a standard part of any minimalist-designed home, enhance its Spartan appeal with a range of toned greys that create a soothing touch of warm minimalism.
Complementing the grey corner sofa in your living room with other sofa sets will add more
character to your house.
Guest Article.