A Bedroom Update with Debenhams
|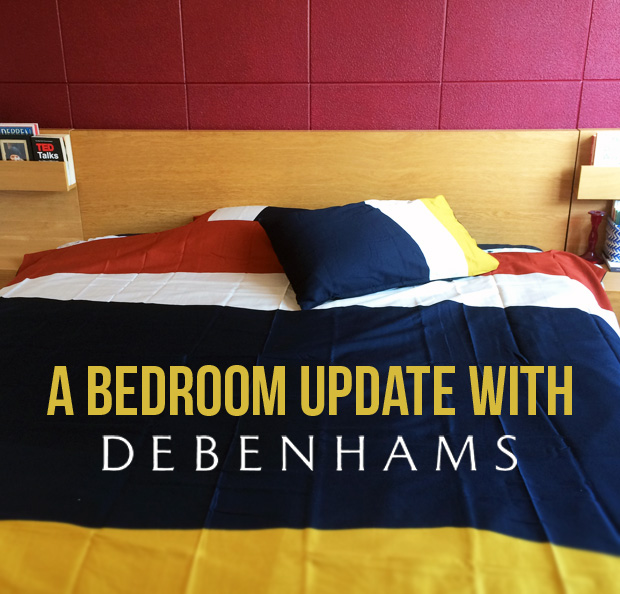 A Bedroom Update with Debenhams
Whenever there's a change in seasons, I feel like updating our home a bit. It doesn't need to be much, just a little refresh. Now that summer is pretty much here, I've updated our bedroom and our two daughters' beds with some new bedding from Debenhams.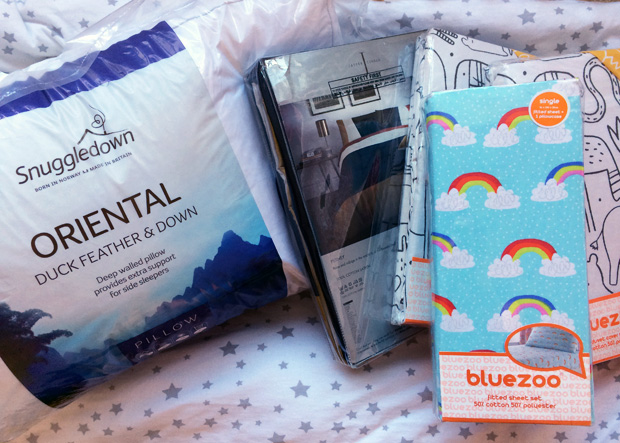 I had been searching for the perfect duvet cover for us for months and finally found it on the Debenhams website. The one I fell in love with is this gorgeous J by Jasper Conran multicoloured 'Putney' duvet cover. It just ticked all my boxes: colourful, stylish, mainly darker colours (we have two young kids who don't stay out of our bed so we will not have white bedding for a while!), soft and all cotton. It's such a gorgeous minimalist but still interesting design! The top photo shows the bedding on our bed and below you can see the picture from the Debenhams website.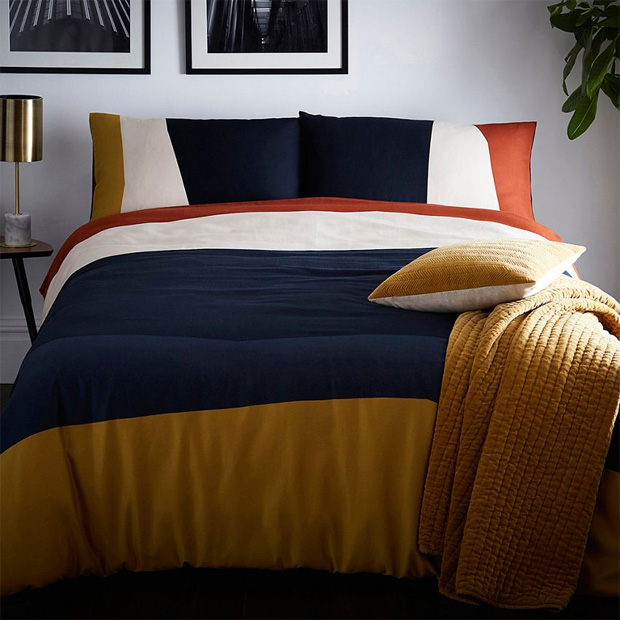 We are moving house later this year and I will definitely want to recreate this look for our new bedroom! I really like the combination of colours on this duvet set — dark navy, cream, mustard and rusty orange. The combination looks great and I love that it's not completely symmetrical. One of the pillow cases has a mustard end and the other orange. It makes it look interesting!
The fabric is really soft and very luxurious too — much better than any other duvet covers we've ever had.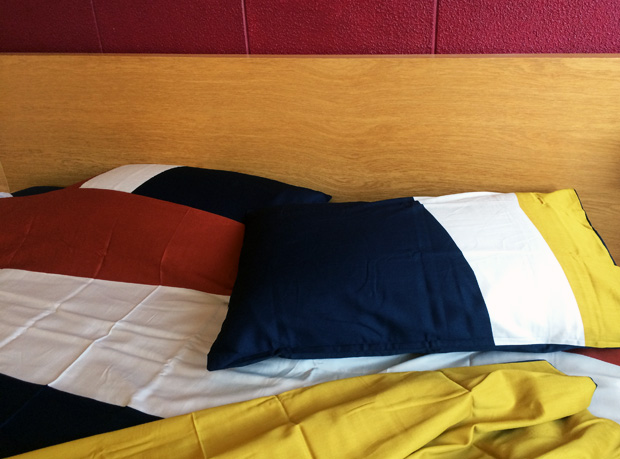 Our two daughters don't currently share a room but they will in our new house. Our eldest is in her own room and our youngest has a toddler bed in our room. We ordered them some matching duvet sets that will look great in their new room but are also perfect for now. They love having the same things and when they're sharing room, I'd like them to have matching duvet covers.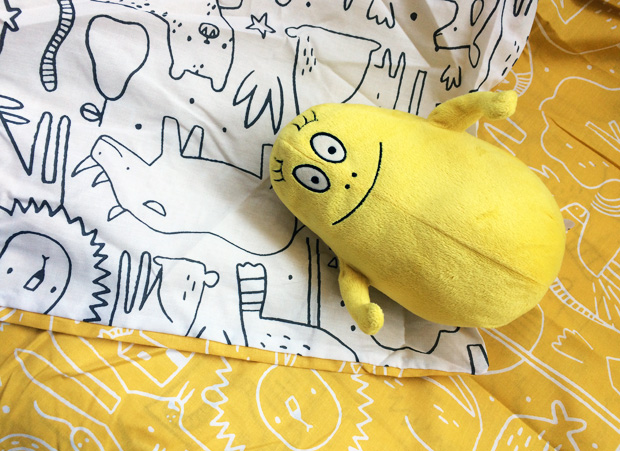 We went for the bluezoo multicoloured 'Scribble' sketchy animal bedding set for the girls as it's fun and stylish at the same time. It's made from a soft cotton blend and has a print of different animals in line drawing style.
One side is white with black illustrations — very minimalist — and the other is a gorgeous sunny yellow colour with white drawings.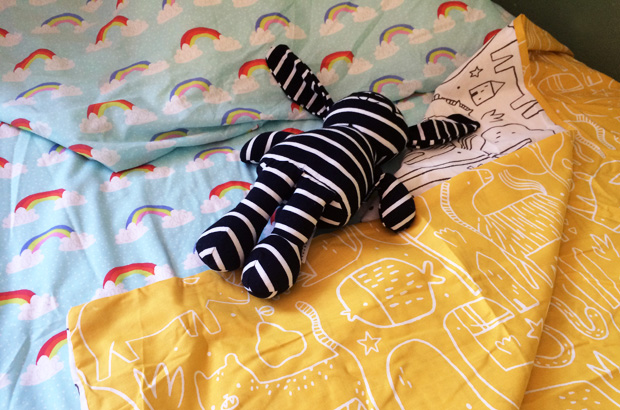 The style is perfect for us, we love colours and prints but, for larger items, I prefer simpler but still fun designs like this animal print. The yellow colour is ideal as well as I'm planning to feature yellow a lot in their new room. Yellow is such a jolly and happy colour!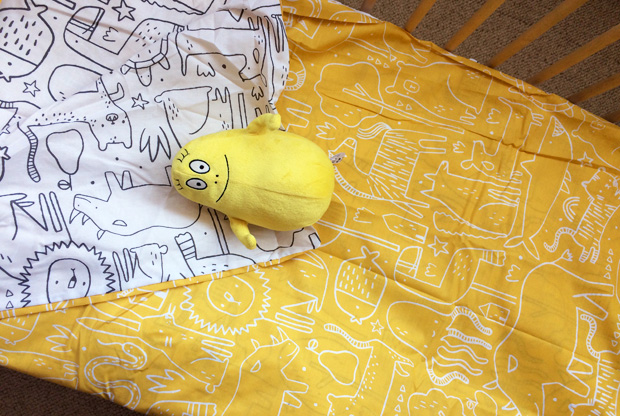 Our eldest daughter is rainbow obsessed so when I spotted this fitted sheet and pillow case set with rainbows all over it, I had to get it for her. She absolutely loves it and it makes her think her bed is extra special and amazing. It's really pretty, soft and lots of fun! It's also from the bluezoo range.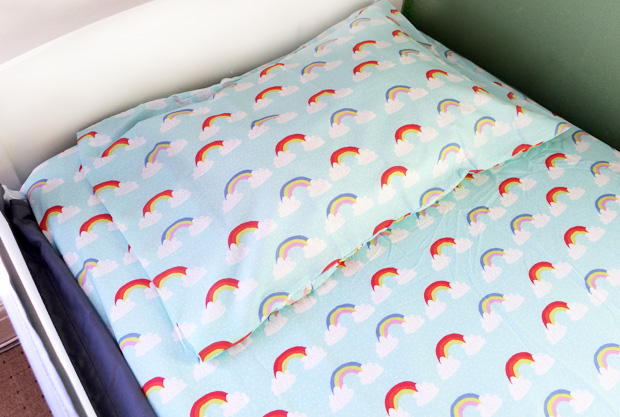 The whole family is very pleased with our bedroom updates for this season! Thank you, Debenhams!
This blogpost is part of  Debenhams bedding campaign. As always, all thoughts and opinions are my own.