A Day With Weleda & Their Beautiful Gardens #WeledaInsight
|
A Day With Weleda & Their Beautiful Gardens #WeledaInsight
I'm a huge fan of Weleda's products so I was very excited when I was invited to visit their UK headquarters in Derby for a day of all things Weleda. The day I was invited to was focused on mother and baby which, of course, is perfect for me.
On Monday this week, I arrived at the beautiful location that is Weleda's HQ. The buildings are cute and surrounded by lush plants. I instantly fell in in love! After a drink outside with the other ladies, we headed inside for an introduction and a presentation about Weleda and the brand's history. All very interesting! Weleda has been around for a long time and really know what they're doing. Their ethical, natural, sustainable and organic products are hugely popular because of these qualities but also because they really work. Weleda is more than the average customers see though and they also produce holistic medicines.
Soon it was time to visit the gardens! We jumped into a mini-bus and drove a few minutes to get to the very large gardens where the head gardener took us on an interesting tour and showed us around, telling us about the different plants and flowers that they grow and use in their products.
As you can see, the gardens are beautiful and full of variety! There are so many different types of plants there and they are all very fascinating.
One of my favourites was the marshmallow plant (Althaea Officinalis) which is used in the Baby Derma White Mallow Collection for babies and children with highly sensitive or atopic skin. The plant was so velvely soft and lovely! You can see how it can help sensitive and irritated skin.
One thing that I thought was great is that there are not just signs with the names of the plants but also signs that show which Weleda products they go in. The other ladies loved this too and we were all pointing out the products that we use or want to try.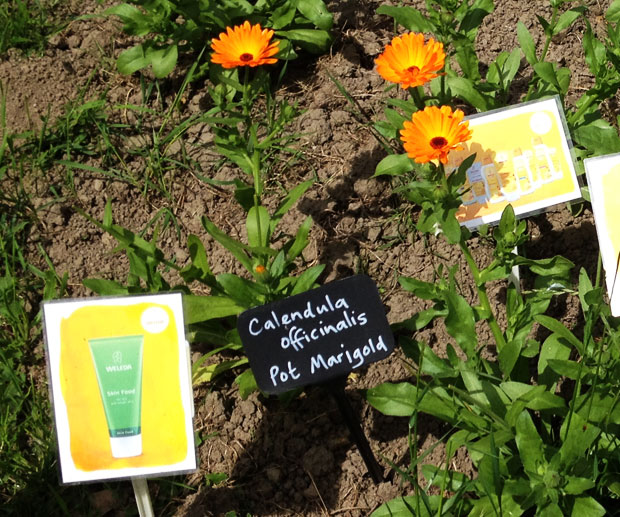 It's such a breathtakingly beautiful place and very relaxing too. It will be difficult to top this Monday!
After looking around some more, we finished the tour by learning how to make a tincture with some flowers. One of the other ladies and I got involved and helped with the chopping, then the chopped up flowers were mixed with alcohol. Everything is a bit more thorough in the lab of course.
Then we said thank you and goodbye to the gardens and jumped back into the mini-bus and back to the house…
… where we enjoyed a scrumptious lunch that waited for us. Even the lunch at Weleda is pretty! Delicious, too. We had salads, sandwiches, crisps and different cakes. We were all quite hungry after our long walk under the hot sun. Most of us had our lunch outside in the shade.
After lunch, we headed back inside for the afternoon. The room is nice and spacious and one wall is made from big glass doors facing the garden so it felt like we were still outdoors, but cooler. In the room there are a bunch of large round tables, lots of books, a presentation screen and many displays of different Weleda product ranges to look at and test.
The afternoon session was great! We got to hear about all the Weleda products for babies and children and the pregnancy/new mum products. During the presentations, we had the products in front of us on our tables so that we could look at and smell them aswell as trying them out of course. Our hands and arms were so pampered after this!
I love the Weleda Calendula products for babies so it was great to hear a bit more about them. The pregnancy/new mum range is something I'm very interested in so I was keen to hear all about the oils in this range. We also learned about pregnancy and baby massage with Suzanne Yates from Well Mother.
After a presentation about all the exciting Weleda product launches for 2015 we said our goodbyes and headed to the shop in the reception to pick up our generous goodie bags and stock up on some more bits.
Below is the goodie bag that we received. I was so happy to find the full range of pregnancy, new mum and baby oils that we'd been talking about on the day together with Almond Sensitive Skin Body Lotion, Arnica Sport Shower Gel (it smells so invigorating!), Evening Primrose Night Cream and the classic Skin Food that is an amazing multi-tasking cream that everybody loves — it's my favourite too.
We also received some booklets and the Summer 2015 brochure, which you can order or download here. Of course, I will review all these products here on my blog as I use them.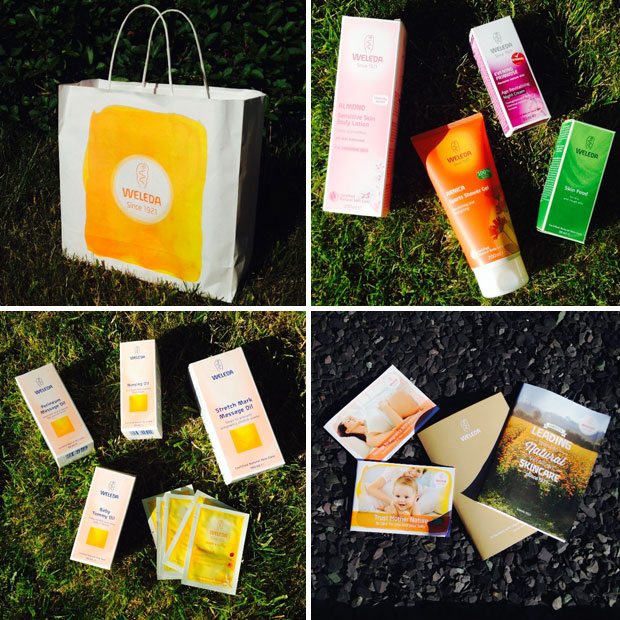 Here are my previous Weleda reviews.
Visit Weleda.co.uk for more information and to buy the products. Amazon.co.uk is also a great place to buy Weleda products and you can even subscribe to your favourites and get discounts for doing so.
A big thank you to the lovely people at Weleda for a perfect day!