Blackspade Maternity Nightwear Collection Review
|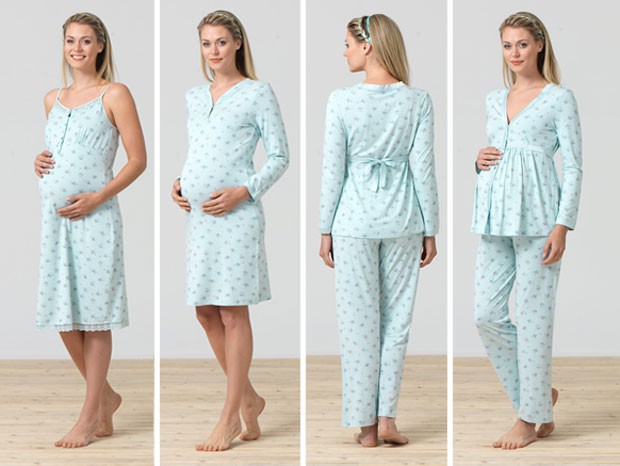 Blackspade Maternity Nightwear Collection Review
Blackspade UK designs, manufactures and sells premium nightwear, thermals and underwear for the whole family from kids to grown-ups. They also have shaping garments and maternity underwear in their range. Blackspade is a quality focused brand and you can always be assured that you're buying a high quality item when purchasing a Blackspade product.
The brand is currently looking to expand their maternity range with some gorgeous products that I'm been very lucky to be trialling at the moment. The maternity collection would include a sleeveless nightie, a long-sleeved nightdress, a pyjamas and a robe in amazingly soft materials and fits that are very comfortable, even with a huge bump like I have now.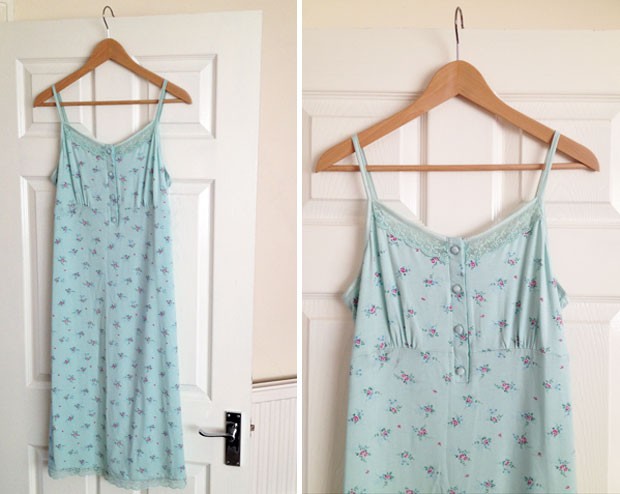 The whole collection is a soft minty green/blue colour with a cute floral pattern. The nightie is knee-length on me in a size Medium. I'm 176 cm tall (5′9″) and usually a size Small-Medium in tops and Medium in bottoms.
The nightie has thin straps, ruching on the breast area, a silky trim and lace details at the top and the bottom. It has fabric covered buttons down the front which means it can be used post-pregnancy for breastfeeding too. I love this detail as it means I'll be able to use the nightie for a long time.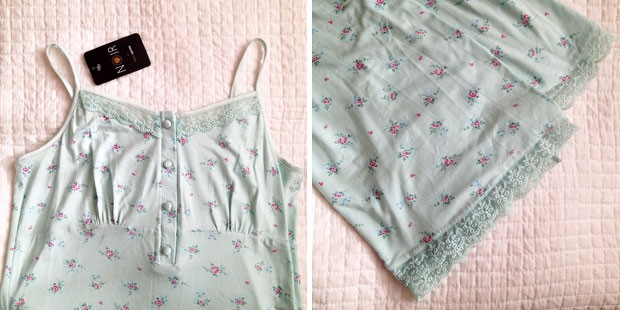 The long-sleeved nightdress is a more plain design but it's still very pretty. It's got a lace detail on the neckline and a couple of buttons down the front but not far down enough to breastfeed in. It's a comfortable fit and I love the long sleeves because I'm usually cold.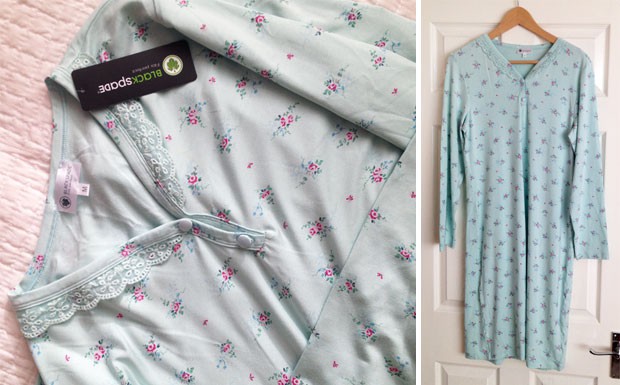 The pyjamas consists of soft trousers and a long-sleeved blouse with silky trim details, ruching around the waist and silky ribbons that you can tie around your back or into a pretty bow over your bump! The v-neck is deep and the blouse buttons all the way down which means you can easily breastfeed in it when your baby has been born.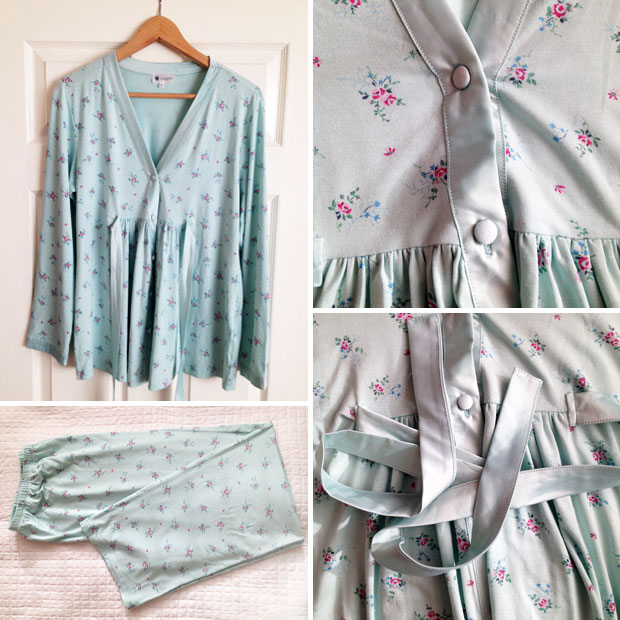 The trousers are so soft and comfortable! The elasticated waist can be worn over or under the bump depending on preference. I like to wear the trousers over my bump now that I'm in my third trimester and my belly is quite big. When they're over the bump, they're naturally a bit shorter than when under. They are a simple but perfect design and provide ultimate comfort. Nothing digs in or is too tight and they fit lovely around my bump.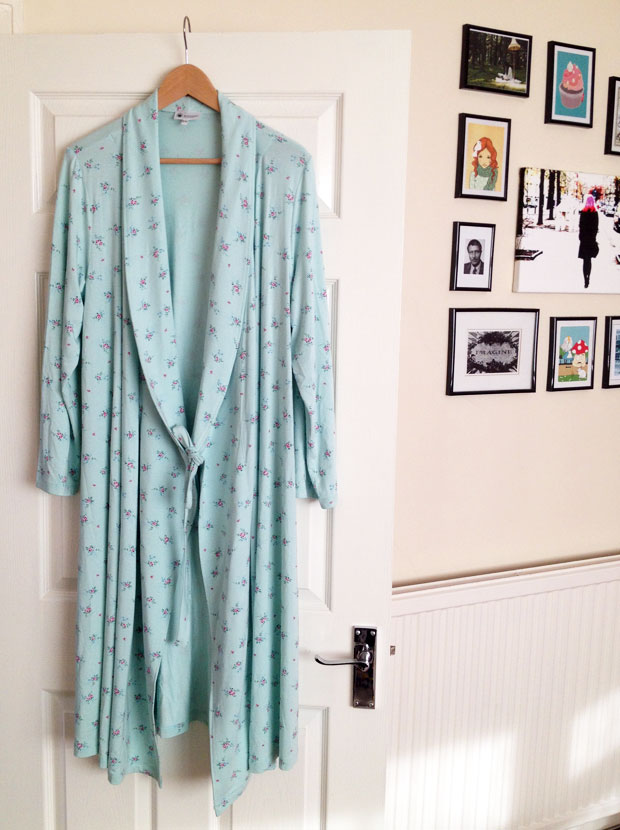 Last, but not least, the gorgeous robe/dressing gown. This is a wonderful garment! It's long and the fabric has a great weight to it which speaks well for its quality. It's a wrap design what you can easily adapt to your bump size as it changes and it's the ideal item of clothing to wear over your sleepwear when lounging around in the evening or in the morning. It's very pretty and comfortable.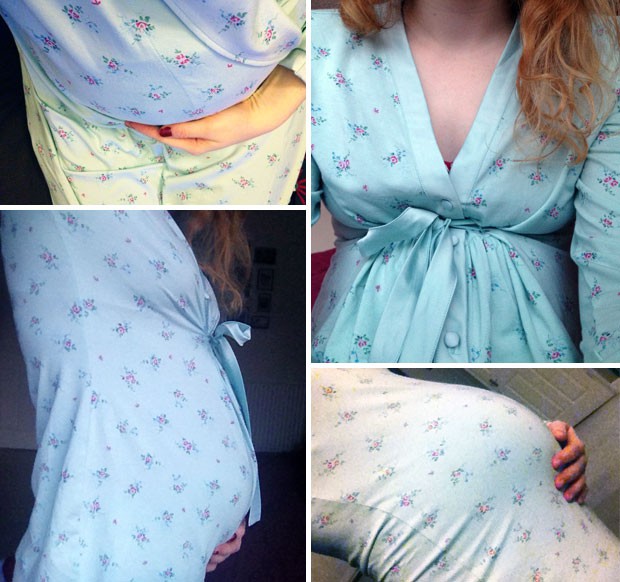 Above you can see some slightly dark photos (taken at night) of me wearing the different items. From the top left: nightgown, pyjamas, pyjamas and long-sleeved nightdress.
The whole range is lovely and luxurious! It's so nice to have a matching set of items and they're all so comfortable which is very important when your pregnant and getting comfortable can be very difficult. The quality of the material and the craftsmanship is amazing and the items wash really well without creasing, bobbling or loosing any softness. I wash my nightwear with clothes of similar colours on 40-50 degrees and then hang the items up to dry. The fact that most of the range is breastfeeding friendly is a huge plus as it means they can be used for a long time.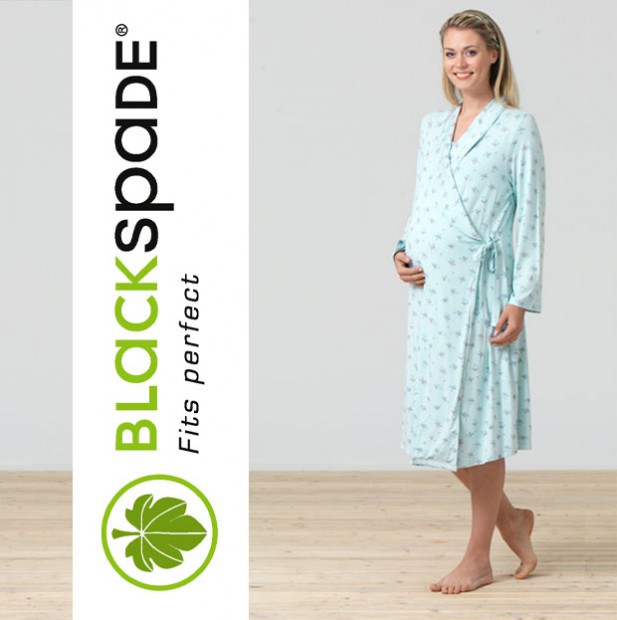 I really hope Blackspade decide to start selling this gorgeous range so that other pregnant ladies can be as comfortable at night as I am. Until the decision is made, you can shop the rest of the Blackspade items in their online shop.
I was sent these items for this review. As always, all my reviews are 100% honest and all thoughts and opinions are my own.