Book Review: Molly the Mole – A Truth & Tails Story
|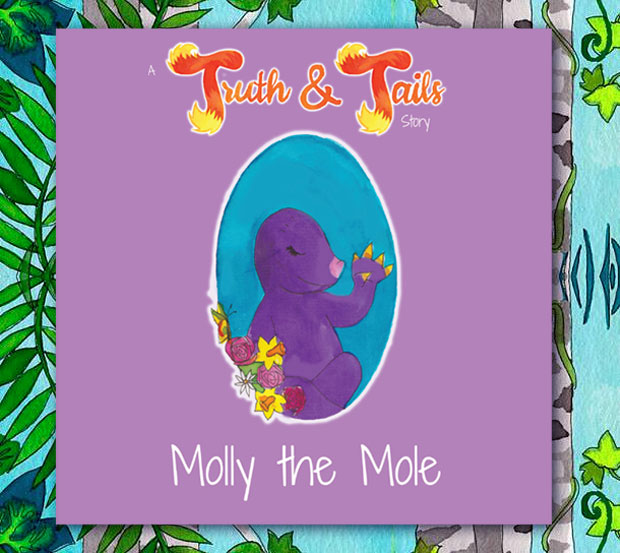 Book Review: Molly the Mole – A Truth & Tails Story
Molly the Mole is the first book from Truth & Tails. Truth & Tails aim to eliminate prejudice, encourage acceptance and aid understanding by addressing hard-to-deal-with concepts through simple, sensitive and beautiful stories featuring lovable characters. The books are mainly aimed at ages 4-8 but younger and older children can of course enjoy them too.
All the books are self-published and hand-illustrated.

How Truth & Tail was born:
"We started talking about our own favourite children's books and how fantastic it would be if there were a straightforward, sensitive, easy way to explain difficult concepts like feminism, racism and sexuality to kids; or the reasons behind important historical events; or even complex scientific theories.
The more we thought about the idea, the more we realised that we didn't just want to write stories that were educational. We wanted to become a crucial part of creating a culture of acceptance and understanding that far too many media publications are preventing – whether intentionally or because of deeply ingrained, now outdated beliefs."
The books are created by Phoebe Kirk (illustrator), Ben Galley (publisher) and Alice Reeves (author). The name Truth & Tails was chosen because the team believe in being honest with children as soon as they're young enough to understand and be inquisitive about issues and the tails part is because each story is told using animal characters.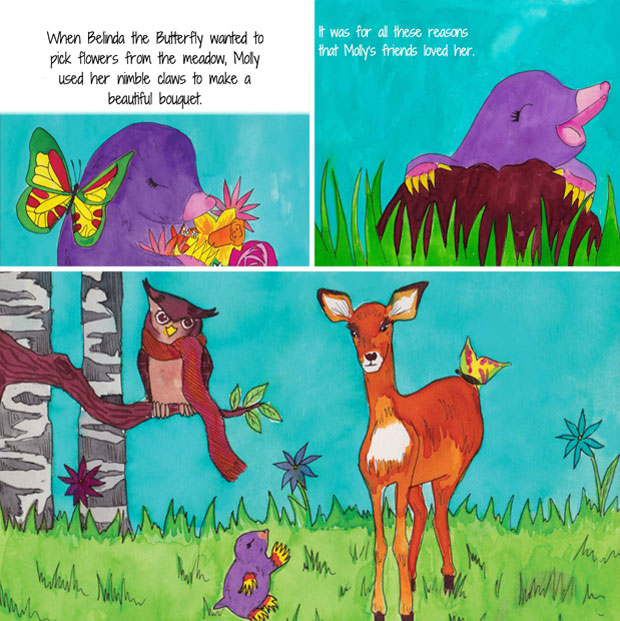 Molly the Mole is about a mole called Molly who has lots of friends but sometimes feels sad because she's not as clever as her friend Owen the owl, she doesn't have long legs like her friend Daisy the deer and she's not as colourful as her friend Belinda the butterfly.
She confides in her friends and they reassure her that that's not what matters at all and reminds her about all the nice things she's done for them. Molly is a very kind, patient and helpful character and that's what really matters.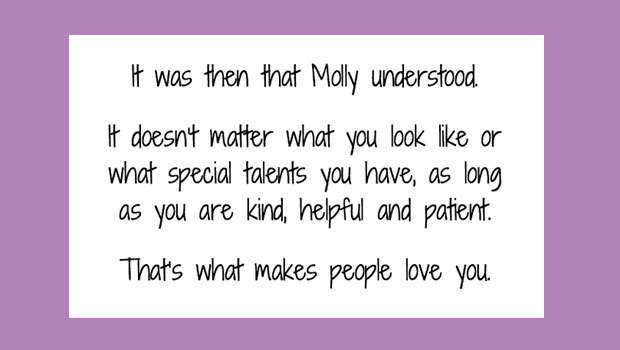 It's a very sweet story that covers important topics like how it's important to be a good friend, to be proud of who you are and that it's the inside that counts.
The illustrations are cute and I love that they are hand-drawn. Most children's books nowadays seem to be illustrated digitally. That can look great too, of course, but it's nice to see more traditionally made illustrations that often have more character.
We look forward to reading more books by Truth & Tails.
Read more here and buy the book as an e-book here. Paperback copies will be available soon, too!
We were sent this e-book for this review. As always, all my reviews are 100% honest and all thoughts and opinions are my own.