Cheeky Wipes Reusable Baby Wipes All-In-One Kit Review + Giveaway
|
Cheeky Wipes Reusable Baby Wipes All-In-One Kit Review + Giveaway
I've been using cloth nappies for Baby No. 2 (now a toddler!) for about a year now and choosing washable baby wipes is a natural next step. I actually got some washable baby wipes for my firstborn but to use to clean hands and faces after eating. We still use them now. I have also experimented a bit with using cloth wipes as baby wipes at nappy changes but haven't converted completely yet.
Now I have a set that will help me make the transition, I'm sure! It's called the Cheeky Wipes All-In-One Washable Baby Wipes Kit and, as the name suggests, it consists of everything you need to switch to reusable baby wipes whether your baby is in cloth nappies or disposable nappies. Using cloth wipes saves money, is better for your baby's delicate skin and much better for the planet as they don't produce any waste. They're also easy to use and perform better than disposable wipes — you can watch a video showing the difference here.
There are several different kits to choose from and you customise your chosen kit too by selecting which type of baby wipes you'd like (more about this further down) and some other accessories too.
The Cheeky Wipes All-In-One Washable Baby Wipes Kit contains:
25 soft cloth baby wipes, 15 cm x 15 cm (choose from white cotton terry, bamboo, rainbow bamboo, bamboo/minky or microfibre, or choose the trial set to receive a mix)
A 'Single-Clip' Fresh Baby Wipes container
A 'Single-Clip' Mucky Baby Wipes container – with mesh bag insert
A Cheeky Wipes Fresh Baby Wipes waterproof out and about travel bag
A Cheeky Wipes Mucky Baby Wipes waterproof out and about travel bag

—

with mesh bag insert
Either 10 ml bottle of Fresh Baby Wipes Essential Oil Blend (choose from Lavender & Chamomile, Mandarin or Rose & Rose Geranium OR Baby Nappy Spray
10 ml bottle of Tea Tree & Tea Tree Lemon Mucky Baby Wipes Essential Oil Blend
The boxes have flat and stackable lids and splash-proof seal to keep wipes fresher for longer. They can easily be opened with one hand which is very handy when you're dealing with a wriggly baby. There are fill water levels on the boxes so that you know how much to fill them if you want to soak them and there are also hooks on the inside of the Mucky Box to keep the mesh bag open and drip free. Very practical!
How does it work?
You don't have to soak your wipes but it does make nappy changes more convenient because you have a box of wet wipes ready to use. If you want, you can just wet a wipe under a running tap and use the Baby Nappy Spray but soaking is more convenient. I would definitely suggest soaking if  you have a newborn as there are many messy nappy changes at that stage. Only soak as many wipes you expect to need in a day or so to keep them fresh.
This is how you use the kit and the wipes:
You fill your Fresh Wipes container with water to the level shown on the box and add 4-5 drops of essential oil (if using). Then pop the wipes in and turn the box a few times to ensure all wipes get wet, then you're ready to go.
For the Mucky Wipes box, fill it with water to the mark and add 3 – 4 drops of the Tea Tree & Tea Tree Lemon Mucky Baby Wipes Essential Oil Blend to keep dirty wipes smell nice.
Use the wipes to clean bottoms, faces or hands and once used, place them in the mesh bag inside the Mucky Wipes container. The mesh bag ensures you don't have to touch them again to wash them. Remember that you'll not need as many cloth wipes as you do disposable wipes. Watch the video mentioned above to see just how far one wipe goes!
To wash your wipes, put the mesh bag straight into the washing machine on a 30-60 degree wash with your other washing. I wash them with the nappies. You don't even have to dry them if you're in a rush

—

you can just pop them back in the Fresh Wipes box.
For when you're out and about, use the wet bags from the set and take as many wet wipes as you think you might need.
Before using this kit, I was concerned about using washable wipes when dealing with baby/toddler poo and the thing I was concerned about was getting solids in the washing machine. I didn't need to worry though as I soon realised that most poo is on the nappy liner when using cloth nappies (solid poo just comes off the liner into the toilet) and if you're using disposables, the poo is mainly in the nappy. The wipes just get the tiny bit that's on the bum and that's not any big solids so will wash away nicely in the washing machine. Before your baby starts weaning, baby poo is water soluble so you don't need to worry about this at that time at all. 
For our kit, I chose the Organic Premium Rainbow Cotton Baby Wipes and not just for the pretty colours. I read up on which wipes to choose and they seemed the best for our needs. I also like the colours as they mean I can choose to have some colours for bottoms and some for hand/faces.
These wipes are really thick and super soft and great for all uses. They're strong and just do the job very well. They wash very well too and keep their shape when they dry, whether in the dryer or on the line. I made the right choice choosing them. You can hopefully see the texture of them in the photos above and below this paragraph.
Which wipes?
There are a bunch of different types of wipes to choose from and if you're not sure which ones to go for, then the Washable Cloth Baby Wipes Trial Set is a great way to see which type suits your needs the best.
The trial kit contains either 10 or 25 wipes — depending on how many you need and order — and is a mix of wipes for you to try.
The wipes and ratios can vary depending on stick but my set (photo above) contained a mix of:
Cotton Terry Cloth Wipes | Top Left
Rainbow Bamboo Wipes | Bottom Left
Bamboo Velour Baby Wipes | Top Middle
Microfibre Washable Baby Wipes | Bottom Middle
Bamboo Minky Baby Wipes | Top Right
Cotton Flannel Wipes | Bottom Right
The first two types are all quite similar to me in terms of softness and texture. The rainbow ones are slightly thicker, I think, and to me more practical due to the different colours. They're both great for all kinds of jobs though!
Bamboo velour wipes are supersoft and naturally anti-bacterial which is handy. I would recommend these for sensitive skin. The microfibre ones are soft and strong and great for mucky hands and faces after eating but are not recommended for bottoms as poo traps the fibres. They're very affordable too.
The bamboo minky wipes have bamboo viscose on one side and luxuriously soft minky on the other. They are so soft and lovely on faces and hands but because they're so soft, they're not grippy enough for poos but fine for wees. I think they're ideal face wipes as they're great for sensitive skin too.
All the above wipes are 15x15cm so fit perfectly in the boxes. The last wipes, above right, are cotton flannel wipes. They are much thinner than the other wipes and larger too at 21x21cm. They're very soft and smooth which make them a wonderful face wipe. I keep these in my handbag for runny noses! The smooth texture means they're not as suitable for poos as the first three wipes. They make perfect handkerchiefs.
Conclusion
Overall, I'm really pleased with my choice of the rainbow wipes as our main nappy change wipes and the trial kit wipes for other wiping jobs — hands, faces and noses. I still keep a packet of disposable wipes at home but I have massively reduced our use of baby wipes as I'm using more and more cloth wipes for nappy changes now. Just like my cloth nappy journey, I think it will just take a few weeks or a month before I'm mainly using cloth wipes. The Cheeky Wipes Reusable Baby Wipes All-In-One Kit makes it so easy! Another aspect that I really love is that you can never run out of baby wipes — something that used to be a regular problem in my house since I stopped buying disposable nappies as I'm never in the nappy aisle of the supermarket anymore so often forget about baby wipes. I don't need to worry about that at all now.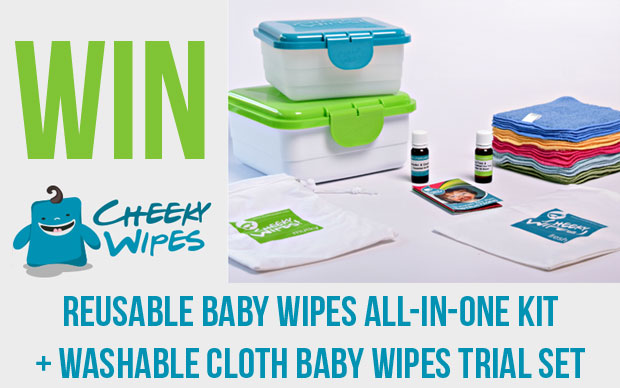 Giveaway: Win a Cheeky Wipes Reusable Baby Wipes All-In-One Kit + a Baby Wipes Trial Set!
For a chance to win a Cheeky Wipes Reusable Baby Wipes All-In-One Kit like the one I have plus a Washable Cloth Baby Wipes Trial Set, enter via the Rafflecopter below. Terms & Conditions apply. UK Entrants over the age of 18 years only. The giveaway will run until the 20th of April 2018. One winner will be chosen randomly. Mix of wipes types and colours may vary. The prize will be sent out directly by Cheeky Wipes.

Products were provided to me for this review. As always, all my reviews are 100% honest and all thoughts and opinions are my own.