Chicco 123 Activity Centre Review
|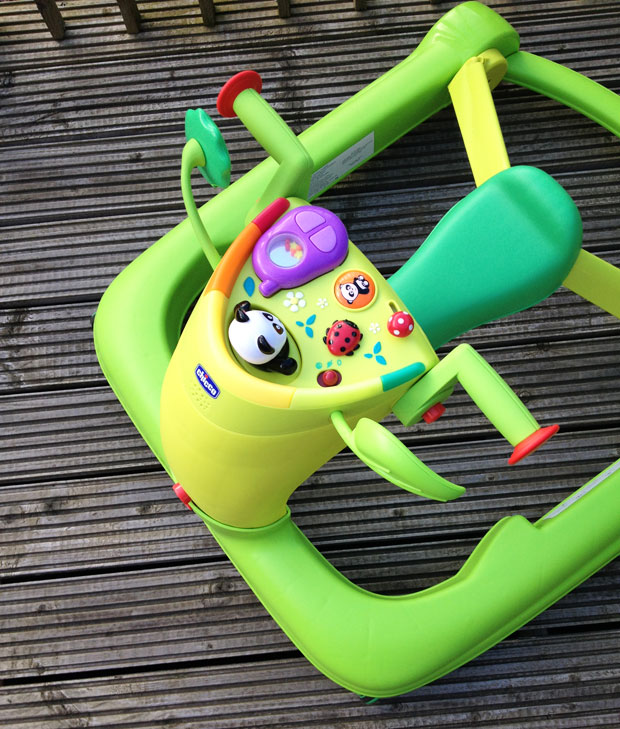 Chicco 123 Activity Centre Review
The Chicco 123 Activity Centre is a baby walker, a push along toy for learning to walk and a ride-on toy all in one. It's a clever toy that grows with your child. From 6 months it can be used as a baby walker, from 9 months it transforms to a learn-to-walk aid and then it changes again and from 18 months onwards it can be used as a fun quad bike until around the age of 3 (or 30kg).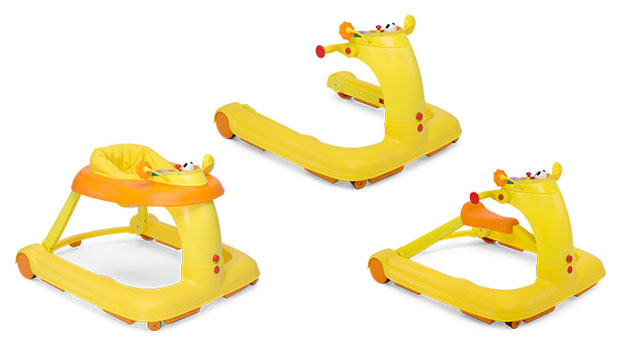 The activity centre arrived in a large box with all pieces well packaged and protected. It only took me a few minutes to put the centre together and I went straight for the 18+ plus design since that's the age group my toddler girl is in. We've put the baby walker seat away and will save it for baby number two.
The height of the toy can easily be adjusted and set to two different positions. You can change this when it's in the first steps or ride-on configuration to make sure it's the right height for your toddler. It's very easy to do by just pressing a knob and moving the front of the activity centre up or down. The handles are also really easy to adjust.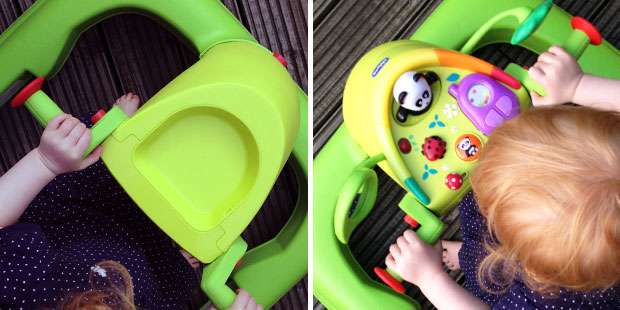 The Chicco 123 Activity Centre has a removable, electronic toy panel that can be used in all three configurations. It's packed with fun such as bright lights of different colours, different sounds and many more activities including a mobile phone that rings, a pop up panda, a rear-view mirror, a flower that twists and a range of knobs and buttons. You can change the panel to different settings for different sounds or to turn it off completely when not in use. The toy panel requires two AA batteries that are not included.
When the toy panel is detached, you can use the dent it normally sits in as a tray for snacks or do what my daughter does and collect smaller toys and balls and put them there.
This clever and long lasting toy has got an ergonomic seat and seven security stoppers to ensure the walker is safe even when it's near the stairs. This is just a safety measure and of course children are not recommended to use this toy there.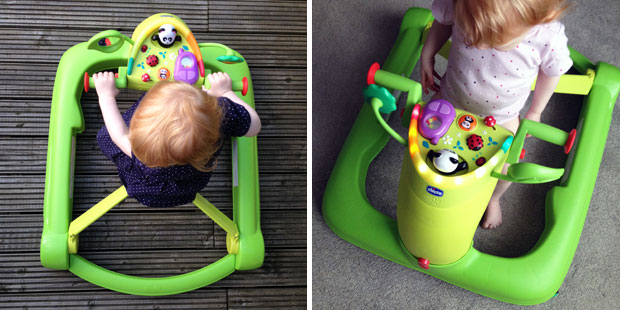 My daughter is 19 months old now and she'd never been on a ride-on toy before she received this one. She quickly got the hang of it though and learnt to scoot around on it very quickly! We use it all over the house — upstairs, downstairs and lots outside on our decking. That's where she's got the most space to scoot around freely and she loves it!
I think this is a very smart invention and I love that it's been designed to last for so many years and through different stages of your child's life. The only downside is that it's quite large and takes up a lot of room when it's not in use. I know some baby walkers can be collapsed (like the Chicco Band Walker) but maybe that wouldn't work with the other funtionalities that the 123 Activity Centre has.
An idea that I have would be to have a range of removable toy panels available to buy separately so that you could change them as your baby gets older or just for variety. Chicco, let me know if you think that's a good idea!
Another huge benefit of this product is the lovely unisex design! It's available in green or yellow and there are no gender stereotypes of blue for boys and pink for girls. It's very refreshing and quite rare these days! I love unisex items for children and think kids should enjoy all the fun colours that are out there.
Read more on Chicco.co.uk and buy from Amazon.co.uk. The 123 Activity Centre costs £69.99 – £79.99 depending on colour choice and shop and that's a brilliant price for this high quality product that can be used for such a long time.
Here's a video from Chicco showing all the configurations:
We were sent this toy for review. As always, all my reviews are 100% honest and all thoughts and opinions are my own.