Hamleys Learn & Play Gift Set Review / From House of Fraser
|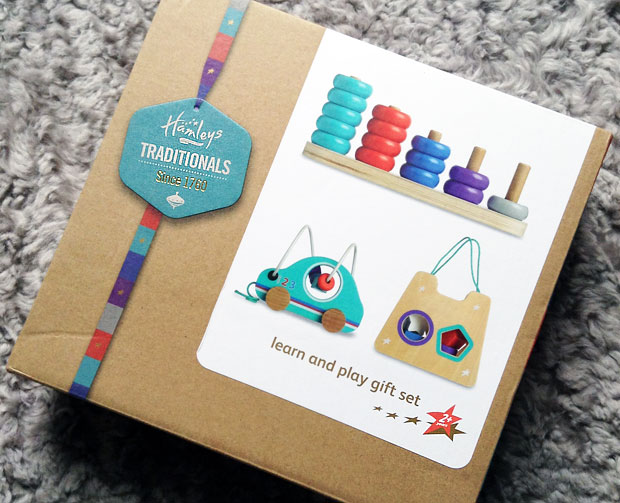 Hamleys Learn & Play Gift Set Review
My 13-month-old daughter's newest addition to her toy collection is this lovely wooden toy set by Hamleys that we ordered from House of Fraser.
It's a fun three piece gift set with beautiful wooden toys that help develop hand-eye coordination, counting, colour learning and shape recognition. I would say the kit is suitable from 12 months and onwards depending on where your child is in his/her development.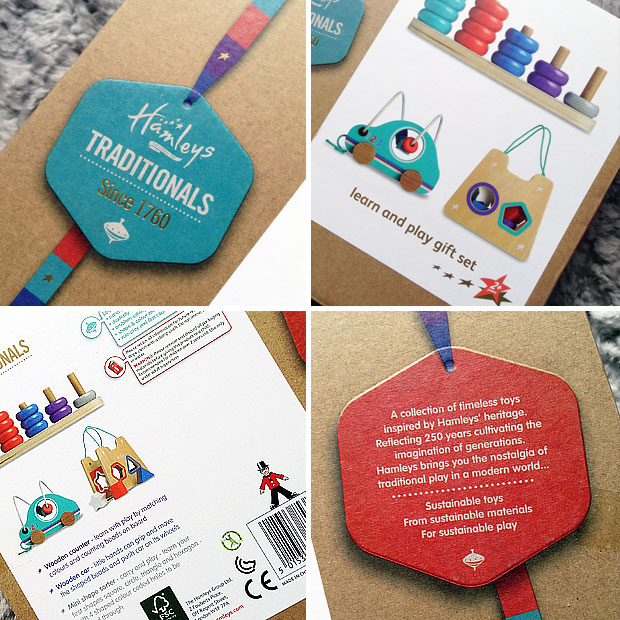 The packaging is beautiful which makes the kit a great gift for a first birthday or a christening. Hamleys have been making toys since 1760 and the brand brings back the nostalgia of wooden toys and traditional play into the modern world. The toys are made from sustainable materials and are of very high quality. The kit is completely unisex, too, which I love.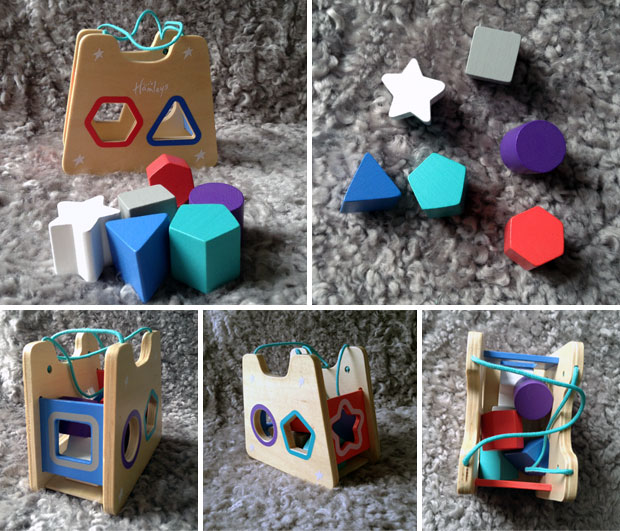 First out: the mini shape sorter. It's a small shape sorter shaped like a handbag with little handles so that you can easily carry it around. The shape sorter helps children learn different shapes and colours. At first, my daughter was really clever and just put the shapes in the big opening at the top! Then I showed her that the different shapes go in different holes and now she's started copying that behaviour. You can also use the shapes as building blocks and make towers to knock over. Lots of fun!

The second toy is a wooden car that you can push like a regular toy car or pull along. It's a two-in-one toy since it's got different shaped and coloured beads that you can move along the twisted bar too. It's a beautiful toy car that kids love.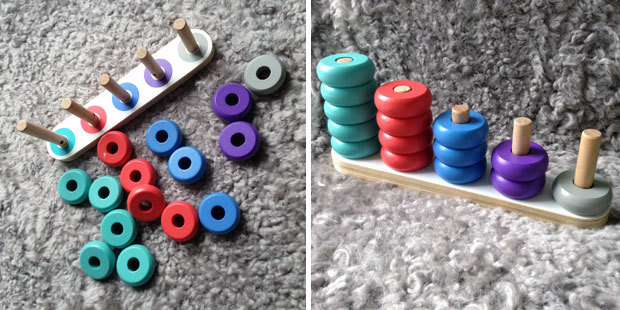 The favourite in our house is the wooden counter. My daughter figured this one out quickly and learned how to put the beads on the sticks in no time. It's so much fun seeing her developing new skills! She likes to stack the beads high and then turn the counter upside down to make them all fall off so that she can start again. She's not separating the colours to different sticks yet but that will come soon. These toys grow with your kids as their skills develop. We also use the beads to make towers or put them in the shape sorter. The sticks bend, which is a great safety feature since this means you will not hurt yourself much if you fall on the counter. You can also flick the sticks which is something my daughter loves. If you put a bead on a stick and then flick it, the bead flies off. We're constantly coming up with new games to play with this simple yet versatile toy! It's the first one my daughter runs to play with when we enter our living room — definitely one of her absolute favourite toys!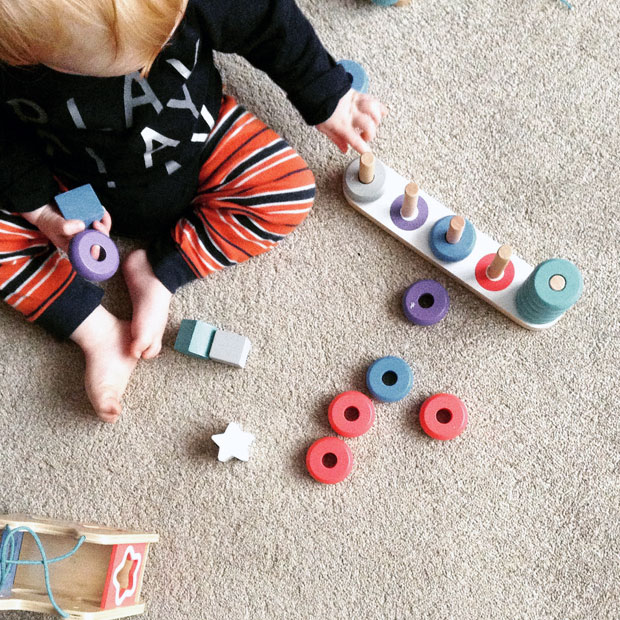 Before I had children, I always imagined I'd buy my kids lots of nice wooden toys and that I would avoid most of the plastic ones. We definitely have some plastic in our toy boxes but the wooden ones are special to me. They are the ones that we'll keep to pass on to siblings and then later on, to pass on to grandchildren. Wooden toys like these last — the quality of the material is superior and they never go out of style since they always offer a type of play that children enjoy and need for their development.
This kit from Hamleys is a great set of toys for your child to enjoy — it's fun and helps develop essential skills. I highly recommend it! You can find it and lots of other baby and preschool toys on the House of Fraser website.
We were sent this kit for this review. As always, all my reviews are 100% honest and all thoughts and opinions are my own.