Christmas Gift Ideas for Her – 2021 Christmas Gift Guide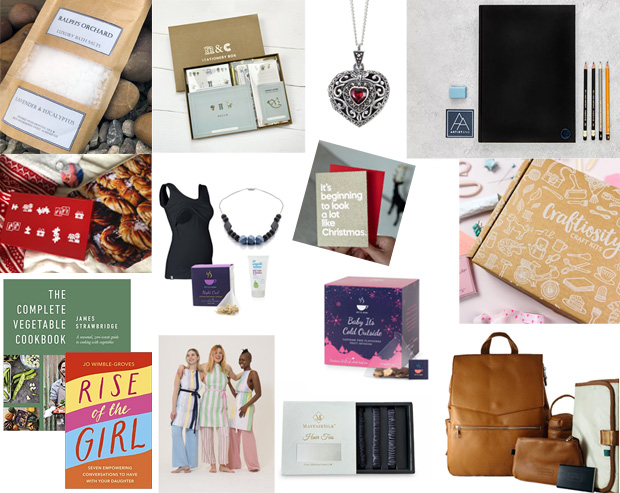 Christmas Gift Ideas for Her – 2021 Christmas Gift Guide
Are you looking for Christmas gifts for the women in your life? If so, I've gathered a lovely mix of items that might be of interest. Read on for my picks for Christmas gifts ideas for her.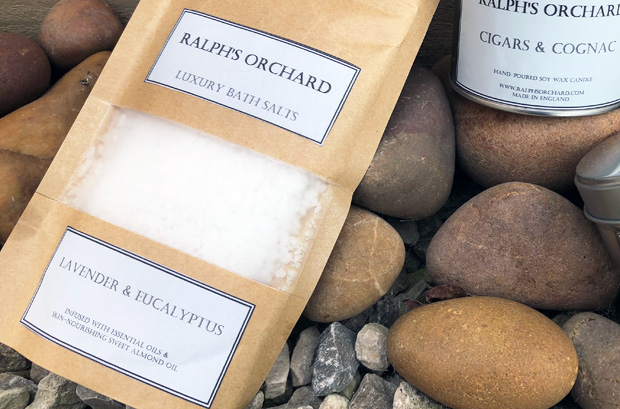 Ralph's Orchard Bath Salts
You might have spotted candles from this brand in my recent Outdoorsy Christmas Gift Guide. Ralph's Orchard also make luxury bath salts that would be a great gift for anyone who loves a luxurious, relaxing soak. The hand-made Lavender & Eucalyptus bath salts above are made with Epsom salts, coarse sea salt and bicarbonate of soda, sweet almond oil for hydration and 100% pure essential oils of Lavender and Eucalyptus to create a calming, stress-reducing bath. Absolute bliss!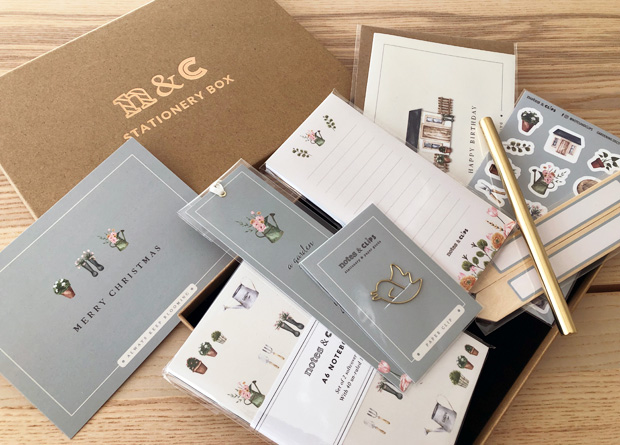 Notes & Clips Stationery Box
For a stationery enthusiast, a stationery gift box from Notes & Clips would make an ideal gift. They are themed stationery sets with lots of goodies, beautifully presented in a gift box. You can add a gift message too, to make them even more special. Nearly everything is made by Notes & Clips here in England too which is great!
I have the Gardening one which comes with 9 pieces of gardening themed stationery pieces as you can see in the photo above but there are lots of designs and themes to choose from (see below).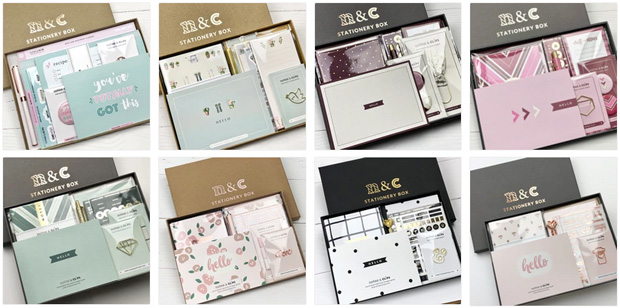 The Gardening stationery set from Notes & Clips has a sage green and cream theme and includes 2 A6 softcover notebooks, 1 heavyweight gold pen (very luxurious!), 1 gold bird paperclip, 1 greeting card with envelope, 1 sheet of stickers, 1 double-sided bookmark, 1 pair of plant labels, 1 tear-off notepad for lists with 50 sheets, 1 personalisable card. All presented in a lovely gift box that can be reused too.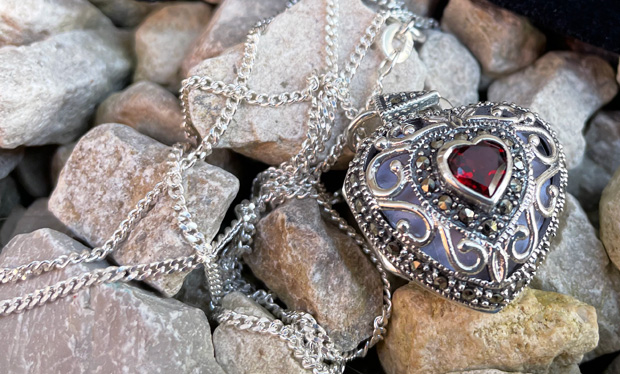 Lily Blanche Garnet Vintage Heart Locket (Silver)
A gorgeous piece of jewellery is always a good gift and something that's personalised is even more special. This stunning Silver Garnet Vintage Heart Locket from Lily Blanche is truly special with its vintage look and can be personalised with two pictures hidden inside the locket.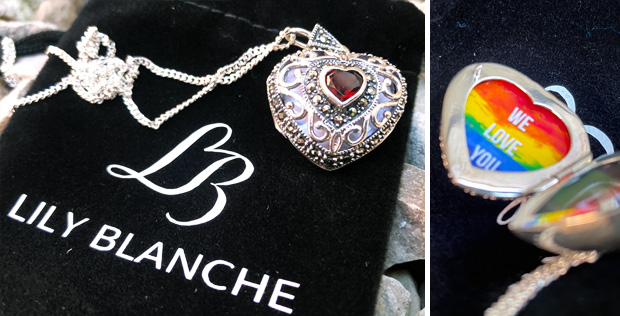 The sterling silver locket makes a wonderful keepsake for a loved one. The vintage design features a beautiful heart-shaped garnet gemstone in the middle. This is the birthstone for January and the gemstone for protection. Other options available are 18 carat gold or rose gold vermeil and with a blue topaz or purple amethyst gemstone.
The locket comes gift wrapped in a ribbon-tied gift box, complete with a storage pouch and a polish cloth. What a special necklace, especially if you add some photos that are meaningful to the recipient.
Use the code "mumreviews10" for 10% off site-wide.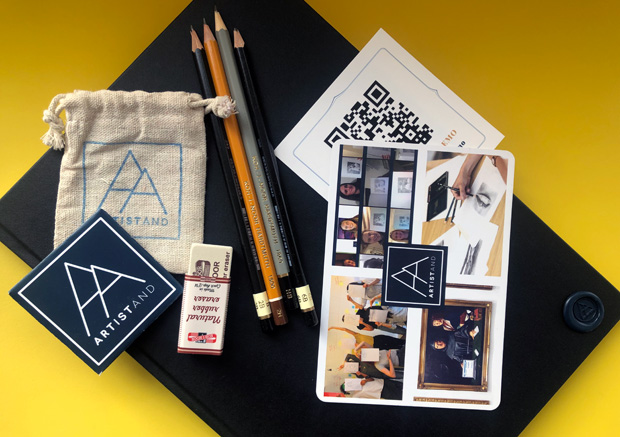 Looking for a gift for someone who's into drawing or want to learn how to draw better? ArtistAnd are all about bringing creativity and art to people. They run engaging drawing workshops, 1 on 1 classes and art retreats among other things and also have a shop with three different drawing kits with the equipment to get you started.
The kits are gorgeous, high-quality and sustainably sourced from local businesses. Here you can see the Deluxe Drawing Kit A4 that includes a professional hardcover, casebound sketchbook with thick, good quality paper, 4 pencils (HB, 2B, 2H, 6B – everything you need!) and a professional putty rubber. The kit also includes one free ticket to one of the AristAnd drawing classes so that you can try them out. A perfect gift for a budding artist!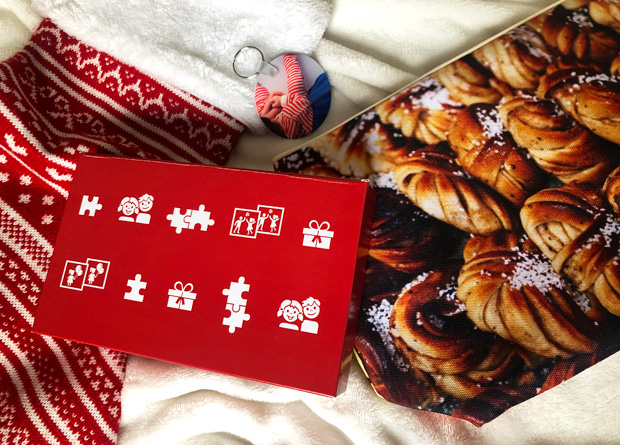 Personalised Gifts from Asda Photo
Asda Photo is a great place to quickly design your own personalised photo gifts and order photo prints, of course. This year, I've created a few personalised gifts: a full photo personalised wash bag, a photo key ring, a full photo personalised jigsaw puzzle and a photo memory game.
I had so much fun creating these items and it's so quick and easy to do it on the Asda Photo website. The production and delivery is quick too and the gifts that you make are completely unique which makes them extra fun to give to people you love. Browse more wash bags, jigsaws and key rings to find gifts for your loved ones.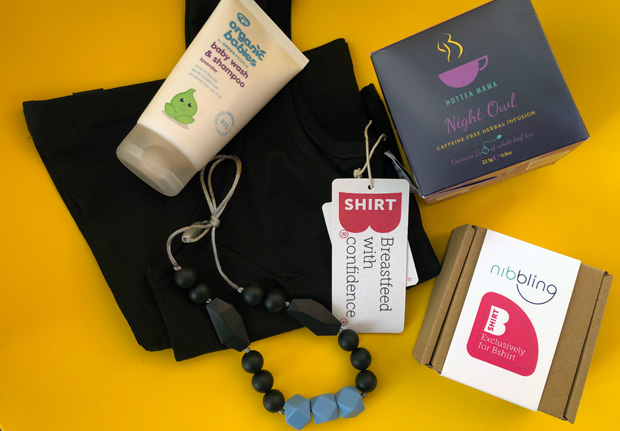 Bshirt Bundle of Joy New Mum Gift Set
For a new mama, the Bundle of Joy gift set from the Bshirt is a lovely gift with a bunch of products that are useful for new or experienced mums with a new baby.
The Bshirt is a social business founded by two mums with many years of breastfeeding experience. They are passionate about improving breastfeeding rates in the UK and helping women to breastfeed confidently for as long as they wish with useful products for breastfeeding and helpful breastfeeding information and advice. Their range includes a big selection of cleverly designed and comfortable breastfeeding tops and vests, baby products, gifts and more. They also sell preloved Bshirts which is amazing.
This gift set includes items to help support a new mum on her breastfeeding journey: 1 Bshirt Lift the Flap Vest, 1 Hot Tea Mama tea box, 1 Nibbling Silicone Teether Necklace and 1 Organic Babies Lavender Baby Wash and Shampoo. All gorgeous products!
If you're looking for Christmas gifts for pregnant women, you can find lots of ideas here.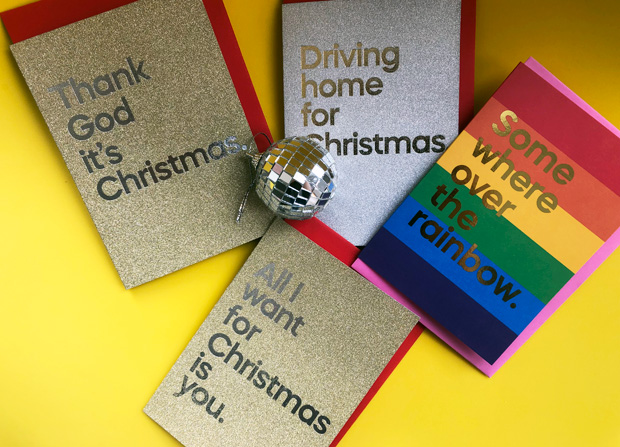 Say it with Songs Christmas Cards
For a unique Christmas card, send a Say it with Songs Christmas card that is sure to put a smile on a loved one's face and perhaps even make them sing and dance! The range includes 10 famous songs, including Mariah Carey's All I want for Christmas is you, Wham's Last Christmas, Rocking around the Christmas Tree by Brenda Lee, Fairytale of New York by The Pogues.
The cards are a fun festive design with an instantly recognisable song lyric on the front of the card and a blank inside for you to add your own message to. To play the song, simply scan code on the reverse of the card with your smartphone and the song will play, as many times you like.
Say it with Songs cards are made from FSC approved paper, printed with veggie inks and decorated with eco glitter to make them fully recyclable. 10% of sales is also donated to the music therapy charity Nordoff Robbins who provide their service to people with life-limiting illnesses, disabilities and feelings of isolation.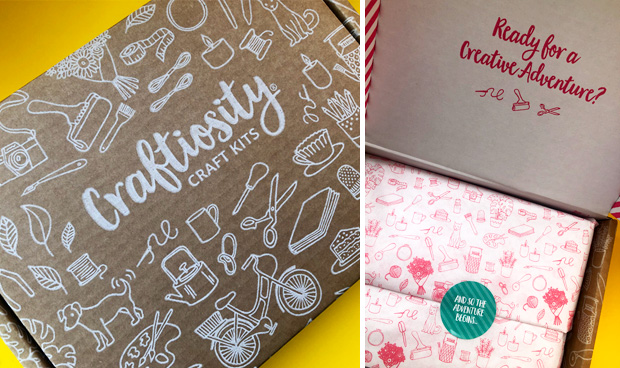 Craftiosity Craft Subscription Box
Craftiosity is a subscription box with modern craft kits to enjoy at home. Each month, there's a different limited edition craft activity or project to help crafters enjoy getting crafty.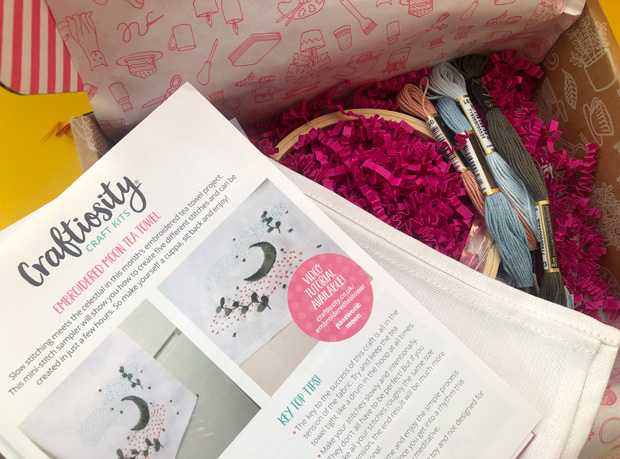 The subscription box arrives beautifully packaged and includes a large postcard with information about the project, all the special tools and materials you'll need, step-by-step photo instructions, online tutorials, and a special surprise… everything you need for the project. The kit I have was the embroidered moon tea towel craft kit which was beautiful!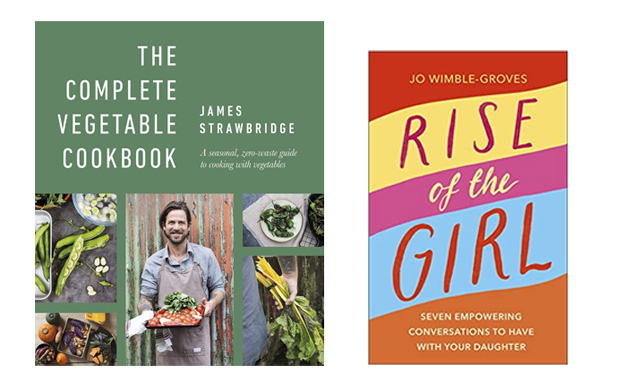 For me, any occasion is a great time for new books. Above you can see two books that I would highly recommend checking out. They're both by DK Books, one of my favourite publishers.
The Complete Vegetable Cookbook by James Strawbridge is a wonderful book for anyone who's interested in how to eat and cook in a more sustainable way.
It's a guide and recipe book about how to prepare, store and cook lots of different types of vegetables and how to do this with seasonality in mind to reduce waist and ensure you're eating vegetables when they're at their best. A great book for learning about what's best to eat each season and with lots of recipe inspiration too. The book has lots of beautiful photos and is well laid out and organised.
Rise of the Girl: Seven Empowering Conversations To Have With Your Daughter by Jo Wimble-Groves is a must read for anyone who is a parent of daughters. It's a book packed with practical advice for parents of girls between 6 and 11 years old with action plans for 7 key areas to help you support your daughter's social, emotional, and mental health. It's such an important book and a great tool to help empower your daughter and help her reach her full potential. I have three daughters myself and this book will be so useful for me to help guide them.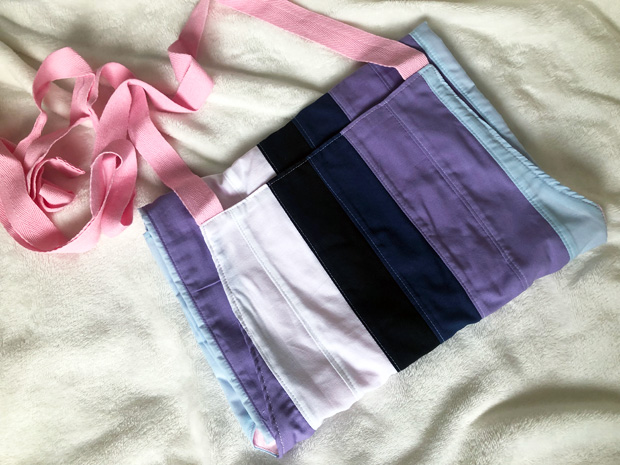 DOT Beautiful Bespoke Aprons
DOT is a range of beautiful bespoke aprons created by Maxine Thompson, founder of Polka Pants. It's a sustainable collection with aprons made using excess fabrics playing with colours, textures and patterns, all designed and produced in London.
This lovely and unique apron that you can see here is from the Butcher Stripe collection. Great aprons that add a touch of glamour to daily life, cooking and baking at home.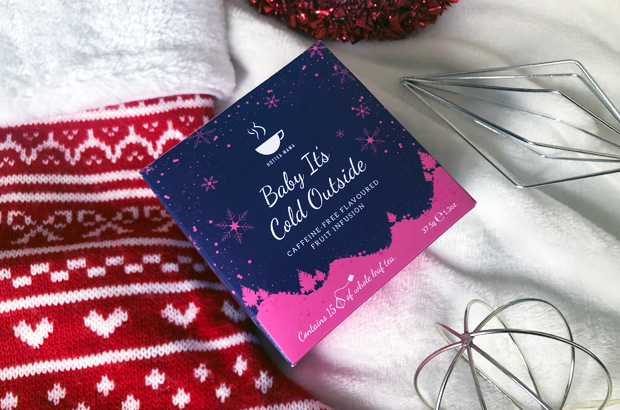 Baby It's Cold Outside Christmas Tea
Baby It's Cold Outside Christmas Tea from HotTea Mama is the perfect tea for getting into a festive mood with lots of Christmassy fruit flavours and spices. It's got grapes as a base for natural sweetness to give you a caffeine-free boost and whole spices and citrus peel to make this tea Christmas in a mug!
Lemon and orange peel, cinnamon, cloves, nutmeg and allspice with a touch rosehip and hibiscus for a bit of tartness. A great alternative to mulled wine to enjoy any time of the day this winter.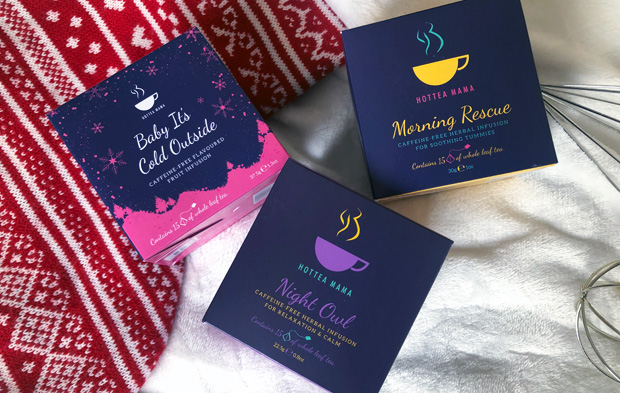 I'm all stocked up with delicious teas from HotTea Mama who makes a range of bespoke fine teas for the different stages in women's reproductive lives. They are all produced in the UK using natural ingredients and are also free from gluten and suitable for vegans.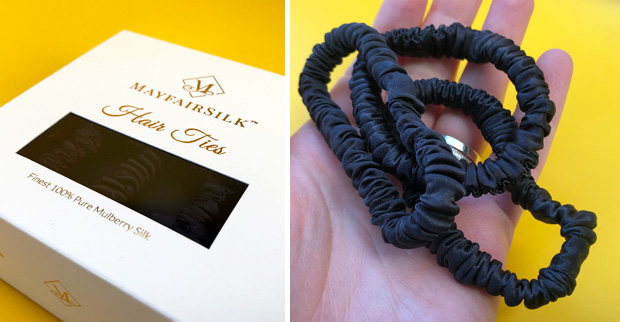 MayfairSilk Charcoal Slim Hair Ties Set
This is a great gift as it's one of those things that most people might not treat themselves to. This set of Charcoal Slim Hair Ties Set from MayfairSilk is a treat for your hair, made from luxurious silk fabric to eliminate friction, kinks and pulling of the hair.
These high-quality exquisite hair ties can be used for lots of different hair styles and add everyday luxury to your style. They come presented in a gift box with three hair ties. Also available in other colours.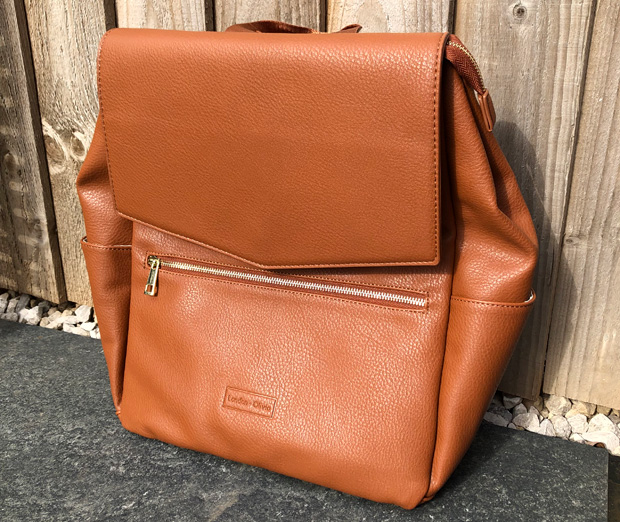 Notting Hill Back Pack Changing Bag from London – Olivia
Last, but certainly not least, is this stunning Notting Hill Back Pack Changing Bag. After using many different changing bags with her daughter, Rochelle, who had also been working in the baby product industry, saw a gap in the market. She created her own range of stylish, luxury changing bags at more affordable prices – her brand London-Oliva was born.
The bags from London-Olivia are very stylish, but more importantly, they are bags that have lots of clever features that make life a little simpler for mums. Plus, they are so good looking that they can be used as your daily bag when your little one is out of nappies.
We have the vegan-friendly Notting Hill Backpack in Tan (also available in other colours). This bag makes it effortless to stay organised for trips out with or without kids. It's got a waterproof inside, it's spacious and has lots of compartments.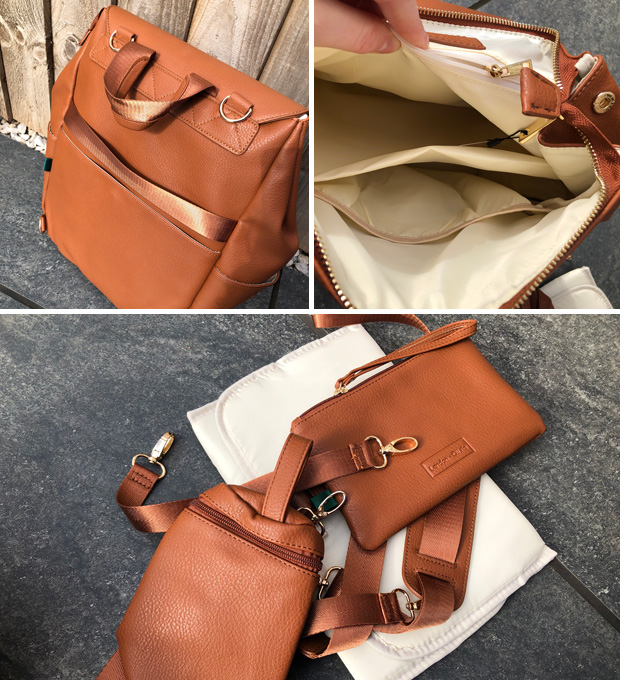 Features and accessories include: a baby wipe pocket that's easily accessible on the side, a purse for mum, an insulated bottle holder with carry handle, a power bank charger, a changing mat with an antimicrobial surface, a suitcase strap, pram straps, a padded laptop compartment and an impressive 11 waterproof compartments, including insulated ones for drinks and snacks.
What an amazing bag! I can see myself using this for so many years as it's so stylish and so practical!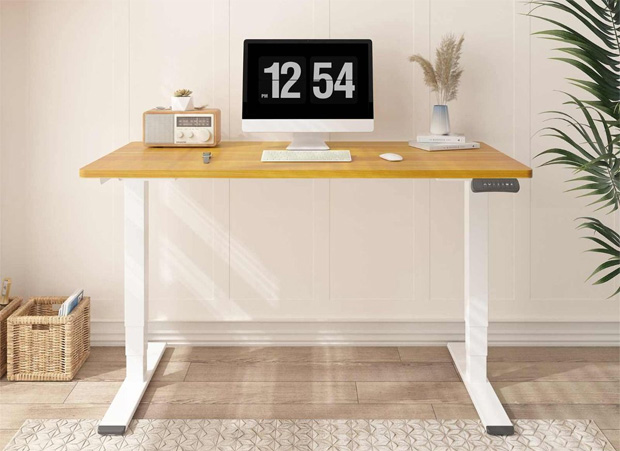 FlexiSpot Adjustable Standing Desk
If you're looking for a gift for a family member or friend who works from home, then a FlexiSpot Adjustable Standing Desk would make a useful and impressive gift that keeps on giving by providing an ergonomic and stylish work station. There are many different designs, styles and sizes to choose from to suit different needs and tastes. Browse them all here and read my full review of my FlexiSpot standing desk here.
I hope you have enjoyed my Christmas Gift ideas for Her! It's been a lot of fun putting this guide together and I hope it's given you a few good ideas if you're looking for Christmas presents for a woman in your life.
This article contains some gifted items. Everything has been chosen by me to be included in this gift guide and all thoughts and opinions are my own.