FlexiSpot Adjustable Standing Desk Pro Review
|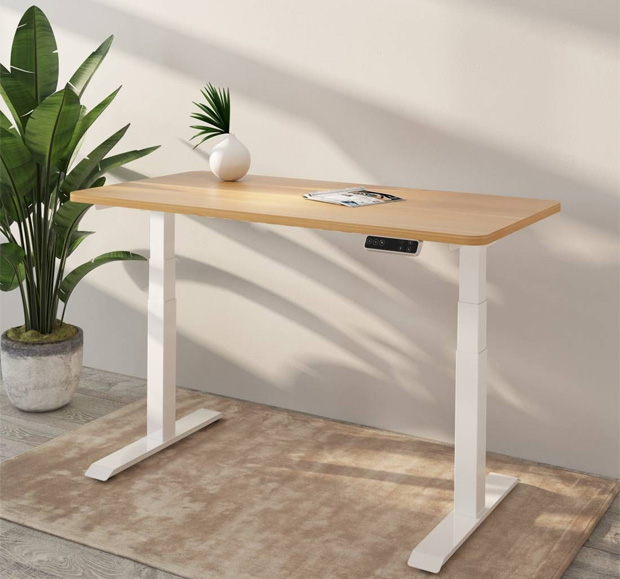 FlexiSpot Adjustable Standing Desk Pro Review
Lots more people have experienced working from home over the past couple of years and it's great to see that it's possible for many to do their job remotely. When working from home, it's a great idea to ensure that you have a good home office set up that will allow you to work comfortably and ergonomically.
My husband and I are both working from home. I always have but for my husband it's a new thing since the start of the pandemic. Our set up is currently a shared office and playroom so not the final solution but what works now as our toddler is still at home with us. Having lots of toys in the office is not the most relaxing work environment but it does allow her to play independently while we work which is great.
Until recently, I had a temporary small desk most of the time as my husband needed our larger desk for his work but now I have my own full size desk which is the amazing FlexiSpot Adjustable Standing Desk Pro.
Having the option to stand up while you're working at your desk is such a great feature. As you probably know, it's a very healthy way to work to improve your overall health and wellness at work with benefits such as better posture, lower blood sugar levels, reduced risk of back pain, improved mood, productivity and energy levels, reduced risk of weight gain and more.
The FlexiSpot Adjustable Standing Desk Pro is a highly customisable desk – choose your frame colour, desktop size and style (lots to choose from), which type of keypad you'd like, and you can even add desk bike, chairs, and lots of other desk accessories.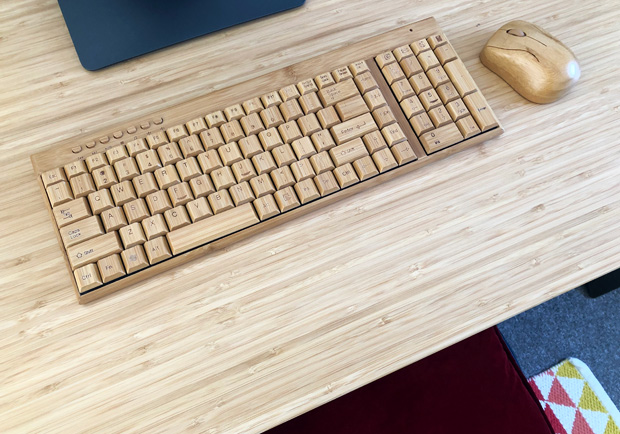 I have the black frame with the bamboo top in the size 120x60cm which is the perfect size for me. The bamboo desktop is sturdy, eco-friendly and looks great too. I love bamboo in interior design! It's also water-resistant, moisture-proof, insect-resistant, and scratch-proof.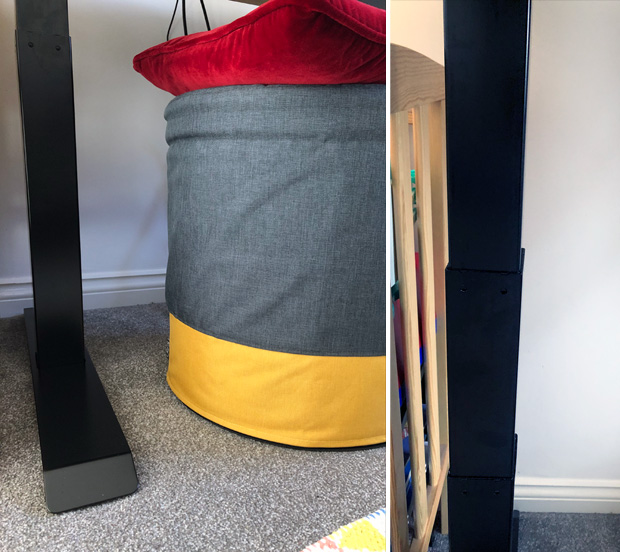 The desk has a really sturdy and heavy base with an enhanced structure and dual-motor lifting system that ensures stability even at the highest setting. The table can handle a weight up to £125kg, the motor is quiet and fast (3.8cm/s) and the height setting has lots of options and can be set to heights between 58-123cm to fit people of different heights. It's even got an anti-collision system to ensure safety.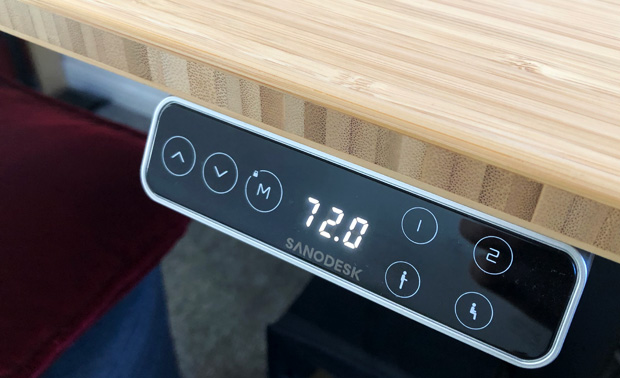 The height setting is easily adjusted with the touch of a button on the keypad. The premium E7 version has a height memory / child lock too and 4 programmable memory presets. The desk moves up and down so smoothly, allowing you to easily swap between sitting and standing during your work day.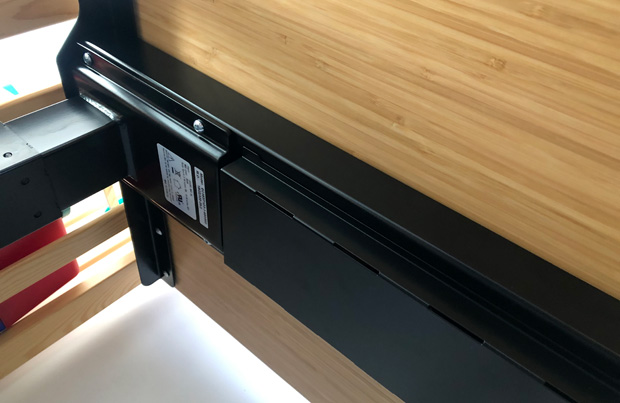 The FlexiSpot Adjustable Standing Desk Pro also features a cable management system to organise the cables for the desk. It's a large groove for tucking in the cables and wires within the frame for a neater look. The cables from any equipment you have on the desk will still dangle down though but it's better to just have a few!
The desk was quite easy to put together but I'd recommend doing it as a team of two as both the base and the tabletop are very heavy to lift.
I'm very happy with my new, much more ergonomic work set up that allows me to choose between standing and sitting throughout my work day. Now all that's missing is a decent desk chair which I will be on the lookout for.
This desk was kindly provided to me for this review. As always, all my reviews are 100% honest and all thoughts and opinions are my own.