Christmas Gifts for Vegans | 2022 Vegan Christmas Gift Guide | AD
|
Christmas Gifts for Vegans | 2022 Vegan Christmas Gift Guide | AD
I'm very happy to be doing a vegan Christmas gift guide for the third year in a row and this year's guide features a lovely selection of luxurious vegan products to gift to loved ones. Read on for my top vegan gift ideas for this year!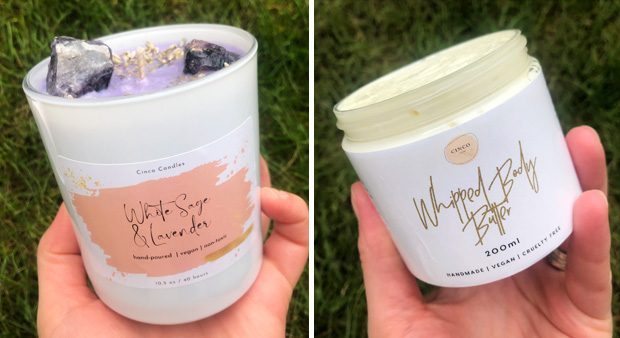 Cinco Skin Crystal Candle & Whipped Body Butter
Cinco Skin makes beautiful toxin-free, vegan candles and gorgeous natural body butters in whipped and lotion bar form. All the products available in Cinco Skin's Etsy shop are vegan and hand-made. Here you can see the stunning White Sage & Lavender Amethyst Crystal Candle and the luscious Whipped Body Butter in Citrus Scented.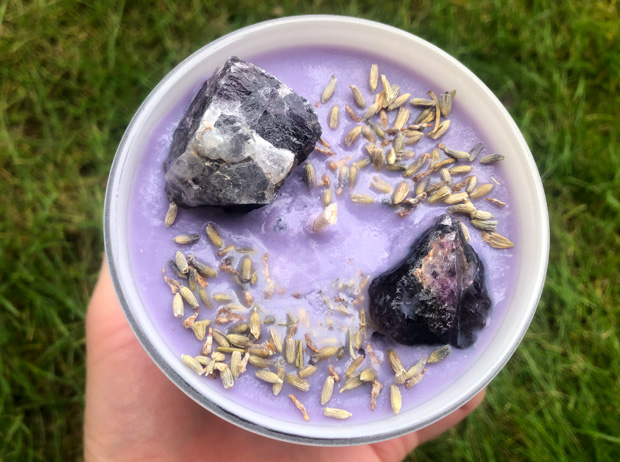 This is one of the prettiest candles I have ever seen and makes a great gift for someone who loves crystals too! This beautiful purple candle has been scented with a subtle White Sage and Lavender fragrance oil which is elegant, fresh, and uplifting. The candle is topped with dried lavender and two intuitively chosen Amethyst tumbled gemstones. Amethyst is a peace crystal, thought to help relieve stress, promote peace, calm and tranquillity. The stones make lovely keepsakes to enjoy after the candle has been burnt too, of course.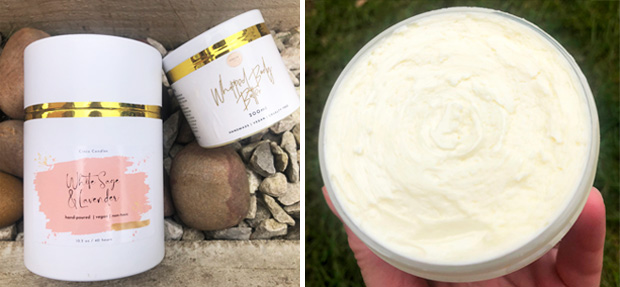 This citrus-scented body butter is so silky and feels amazing on my skin. It's made using the highest quality organic ingredients and the scent is from a blend of essential oils. The light yet very nourishing body butter can be used for dry and eczema prone skin too as it moisturises deeply and creates a protective barrier, without clogging pores. It can be used on skin or hair and is gentle enough to use on babies and children too.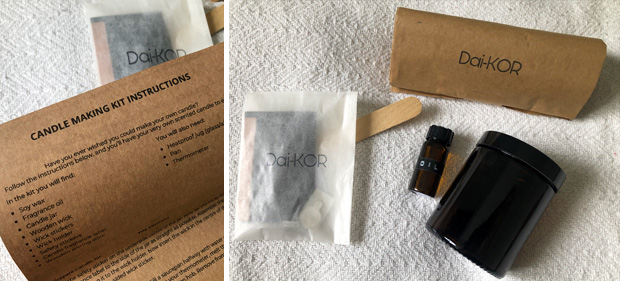 Dai-KOR Candle Making Kit
If you're looking for a gift for someone who's into crafts, then this Dai-KOR Candle Making Kit would be perfect for them!
Dai-KOR produce luxury statement pieces that are eco-friendly and sustainable with the customers and our environment in mind. They have a wonderful collection of eco-friendly, vegan candles available to purchase and also offer candle-making classes in person as well as these fun candle making sets that you can enjoy in the comfort of your home.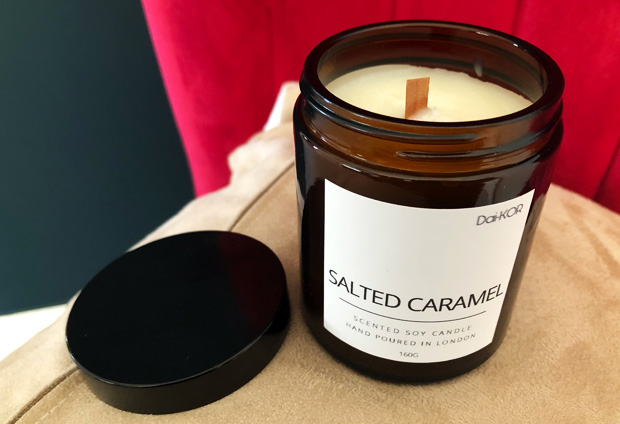 The set has everything you need to make your own beautifully scented candle at home, without having to find any supplies or instructions – it's all in the box: Soy wax, Fragrance oil, Wooden wick, Wick holder, Wooden stirring stick, Labels (including a Personalised label if you want one). You can currently choose between 6 scent combination – we went for the Sea Salt Caramel & Vanilla which is incredible!
The instructions were easy to follow and it was so much fun making our own scented candle. This set would make a wonderful gift!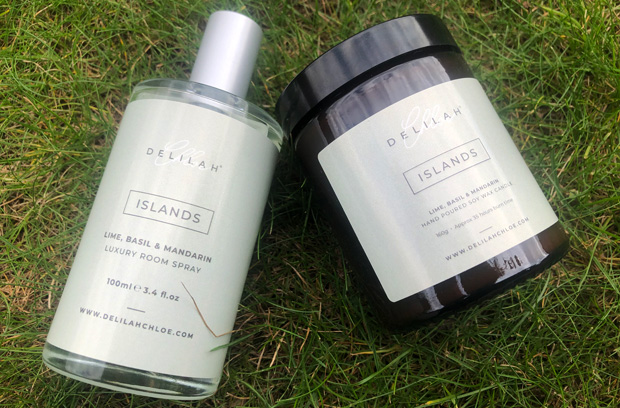 Delilah Chloe Islands Luxury Room Spray & Candle
Delilah Chloe is an award-winning small business that makes luxury home fragrances to bring moments of escapism when needed the most. I love this idea and the right scents can really help you do this. All Delilah Chloe products are hand poured and labelled in small batches to ensure the finest quality and freshness.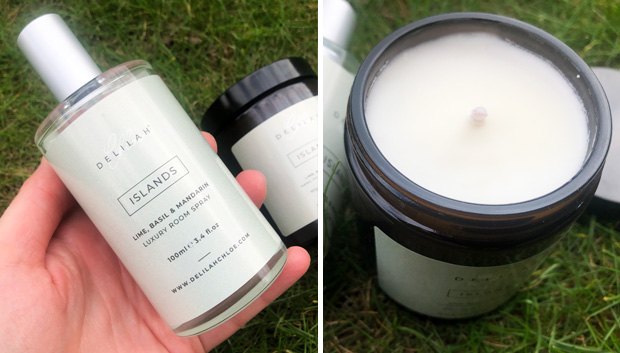 The Islands scent is a happy and invigorating scent of lime, basil, and mandarin. The scent is zesty and fresh and very luxurious. Here you can see the luxury room spray in its stylish glass bottle with a silver pump and lid and the candle with the same scent. The hand-poured Islands candle is made from vegan soy wax blended with luxurious fragrance oil. It's free from nasty chemicals and provides a safe fragrance for your home.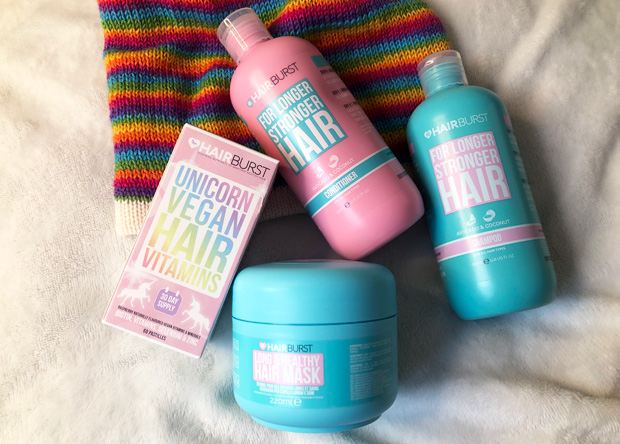 The Vegan Hair Growth Bundle from Hairburst
Next up, a professional, vegan hair growth bundle from Hairburst. Hairburst specialises in science-backed hair growth sets for different hair needs. Their vegan hair growth bundle includes a 350ml Shampoo, a 350ml Conditioner and a 1-month supply of Unicorn Vegan Hair Vitamins.
Here you can also see the long and healthy hair mask for a deeply nourishing and hydrating treatment designed to improve shine and softness, control frizz and protect hair to help it grow longer and stronger.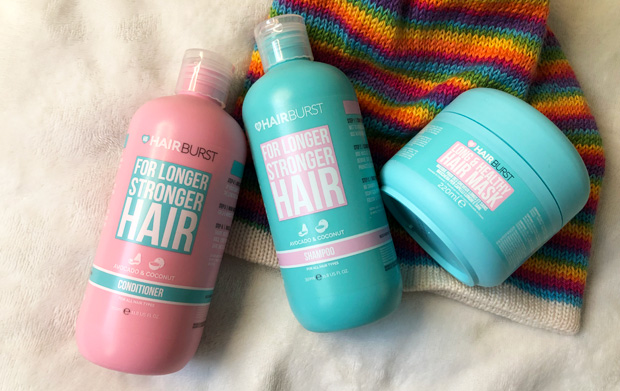 The bundle can be personalised to suit different hair care needs. The above is the regular option for Longer & Stronger Hair and you can also choose from Dry & Damaged Hair, Oily Hair and Curly Hair. The shampoo is enriched with protein to strengthen and repair weak hair and to prevent breakage. The conditioner has been formulated with amino acids to help hydrate, repair and restore hair.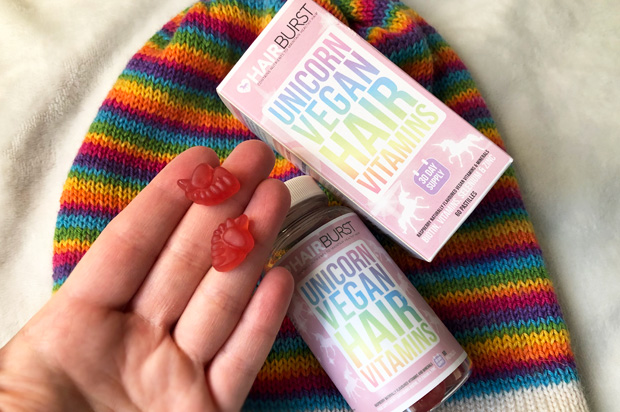 The chewable vegan hair vitamins work from the inside out and contain the key ingredients and nutrients needed to encourage longer, healthier hair. They're packed with biotin, selenium, and zinc to help target hair growth from within. You take two delicious, unicorn shaped gummies each day and do this alongside using the above products for the best results. Shop all Hairburst bundles and products here.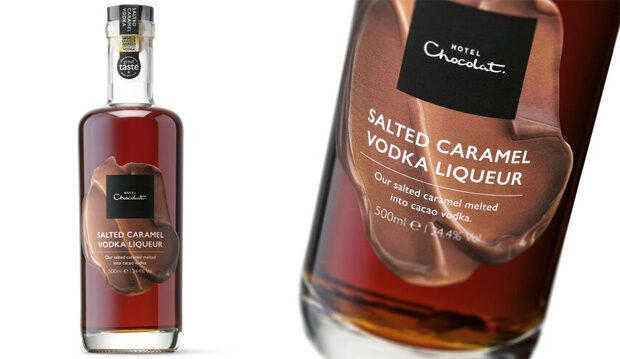 Hotel Chocolat Salted Caramel Cacao Vodka Liqueur
Liqueurs make great tipples for the festive season but they're often not suitable for vegans. This beauty from Hotel Chocolat is an exception though! Suitable for vegans, this Salted Caramel Vodka Liqueur makes a great Christmas treat. The vodka is infused with cacao, then salted caramel is melted in for an indulgent and decadent drink. Enjoy over ice or use to make a tipsy hot chocolate!
D'lux Gift Box Vegan Pamper Gift box For Her
D'lux Gift Box is a company that specialises in lovely gift boxes that won't break the bank. They have a wide range of gift boxes for all occasions to send to loved ones to make them smile, including this Vegan Pamper Gift box that can be made to suit men or women and you can add on a large bag of delicious Chewits and/or a handmade card too if you want to.
This superb Vegan Pamper Gift Box is generously filled with both yummy things to eat and indulgent skincare treats. It's ideal to give away to someone you know loves or needs a bit of time for self-care. The goodies in this box are sure to encourage the recipient to take some time out to relax and enjoy themselves.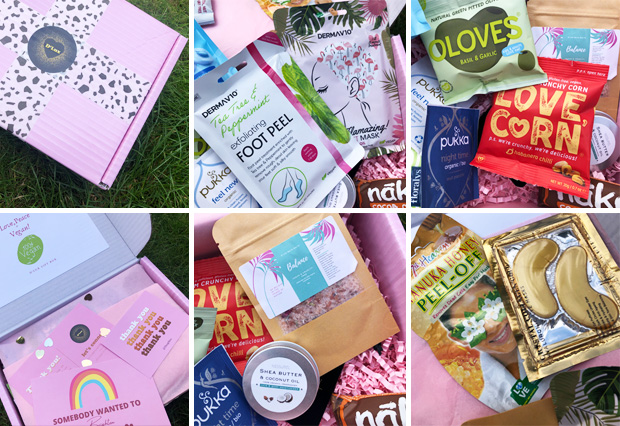 The box contains the following: a face mask, a foot mask, a hair mask, a 100% organic shea butter and coconut oil body moisturiser, a set of under-eye masks, a packet of soft pocket tissues, a small and luxurious velvet bag, a pouch of herb infused Epsom bath salts, a packet of Oloves olives, a Nakd chocolate bar, two packets of Love Hearts sweets, a packet or roasted chickpeas, a packet of Love Corn, a Pukka Feel New tea bag, a Pukka Night Time tea bag, a Twinings Matcha tea bag plus the add ons of a Chewits Blue Raspberry juicy bites and a card if selected.
The gift box and contents come beautifully packaged, and the box is lined with acid-free tissue paper and sealed with a sticker. It's all posted in protective wrapping in a waterproof mailing bag to ensure it gets to your loved one in perfect condition. A great gift to order for a friend or family member who lives far away.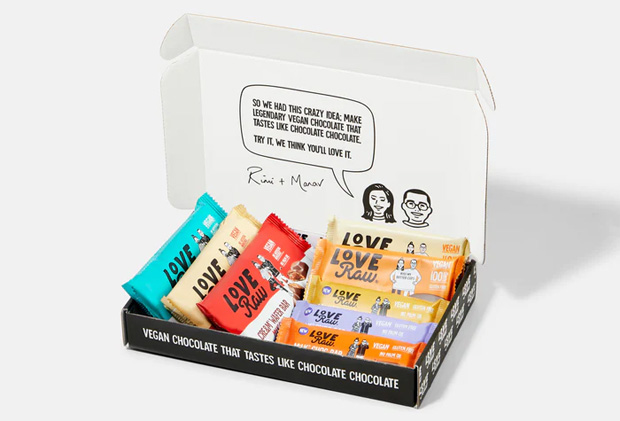 LoveRaw Vegan Chocolate Treats Gift Box
LoveRaw specialise in making legendary kick ass vegan chocolate to be enjoyed by anyone, whether you're vegan or not. They have an epic collection of vegan chocolate bars and treats on their site and lots of gift box options too. This is The Starter Mix which contains one of each bar to let you explore the different flavours. It's a letterbox size so perfect for sending to a loved one far away. Larger mixed boxes are available too!
You could also make your own last-minute DIY homemade edible gifts.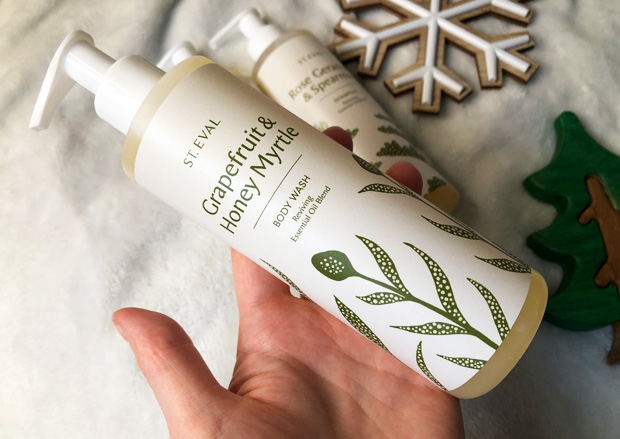 St. Eval Botanical Hair, Hand and Body Care Products
St. Eval Candle Company has been making their products for 28 years now and are keen to keep traditional crafts alive with their spirits rooted in all things natural. The inspiration comes from their surrounding Cornish countryside, and you can see this in St. Eval's beautiful pots, candles, and home fragrances.
They also have a new Botanical hand, bath, and body range with gorgeous products to enjoy. St. Eval has made their Botanical range respectful of nature. It's vegan-friendly and leaping bunny approved, paraben-free and packaged using recyclable materials. The new range is scented with different blends of essential oils and includes the following products: hand wash, hand lotion, body wash, body lotion and shampoo.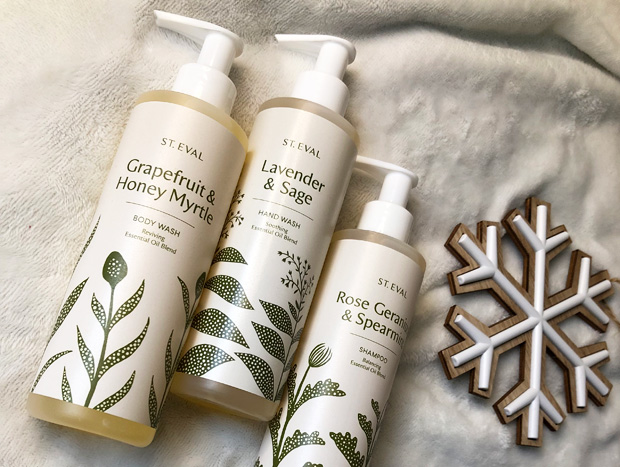 Above you can see the Grapefruit & Honey Myrtle body wash, the Lavender & Sage hand wash, and the Rose Geranium & Spearmint shampoo. The body wash is refreshing and reviving – perfect for a morning shower. The hand wash smells amazing with its blend of 11 essential oils and is gentle on skin. The shampoo leaves hair feeling fresh, clean and soft and has a beautiful scent. All the products are packed in matching, stylish pump bottles that look great on display.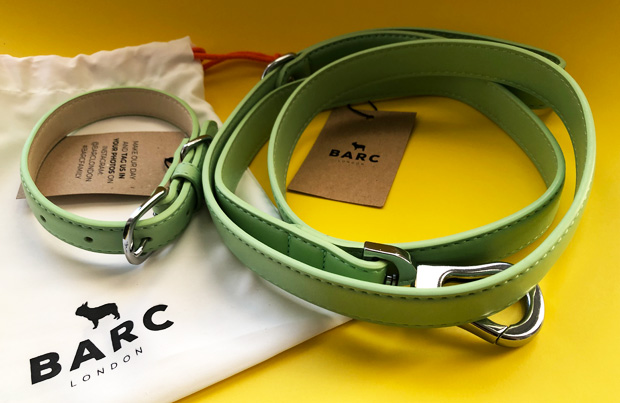 Vegan Leather Green Dog Collar & Lead Set from Barc London
Looking for a gift for a vegan with a dog? Look no further! Barc London specialises in making luxury dog collars made from high-quality vegan leather. Here you can see their beautiful Green Dog Collar & Lead Set which includes a collar and a matching city lead.
The luxury vegan leather is soft on hands and skin, but strong and hard-wearing. It's got a smooth matte finish, an embossed Barc branding and stylish chrome clasps. The D ring can be used as a bag holder too which is a handy feature.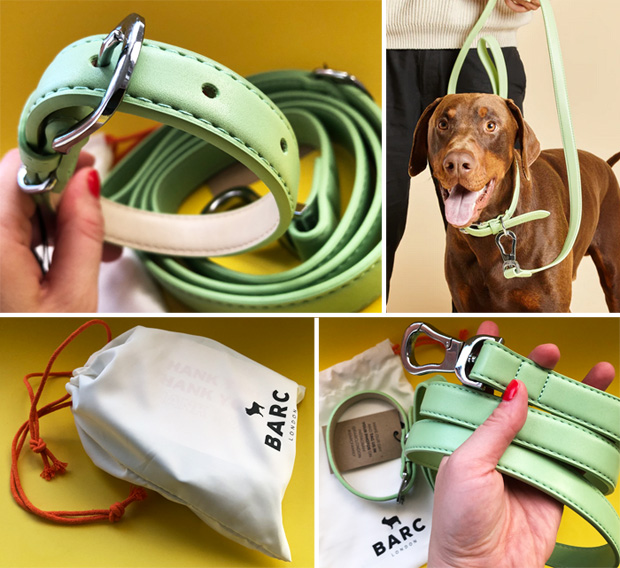 These designer dog collar and lead sets are available in different colours and in five sizes to suit dogs of different sizes and breeds. The leads and collars are also available to purchase separately. The set comes delivered in a nice gift bag, adding an extra touch of luxury.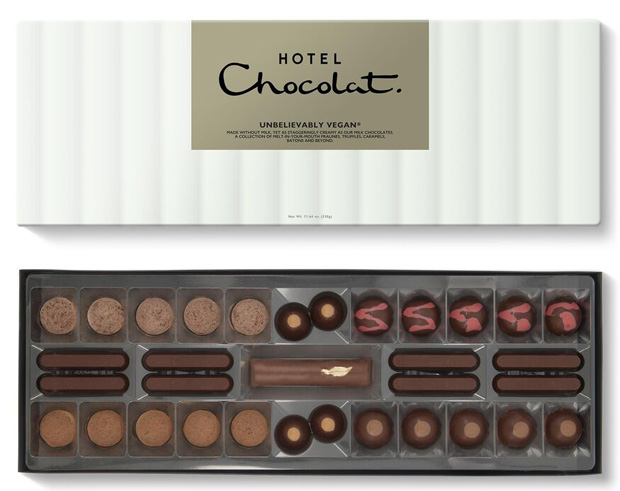 Luxurious Vegan Chocolates from Hotel Chocolat
Last but not least, Christmas is not complete without some fancy chocolates! Hotel Chocolat has a range of vegan luxury chocolates, including this Unbelievably Vegan Sleekster collection box with a delicious variety of indulgent chocolates. The box includes 33 melt-in-your-mouth pralines, truffles, caramels, batons and beyond, made with Hotel Chocolat's creamy, "unbelievably vegan" chocolate.
Check out my previous vegan Christmas gift guides below:
Collaboration. Features some gifted samples.