Classic Picnic Recipes Made Vegan – Vegan Picnic Food Ideas
|
Classic Picnic Recipes Made Vegan – Vegan Picnic Food Ideas
We're in the middle of summer and the school holidays too and a great way to spend time together with loved ones while enjoying the summery weather is of course to meet over picnics. All you need is a picnic blanket, some tasty bits to eat and good company.
In this article, you'll find a delicious collection of classic picnic recipes made vegan. These recipes and vegan picnic food ideas have been brought to us by Louise Palmer-Masterton of award-winning plant-based restaurants Stem & Glory.
Read on if you're looking for some yummy vegan picnic food options to try.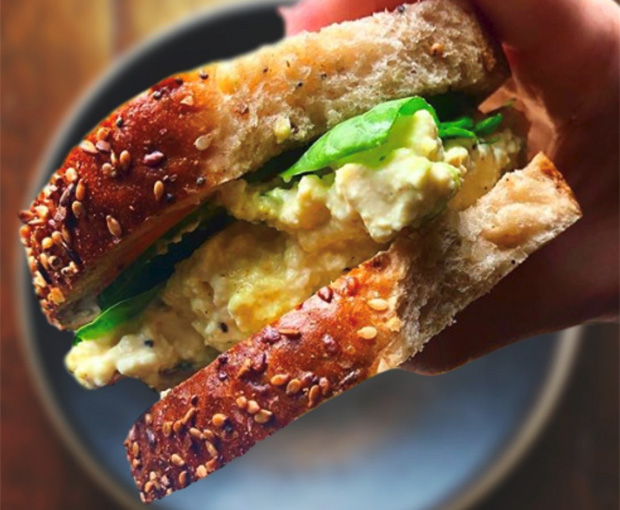 Vegan 'Egg' Mayo Sandwiches
Combining smoked tofu, vegan mayo and engevita flakes, layered generously between soft bread.
Makes 2-4 rounds of sandwiches depending on the bread size
250g smoked tofu
2 tbsp vegan mayo
1 tbsp engevita flakes (or more to taste)
1 tsp turmeric
1/2 tsp salt
+ vegan salad cream until you have the right consistency
Crumble the tofu with your hands into small pieces. It doesn't matter if some pieces are larger than others.
Mix all the other ingredients in a large bowl. Add approximately 2 tbsp vegan salad cream. Add the crumbled tofu and mix well with a wooden spoon. Add more salad cream until you get the right consistency (tofu should be well coated but not too runny). If you don't have vegan salad cream just use more mayo and add a dash of agave syrup and a dash of lemon juice. Serve a generous layer into a sandwich made from bread of your choice. As the filling is slightly soft, a softer bread works well with this one.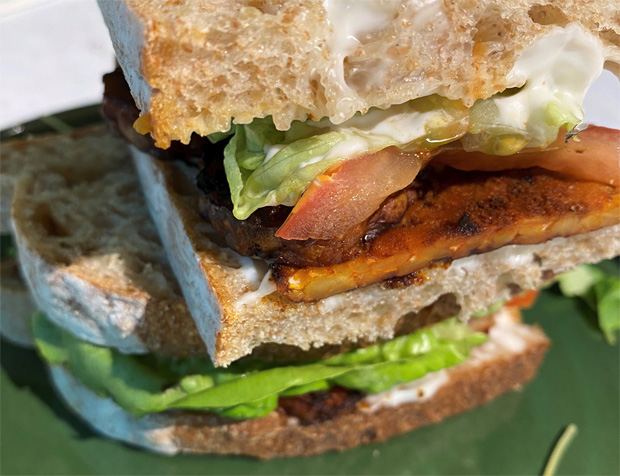 The 'VLT'
This has been on the menu at Stem & Glory Cambridge for years and this vegan alternative to a BLT is an absolute winner! Using super thin and crispy tempeh bacon, combined with just the right amount of mayo to make it sing.
Makes 2-4 rounds of sandwiches depending on the bread size
200g tempeh (you can buy this fresh or frozen – if frozen defrost completely before using.
A large fresh tomato
Baby gem lettuce
Vegan mayo
For the marinade:
100 ml tamari
1/2 tsp smoked paprika (optional)
1 tsp liquid smoke
1 tsp maple syrup
Mix the marinade ingredients. Thinly slice the tempeh. Marinade for 5-30 mins (tempeh usually soaks up marinade really well)
Shake the excess marinade off the tempeh and shallow fry in a little olive oil until crispy and very slightly charred around the edges.
To build the sandwich. Spread vegan mayo on both slices of bread. On one side add a layer of sliced tomato, a layer of lettuce, then a layer of the crispy tempeh. Top with the second slice. Cut into triangle quarters and enjoy. Tip – with this sandwich make sure you add enough mayo so it dribbles out slightly for the full experience!
You could also make this with thinly sliced tofu  – just marinade for longer.
Czech Potato Salad
From a genuine Czech chef and incorporating diced root vegetables, peas and gherkins, this is much more interesting than your usual potato salad.
Serves 4
200g diced potato
300g small diced mixed root veg – such as carrots, kohlrabi, celeriac, parsnip
100g peas (if using frozen, defrost in boiling water)
2 tbsp chopped gherkins
1 tbsp finely chopped parsley
1 small red onion very finely chopped
1/2 cup (60ml) vegan mayo
Cook the potatoes and roots in boiling salted water for 5-6 mins. Drain and allow to cool.
Mix the gherkins, parsley, red onion and vegan mayo together in a large bowl. Add the cooled vegetables and mix well. Add more mayo according to your personal preference – the veg should be well coated but not too runny.
Vegan 'Quiche'
The combination of slightly caramelised leeks with tofu, cooked in a vegan 'custard', makes this works fabulously in a picnic – especially with a spoonful of pickle.
Makes 8 large slices
Pre-made pre-rolled vegan shortcrust pastry (320-375g) or make your own.
2-3 tbsp olive oil
3 leeks finely sliced
2 tbsp white wine (optional)
250-280g firm tofu (depending on your block size)
1 tbsp cornflour
1 tbsp white wine vinegar (or lemon juice)
2 tbsp plant milk (oat or soy works well)
2 tbsp engevita flakes (or other brand of yeast flakes)
½ tsp thyme or herbs de Provence
½ tsp salt (or more to taste)
Fresh ground black pepper to taste
Gently lay the pre-rolled pastry into a 24cm fluted tin (unfluted also works just fine). Make sure you don't stretch the pastry. Trim the excess from the edges and make some jam tarts with it :). Prick the base with a fork multiple times, and bake without any filling at 200C for 12 mins. You can also use baking beans if you have some. If the pastry bubbles up, just pierce gently with the fork or the point of a knife. Remove from the oven and cover with a tea towel whilst you cook the filling.
Cook the sliced leeks in the olive oil until soft and slightly caramelised. Once soft add the wine, if using, and cook until the wine has evaporated completely. The leek mixture should be soft, but not watery. Allow to cool.
Mix the rest of the ingredients in a blender and blend until very smooth. Adjust the seasoning. It should be pretty tasty even without the leeks.
Add the leeks to the blended tofu mixture and stir well.
Add to the pastry case. Smooth the top.
Bake at 180C for 30 mins, or until the top is starting to brown and the filling is completely set in the middle.
Serve cold with Branston or farmhouse pickle.
Red Pepper Dip
A sweet and smoky dip, perfect as a dip with crudites or simply served on the side with just about anything!
Serves 2-4
1 red pepper cut into strips
1 red onion sliced
1 large whole clove garlic
½ tsp smoked paprika (optional)
1 tsp balsamic vinegar
1 tbsp olive oil
½ tsp salt & pepper
Mix all the ingredients together so everything is lightly coated with olive oil. Add more oil if needed.
Place into a shallow baking tin and roast at 180C for 25 mins.
Allow to cool slightly, then blend until smooth. Taste for seasoning and add more salt and pepper to your taste. The dip should be sweet, smoky and very tasty!
Thank you, Louise, for these wonderful vegan picnic recipes!