Comfortable Yet Professional Looking Work Outfit Ideas
|
Comfortable Yet Professional Looking Work Outfit Ideas
Lots of work positions require that you wear smart clothing in the workplace. This is especially the case for office jobs and jobs where you are meeting clients or representing your company in public. If you have a job that requires professional attire, I'm sure it's crossed your mind whether you could find some more comfortable outfits that still ensure that you look professional and put-together. Did you know that dressing professionally will also boost your performance? Being uncomfortable does not though!
Let's look at some comfortable yet professional looking work outfit ideas for women that you'll be happy wearing all day long. There is such a great variety of clothing and shoes available these days – you're not limited to just tight pencil skirts and uncomfortable blazers anymore. Fashion has moved on and there are plenty of more comfortable and more stylish options available now for you to enjoy. Comfortable work clothes are no longer just for people who work from home!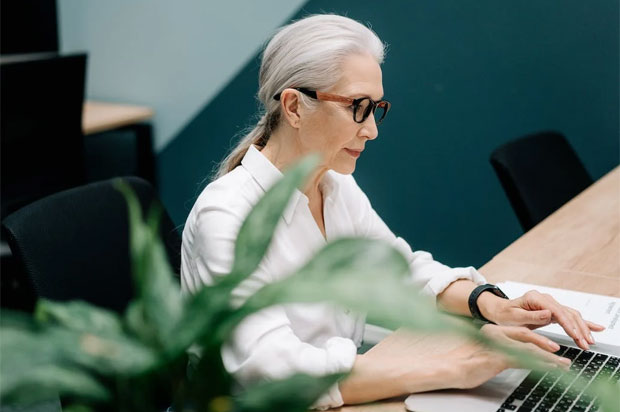 Comfortable Tailored Trousers with a Button-Down Shirt
Find some tailored yet comfortable trousers to wear at work. Find trousers that are structured and classy but in a soft and stretchy material. They can even have an elasticated waist for more comfort. Black trousers are a classic that always works but you can of course go for something more colourful or a print too, depending on your office. Team your trousers with a smart, yet comfortable classic button-down shirt in a loose fit and you have a perfect office outfit.
Stylish Wide-leg Trousers with a Knitted Sweater
For colder weather, you can't go wrong with a knitted jumper – these come in very classy designs suitable for the office too. Pick something dressy like merino wool or cashmere to keep you warm and cosy as you work. Team the knitted sweater with stylish wide-leg palazzo trousers which are professional looking while also being comfortable thanks to the loose fit. Check out ameliora.com for a great selection of knitted sweaters and wide-leg pants are ideal for any event.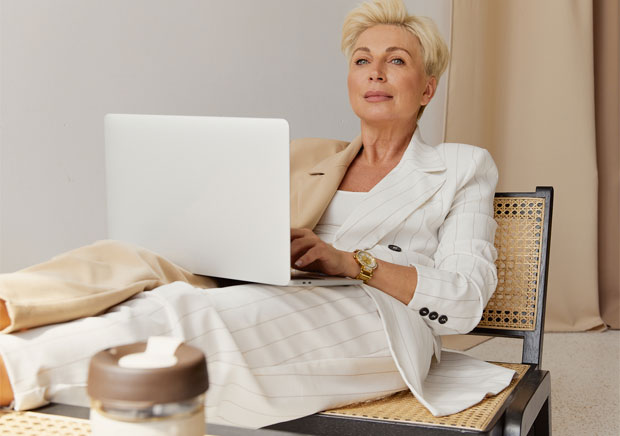 The thing that usually makes suits uncomfortable is that they are fitted. If you instead opt for an oversized suit, you'll have a perfect business outfit that is also comfortable and flattering. Choose to wear classics such as black, grey or pinstripe designs or opt for bright colours or prints.
Feminine Blouse and Comfy Skirt
This is another classy businesswoman look that can be made very comfortable if you choose the right items. Look for skirts in stretchy or flowy materials in midi-length and classic colours and pair your skirt with a feminine blouse. Look for something made from light and soft fabric that is not too tight. Wear this outfit combination with tights and smart shoes with heels.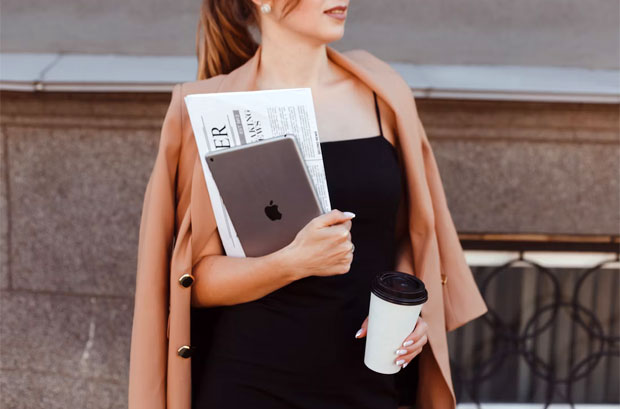 Choose a Dress for a Complete Outfit
A dress is always a great choice as it's a complete outfit in one. There are plenty of dresses that work well for the office and that are comfortable too. Consider the length – knee length is perfect – and make sure it's not low cut at the chest to keep it looking professional. Choose fabrics and cuts that look professional while also keeping you comfortable all day. If the dress is sleeveless, combine it with a smart suit jacket.
Pair Your Outfit with the Right Shoes
Shoes and other accessories can really make or break an outfit so choose your shoes carefully to make sure they look stylish while also offering proper support. You don't want to worry about achy feet at work! If you prefer flats, opt for a loafer style, and if you prefer heels, look for shoes with block heels or platform styles which offer more support and are more comfortable to wear for longer. Leather and suede are great durable materials that look sophisticated too.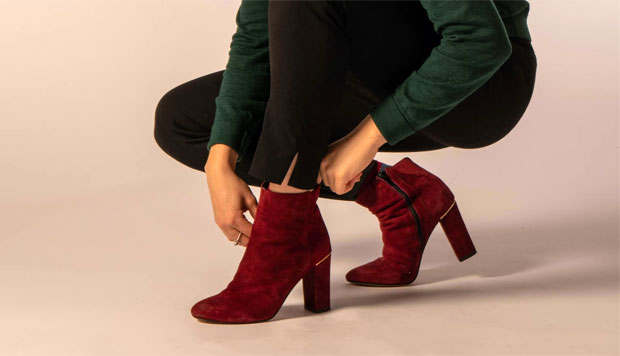 Conclusion
A professional wardrobe doesn't need to be uncomfortable. With a bit of creativity and a good eye, you can find items that look great and are comfortable to wear too for a professional look. The above ideas are all comfortable enough to wear all day long at work and are also sophisticated enough for a meal out or drinks with your colleagues if it's that kind of day.
Collaboration.