Cow & Gate The Super Yummies Snacks Review
|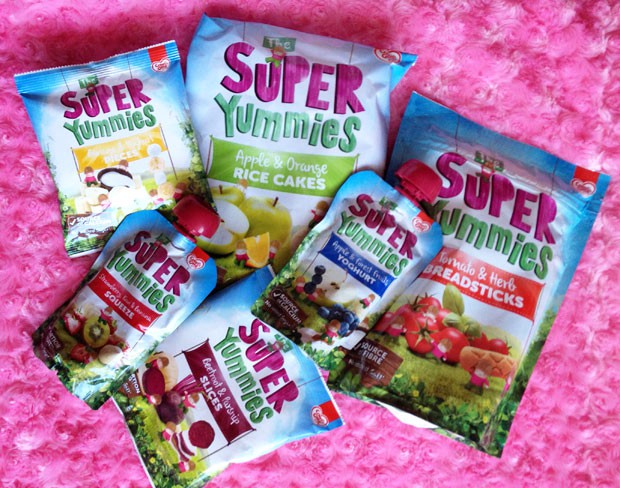 Cow & Gate The Super Yummies Snacks Review
Cow & Gate have recently released a new range of deliciously different snacks to fuel toddlers' everyday adventures. It's called The Super Yummies. As a mum to a toddler who is a fussy eater, I'm always looking for new, healthy snacks to help get some goodness into my daughter.
This range includes unique freeze dried fruit pieces and vegetable slices, breadsticks, rice cakes, and a variety of fruit and yoghurt pouches. All the products taste, look and feel like the real deal so they're a great way of introducing interesting flavours to your little ones.
The range is suitable from 12months+. The freeze dried products are safe to eat from 12 months too, however the European regulations relating to these products means that they have to be labelled from 36 months.
It's a nutritious range with ground-breaking flavour combinations and real ingredients for your toddler to discover new and exciting tastes and unique textures. The delicious snacks are all healthy and only contain naturally occurring salts and sugars.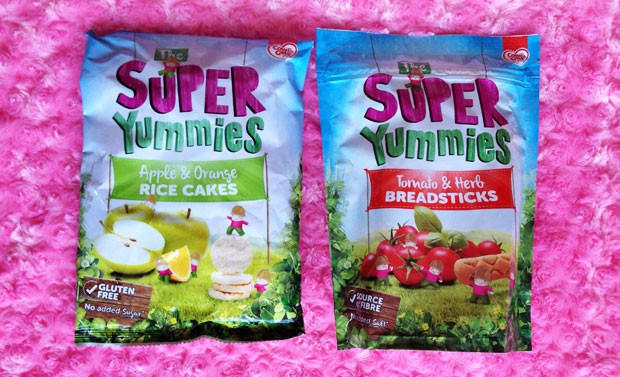 Rice cakes and Breadsticks (£0.99/£1.69)

The rice cakes come in two fun flavour combinations — Pear & Berries and Apple & Orange. My daughter has tried both and she really loves the Pear & Berries ones. What I love about these is that they are not messy like other flavoured rice cakes. The fruit coating doesn't come off onto my daughter's hands and stain everything she touches like other brands that we've tried so that's lovely as it means I don't have to wipe her hands over and over while she's eating.

The breadsticks are really tasty and a nutritious source of fiber. They're available in two flavours — Tomato & Basil and Spinach. We've tried the Tomato & Basil ones and I think they're really tasty. My daughter has not wanted to try them yet but I'll keep offering her them. Sometimes it takes a few tries before she will eat something. I really like them though and they're great for dipping in things like hummus. They are perfect for snacking on the go as they're completely mess-free.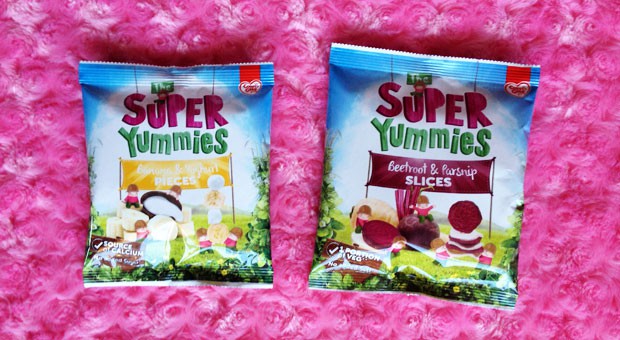 Freeze Dried Fruit and Vegetable Pieces (£0.75)
I love this idea and it's very different from other snacks in the baby aisle. The freeze dried snacks are made from 100% real fruit and vegetables which make them ideal for introducing new healthy flavours to little ones. The products available are Beetroot & Parsnip slices, Banana & Yoghurt pieces and Strawberry & Yoghurt pieces.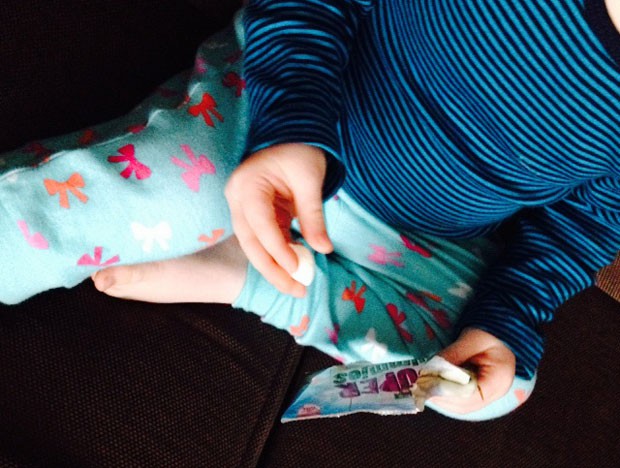 We've tried the first two and the vegetable slices are a bit like thick crisps. My daughter really enjoyed the yogurt pieces but shied away from the banana though she normally enjoys freeze dried banana. I think it's because she thought the yogurt bits were even yummier!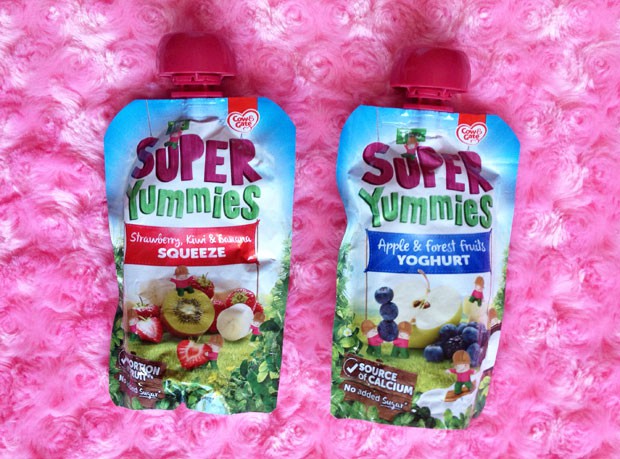 Yoghurt and Fruit Pouches (£0.99)
We love these interesting flavour combinations! The pouches available are Mixed Berries & Coconut, Strawberry, Kiwi & Banana and Apple & Forest Fruits Greek Style Yogurt. I've only ever seen coconut once in a baby food pouch and I've never come across kiwi so I love these exotic ideas and my daughter really does too. The Greek style yogurt pouch is yummy too and perfect as a quick smoothie snack on the go.
The Super Yummies range is available from all major stockists now. Read more on the Cow & Gate website.
We were sent some samples from this range to try out for this review. As always, all my reviews are 100% honest and all thoughts and opinions are my own.