Cozy N Safe Excalibur Review + Video | Group 1, 2, 3 Car Seat
|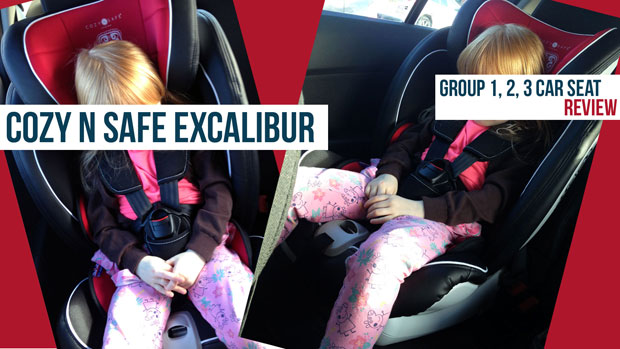 Cozy N Safe Excalibur Review + Video | Group 1, 2, 3 Car Seat
This post is my full review of our new car seat from Cozy N Safe, the Excalibur. You can read my first impressions blog post here which also has my first Cozy N Safe video.
Introduction
The Cozy N Safe Excalibur Group 1, 2, 3 Car Seat is a multistage car seat with 4-point recline suitable for forward facing from 9 to 36kg which is 9 months to 11 years approximately.
It features a 5-point harness that can be used in Groups 1 and 2 — up to 25kgs or 6 years approximately which is a great safety feature!
There are two ways to fit the Excalibur — either using the adult seat belt or with Isofix and top tether.
We are using this car seat with our eldest daughter (3.5 years old) but it also fits our youngest daughter who is 18 months old now. We've tried both children in it and they both fit in it very comfortably despite their 2 year and 4 months age gap.
Specifications & Special Features
ISO-FIX Classification B1
Top-Tether
4 Point Recline
25kg Integral Harness
Adjustable Headrest
Removable and washable covers
Deep padding for extra comfort
Side impact protection
Forward Facing
Dimensions H 61 x W 46 x D 48cm
Forward Facing
Group 1 / 2 / 3
Suitable Age (approx): 9 months – 11 years
Minimum weight of child: 9kg
Maximum weight of child: 36kg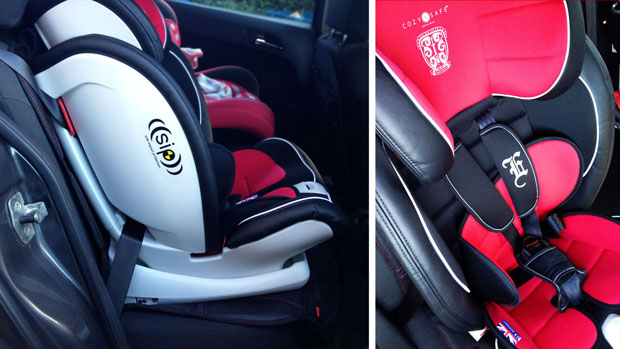 Installation
As I mentioned in my first expressions post, we found the instructions a bit confusing. I think this is because there are so many different ways to use and install the seat depending on your car, your child's age and weight. There are different combinations of Isofix, top tether and the car seat belt that you can use to install it in the car.
I would suggest dividing the manual up into step-by-step instructions from start to finish for each of the different possible installation combinations instead of referring to other parts of the manual. I know this would be an increased cost as it would require a longer leaflet to be printed but this could simply be available to access online to save that cost.
After you've figured out how to best install it, it's actually really simple and straightforward using either the Isofix or the seat belt. If your car has a top tether bit in the boot, you can possibly use that too.
We used the seat belt to install the car seat in our Astra and that worked very well. We have attached the top tether to our boot though we don't have an actual top tether point there. We just attached it for additional security.
There is a pocket on the back of the seat for the instructions so that you always know where they are and have them with you but it would be even better if this pocket was on the side to be more easily accessible at all times. I like that you can get a copy of the instructions from the website if needed too.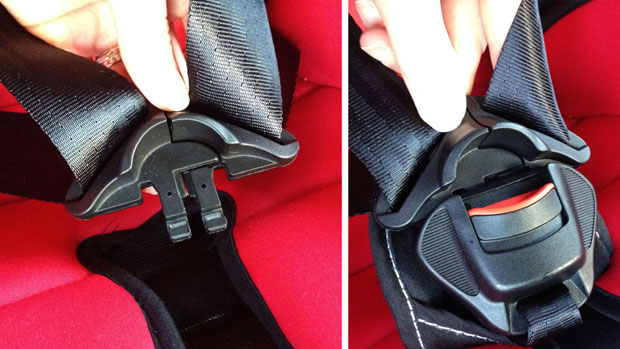 Ease of Use                        
Once installed, the car seat is easy to use. You just click the harness together. You do have to hold the two plastic parts together before clicking them into the main bit as they don't hold themselves in place.
There is a padded bit behind the harness lock and this doesn't always stay in place but is easy to pull pack up before you head off on your journey. The straps are easy to adjust to ensure a good fit before every trip.
One thing that I'm really impressed with is that the seat is so easy to adjust! It's a breeze to adjust the height of the headrest and the harness at the back of the seat. You don't have to pull the harness out, you just lift a bit and click it into the placement you wish to have it. Easy to do, difficult to explain in writing! Very impressive and smooth though and something that I've never seen before. Most car seats are really annoying to adjust which could be dangerous as it might make parents put off the adjustment when really it should be done.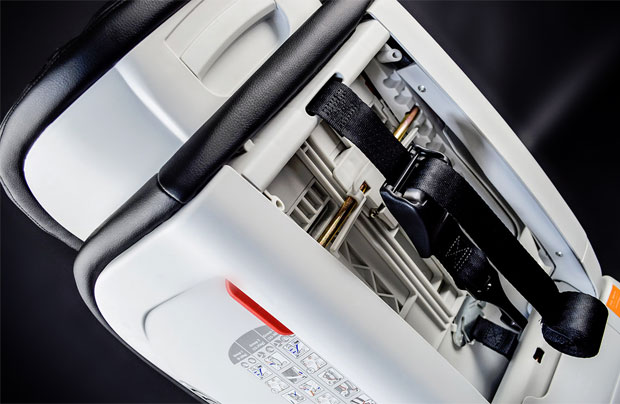 Comfort
The Excalibur is definitely a comfortable seat! It's so well padded and my daughter looks so comfy and well supported in it. Before we installed it in the car, she used it as an armchair in the living room for a few days, she loved sitting in it so much!
The head rest is perfect for leaning on when resting in the car or sleeping and the harness seems really comfortable too. I like that the shoulder pads are stitched into the harness so that they always stay in place. Usually, shoulder pads are loose — which does mean that they're easier to wash — and often move from their intended place meaning the harness might dig into the neck of the child causing discomfort. This will never happen with the Excalibur thanks to the stitched-on shoulder pads.
Our nearly 4-year-old doesn't nap anymore and rarely falls asleep in the car unless we drive really long distances (like our trip to Wales earlier this year) or if it's night-time and she should be in bed. We've not been on any road trips since getting this car seat so she's not napped in it but I know she could fall asleep in it in the daytime as she's been so close to nodding off but then we've reached our destination before she could fall asleep.
She has fallen asleep in the car seat on two occasions when we had to visit the out of hours GP and the hospital twice last month. This was at night when she would usually be asleep at home. She fell asleep really quickly on both occasions so I'm sure she was very comfortable.
The fact that you can recline the seat is amazing and adjusting it is really simple by pulling a handle at the front of the seat. If you know your child is ready for a nap or you're driving in the evening or at night and you want them to fall asleep, definitely recline the seat for them to make them more comfortable. No more heads bobbing forward as your child falls asleep in the car!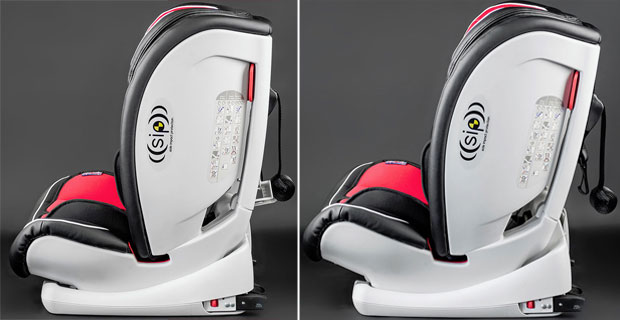 Safety
The side impact protection is very generous which is a great feature and the whole seat is very sturdy and strong. It feels robust and like it's very good quality!
I love that you can use the 5-point-harness for so long as this feels more secure that the adult seat belt and also more comfortable.
Style
The Excalibur in red looks like a seat in a racer car which is lots of fun! It's also available in black/grey if you prefer a subtler look.
The materials are good quality too and look like they'll be easy to clean. Amazingly, we've not had any spills yet but have treated greasy toddler fingers on the leathery area which we just wiped off.
Value for Money
The RRP is the Excalibur is £249.00 but it is available from most retailers for £149.99. Like I said in my first post, I think that £249.99 is a bit too expensive but that £149.99 is a great price and good value for money. It's a great quality car seat and it's definitely the best padded one and comfiest looking out of all the car seats I've seen.
Overall
Overall, we're so pleased with this car seat. My eldest daughter is really comfortable and secure in her seat and it will last her a long time too. She'll be able to use it until she's about 11 years old which is amazing.
I also like that my youngest can use it too if needed (see photo above). It's a great seat to choose if you're a childminder or grandparent of children of many ages that you might need to drive around as you can use the same car seat for children ranging from 9 months to 11 years by just adjusting it a little bit — which is really easy with this car seat!
I highly recommend it to parents who are looking for a long-lasting, comfortable and safe car seat for their children.
You can buy Cozy N Safe car seats from Amazon.co.uk, Asda, Halfords, Toys R Us, Tesco, Mothercare and Über Kids.
We were sent this item for this review. As always, all my reviews are 100% honest and all thoughts and opinions are my own.