CurrentBody Skin Teeth Whitening Kit Review + Discount Code | AD
|
CurrentBody Skin Teeth Whitening Kit Review | AD
Most people want to have a nice smile with white teeth. I drink a lot of black coffee and also love red wine so my teeth could do with a little bit of brightening but I've never been brave enough to try proper teeth whitening as I've been scared of possible side effects such as tooth sensitivity and enamel damage.
A little while ago, I finally came across a teeth whitening system that didn't make me have these concerns – the CurrentBody Skin Teeth Whitening Kit. It's a clinically-proven LED solution for whiter teeth and healthier gums too. It's easy and safe to use without damaging your teeth or gums.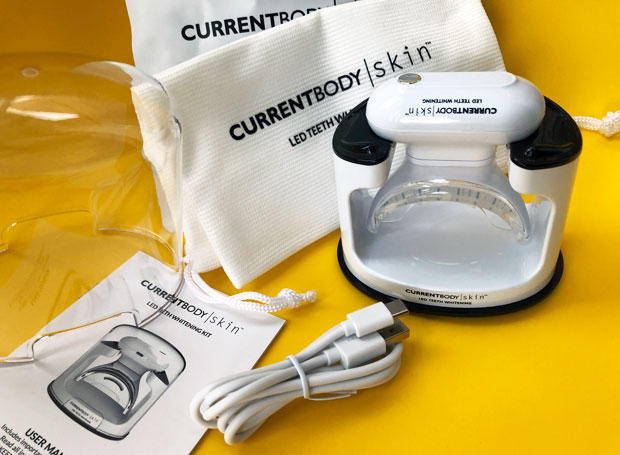 Avoiding any potential damage to the teeth is very important to me and the fact that the device promotes healthier gums too is brilliant.
The CurrentBody Skin LED Teeth Whitening device uses clinically proven light wavelengths to promote blood circulation for your gums and to stimulate skin rejuvenation. It also reduces bad bacteria in your mouth for fresher breath and overall improved oral health. You can use the device without any whitening gel simply to maintain healthy gums.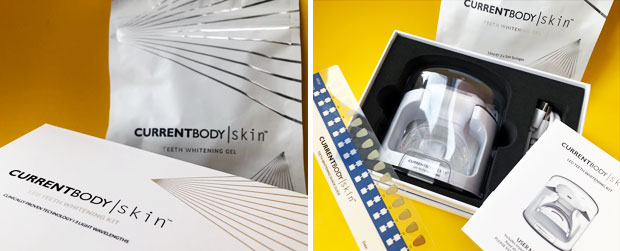 To use the device for teeth whitening, you use it with Currentbody Skin Teeth Whitening Gel which you can buy separately but you also get three syringes of 5ml each included in the bundle with the LED device. Also included are a charging base with cover to charge and store your device, a USB charging cord, a storage bag, and a user manual. You also get a chart to check the shade of your teeth before starting the treatment and after so that you can get a good comparison.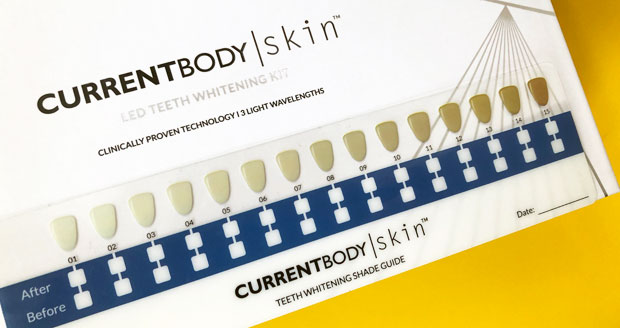 The device is really easy to use. Simply charge it up until it's fully charged, brush your teeth to ensure a clean mouth, then apply a quarter of a syringe of teeth whitening gel to each side of the tray, put it in your mouth and switch it on for the 20-minute treatment (it will turn itself off). Rinse your mouth and then clean the tray, then recharge the device ready for next time. Repeat daily for 6 days for the best results but you should see results after just one treatment too. The average result is 6 shades whiter after one use and up to 10 shades whiter when used daily for 6 days to complete a full treatment. You can see some before and after photos on the product listing – the result is noticeable but very natural (not like Ross from Friends!).
It's quite comfortable to keep the device in the mouth for the treatment. The trays are soft and flexible, made from medical-grade silicone, to fit nicely in the mouth.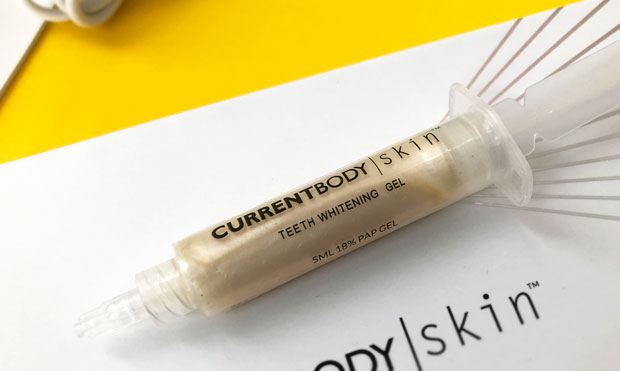 The 100% vegan teeth whitening gel is made of highly effective PAP (Phthalimidoperoxycaproic acid) at an 18% concentration which breaks down stains on teeth caused by eating a drinking. It's got a nice natural peppermint flavour and is safe with a neutral pH to ensure no damage to your teeth or mouth. The gel also contains calcium, aloe vera and vitamin E to help reduce tooth sensitivity and strengthen teeth.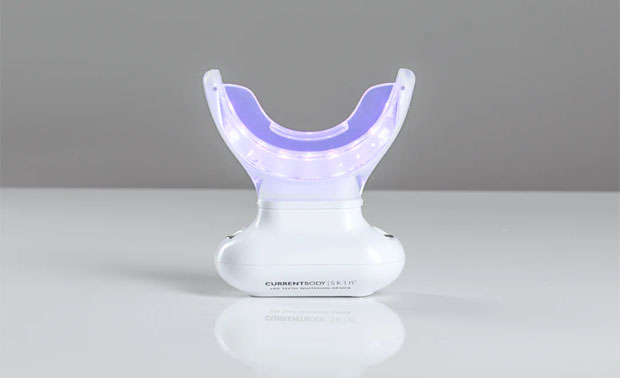 The device has three LED wavelengths – Red Light (633nm), Infrared Light (820nm) and Blue Light (460mm). These work together with the whitening gel to whiten teeth and improve gum health.
I have done my first treatment and could see visible stain reduction and improved all over whiteness of my teeth. I would say that after one treatment the shade improvement was 1-2 from around 4-5 on the chart to 3 which I'm happy with. I did not experience any sensitive at all, and the treatment was straightforward and quite comfortable. I've chosen to not do the 6 days in a row treatment as this is my first time doing any kind of teeth whitening. I can see myself using the LED device without gel on a weekly basis and then perhaps using it with the whitening gel once a month for upkeep.
CurrentBody Discount Code
Enjoy 15% off your CurrentBody order with my code PETRACB
CurrentBody products can also be purchased via Amazon.co.uk.
Collaboration.