Cussons Mum & Me Little Explorers Range Review
|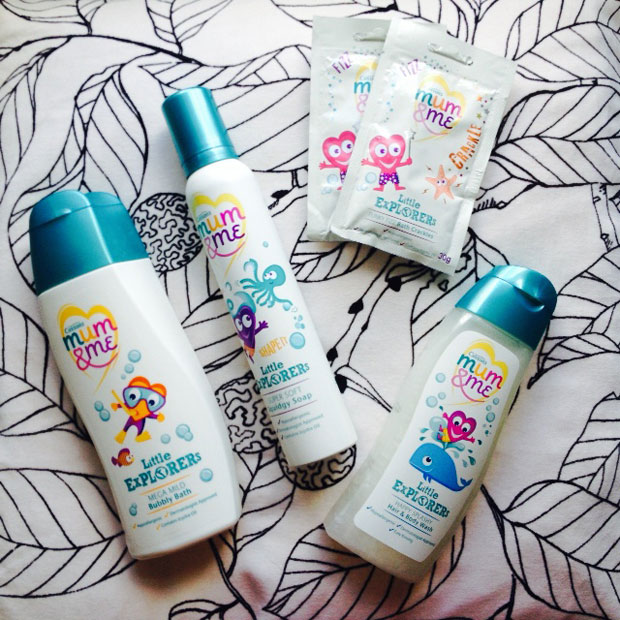 Cussons Mum & Me Little Explorers Range Review
This dermatologist approved and hyperallergenic bath products range for kids makes bathtime exciting and fun! The products have cool names and there's an explorer character for each product — Blip, Splash, Fizz and Squidge!
The range consists of four products:
Mega Mild Bubbly Bath
Happy Splashy Hair & Body Wash
Funky Fizz Bath Crackles
Super Soft Squidgy Soap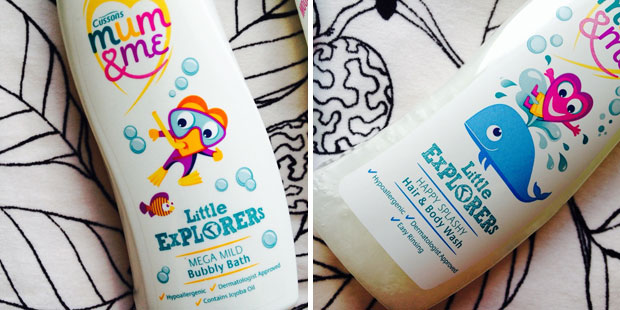 Mega Mild Bubbly Bath
Kids love bubbles and this bubble bath creates lots of fun bubbles but does not dry out your child's skin. It contains nourishing vitamin E to keep skin soft and smooth. The scent is really fruity and fresh — very nice like all the other Cussons Mum & Me products.
 "There are bubbly characters, and then there's Blip. She is without doubt the bubbliest person you'll ever meet. She's called Blip because that's the noise she makes, blowing the world's biggest, most colourful bubbles with her trusty snorkel. It also lets her breathe underwater, which comes in very handy when she's searching for her sponge!"
Happy Splashy Hair & Body Wash
This is a handy multitasking product to cleanse your child's skin and hair. It's perfect for the bath or the shower and can be used all over the body, from top to toe. The formula is really creamy and moisturising but also very easy to rinse off. It will not irritate eyes and it leaves skin soft and hair smooth and easy to detangle thanks to the added moisturisers and conditioner.
It's got the same lovely scent as the bubble bath. It's a very practical product since it does so many things meaning you don't need other products. This makes it perfect for everyday use but also for travelling.
"Splash may be little but, as the name suggests, he makes the biggest splash. He loves water. And the one thing he loves more than being soaking wet, is making sure everyone else is too. When he's around there isn't a dry eye, ear, nose or toe in the house. In fact, nothing can stop Splash splashing or smiling. Except maybe those miserable swimming pool attendants, and their No Bombing rule."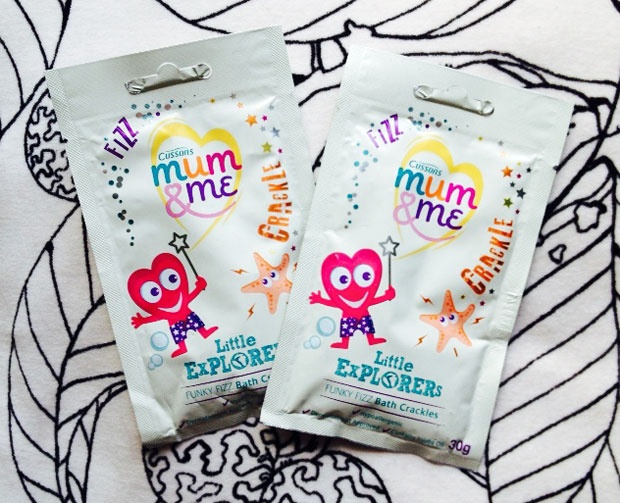 Funky Fizz Bath Crackles
With this product you can easily and quickly make bathtime magical and exciting! These bath crackles pop and bang as you add them to the water and, as they dissolve, they change the colour of the water to a turquoise shade that is very beautiful.
They come in 30g bags which is just enough for a bath. I wish they came in bigger tubs or boxes too for families who want to use them often.
The crackles contain jojoba oil which is very hydrating and nourishing for your child's skin.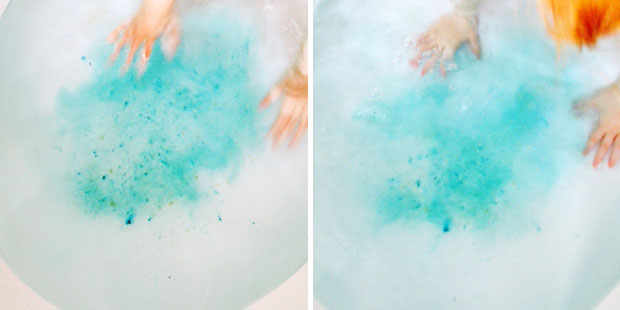 My daughter loves this product! She gets so excited and curious when I pour the crystals into the water. She instantly reaches for them to feel them and to investigate what's going on. She's a true little explorer!
After bathing with these, her skin was clean, soft and did not feel dry.
"Fizz turns bath time into party time. With a wave of her wand and a sprinkle of her magic bath crackles, she can transform a tired old tub into a colourful, fizzing, fantasy lagoon. And her personality is as colourful as her board shorts. Bright, sparky – and always trying to prove to Squidge that her bath crackles are better than his squidgy soap. (They love each other really!)"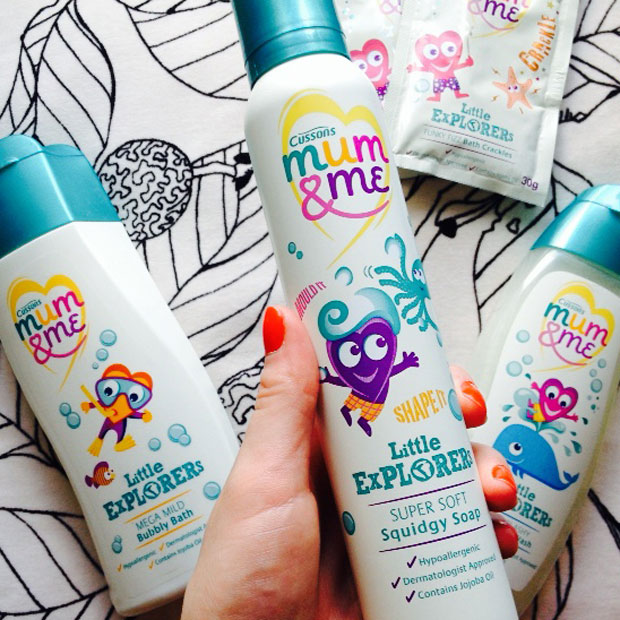 Super Soft Squidgy Soap
This is my favourite product in this range! It's a fun soap that can be shaped and moulded and bounced around. What a great idea! Kids love it and it lets them be creative while they are getting clean.
The formula is really gentle and hydrating with jojoba oil and vitamin E which is so nourishing and leaves skin clean, soft and super smooth.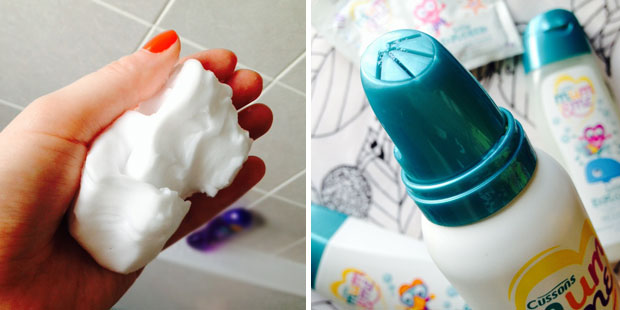 It's such a fun product that keeps everybody happy and entertained at bathtime and the foam feels really moisturising and good for your skin.
"When you're exploring the deep, it definitely pays to have a guy like Squidge around. With one squirt of his super soft and magically mouldable soap he'll find a way out of the tightest situations. He can make anything: a dog to chase off a grumpy catfish, a ball for a game of underwater tennis and, being the coolest dude in the ocean, he's even created his own rockstar hairstyle."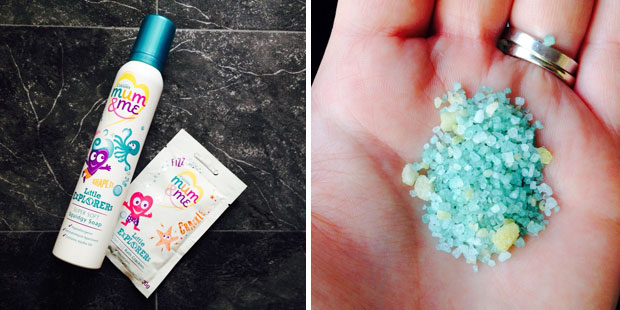 The Cussons Mum & Me Little Explorers products are loved by kids because they are so much fun and loved by us parents because they keep the kids happy and make bathtime easy and they look after the kids' skin, too. Go to MumAndMe.com to see all the products and don't miss the fun activities to do with your kids! You can buy the products from any of the big supermarkets, Boots or Wilko.

I was sent these products for this review. As always, all my reviews are 100% honest and all thoughts and opinions are my own.