Cys-Control Review – Pregnancy Safe Cystitis Prevention
|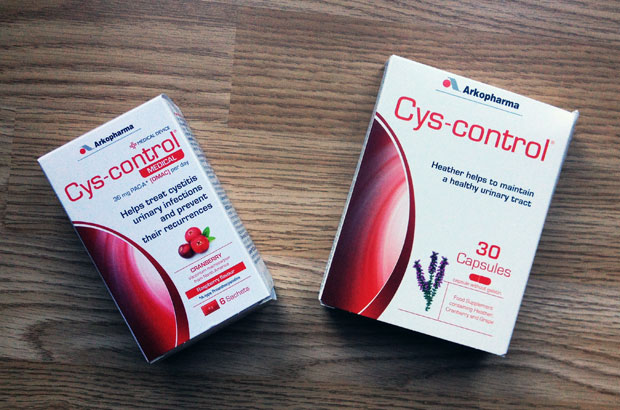 Cys-Control Review – Pregnancy Safe Cystitis Prevention
Cystitis is an uncomfortable thing that most women will have at least once in their life and one in five will have it again — recurrent cystitis. One of the most known remedies for treating cystitis is cranberry juice. It's not just an old wives tale — cranberries have active compounds in them that work to fight against bacteria. Eight hours after intake, the compounds can reach the urinary tract and prevent bacterial adhesion.
Cys-Control by Arkopharma is a supplement to use for treating cystitis and to prevent recurrences. The active ingredient is cranberries of North American origin which is the most restrictive species of cranberry with proven properties to combat urinary problems.
It's very popular in France and Germany and deemed efficient by 94% of urologists and gynecologists. It's available as sachets that you mix with water and drink and as capsules. Cys-Control inhibit the adherence of bacteria to the bladder wall, has anti-inflammatory properties and contains lots of vitamin C that acidifies urine and disrupts the proliferation of bacteria.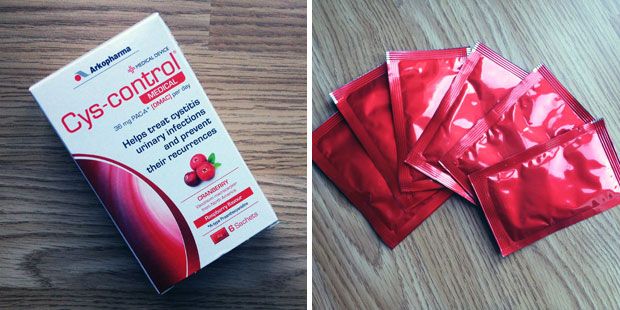 To treat an infection, take two sachets per day, one in the morning and one in the evening for at least three days. As a preventative measure, take on sachet per day.
The capsules contains freeze dried cranberries but also heather and grape. Heather helps promote the excretory function of the kidneys and together with grape it promotes the elimination of urine. This add extra protection for preventing recurrences.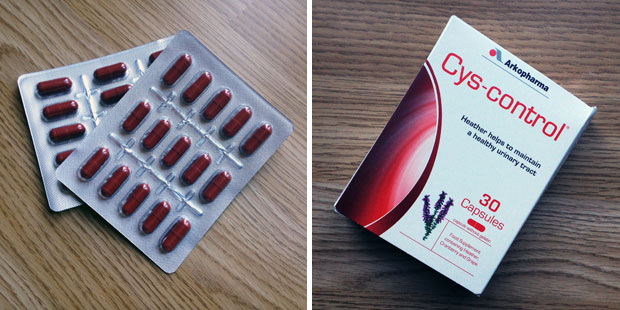 These products make it really easy to get the right amount of active nutrients needed to treat and prevent cystitis without having to drink lots and lots of sugar cranberry juice. You can take them wherever you are which make them great for travelling.
What I love is that they are suitable for pregnant and breastfeeding women and even children at a reduced dose. When you're pregnant you are more prone to cystitis and since it can affect your unborn baby it's important to treat any infections as quickly as possible but it's even better if you can prevent them in the first place. If you are prone to cystitis, Cys-Control is a great option for prevention but the recommendation is still to see your doctor and get antibiotics to treat existing cystitis if you're pregnant since it can be dangerous for your baby.
For everybody else Cys-Control is a great medicine free option for treating cystitis. You've probably heard of antiobiotic resistance and should only take antibiotics when you really need them to avoid your body becoming resistant to them.
The sachets (6) and capsules (30) cost £6.99 for and are available from this month onwards from selected health stores and pharmacies nationwide. They can also be bought from Amazon.co.uk.
I was sent some samples to go with this review. As always, all my reviews are 100% honest and all thoughts and opinions are my own.